Weekly Horoscope For May 30–June 5, 2022, From The AstroTwins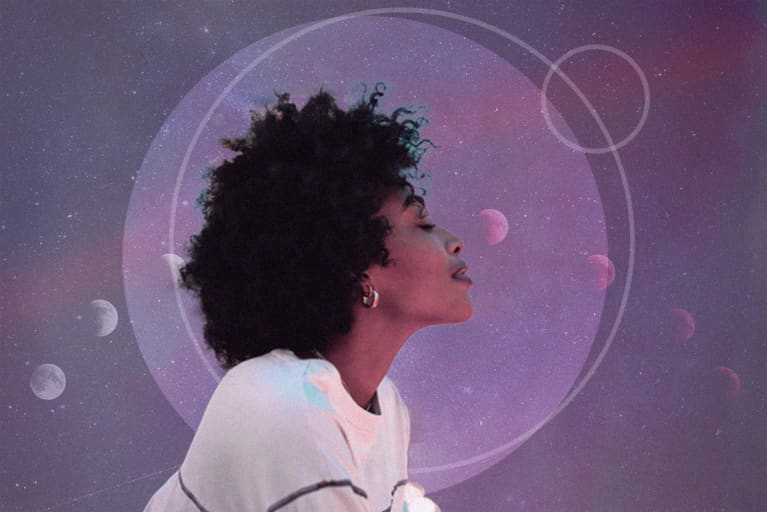 The spirit of cooperation is in the air this week. Here's what to know, according to the AstroTwins.
Kindred spirits come out of the woodwork this Monday, May 30, as the year's only new moon in Gemini sparks synergies.
With these "twinning" vibes ignited, your perfect partner-in-crime may already be installed within your very own circle of friends. Need to upgrade your transportation? Start shopping around for your new ride, like an eco-chic electric car or bike. (Though we recommend waiting at least a week after Mercury ends its retrograde on June 3 to make any final purchases.) As the ruler of peer-to-peer relationships, the Gemini new moon may kindle a fresh chapter with a sibling, neighbor, or co-worker.
When it comes to love, don't judge a book by its cover! But definitely peek at what paperback that coffee-shop cutie is reading. (Hello, opening line...) The new moon in brainy Gemini kicks up savvy repartee with plenty of witty wordplay thrown in.
That's sure to make anyone swoon under the spell of this sapiosexual new moon. If you've been looking for love in all the wrong places, switch it up. Where are the thoughtful, curious, and culturally aware people hanging out? Over the next two weeks, you could meet your match in an online mastermind, weekend workshop, or discussion group. Or they might just be hanging out at your local pub trivia night. Conversation is key to fostering any sort of deeper connections. Coupled? Stop recycling the same "how was your day" chatter. If you don't have any new subjects to hash out, consider trying something new, exciting, and worthy of postgame analysis! Novelty brings a rush of dopamine, which brings a burst of sexual energy. Oh, heyyyy there...
The coast starts clearing on Friday, when Mercury wraps up a three-week retrograde, pivoting forward in Taurus.
Situations that have been bound up in red tape for the past few weeks could soon get the green light needed to move ahead, albeit slowly. Caution: What seemed like a glittering opportunity a few days ago may lack enough practical value to justify the investment of time and money. (Yes, those persnickety details do matter when Mercury is in the bull's pen.) If you've been stuck in a stubborn deadlock since May 10, do what it takes to break that heat. Perhaps some key information surfaced over the last couple of weeks. Factor it in—the changes you make may be a blessing in disguise.
On Saturday, structured Saturn flips into its annual five-month retrograde, a time meant for tune-ups and audits.
But just as one planet corrects course, another shifts into reverse. This year, the backspin goes down in space cadet Aquarius, which can put the kibosh on anything wildly experimental...or mildly innovative. While you don't have to halt your mission, do send your inner mad scientist back to the lab. Run more tests before you forge ahead again. Progress can be a double-edged sword after all.
With Saturn in "one love" Aquarius, take time to assess the impact your efforts are having on different communities. Have unconscious biases crept in? Are you using technology ethically and effectively? On a personal level, do you see more effective ways to collaborate with family, colleagues, and neighbors? Answering questions like these can elevate all your missions once Saturn powers forward on October 23. Game-changing!