Study Finds Walnuts Are The Best Nut For Supporting Healthy Aging
mbg Spirituality & Relationships Writer
By Sarah Regan
mbg Spirituality & Relationships Writer
Sarah Regan is a Spirituality & Relationships Writer, and a registered yoga instructor. She received her bachelor's in broadcasting and mass communication from SUNY Oswego, and lives in Buffalo, New York.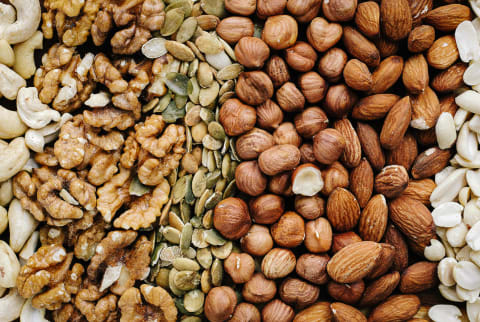 Image by Toma Evsuvdo / Stocksy
February 25, 2020
We're all looking for tried-and-true ways to boost our well-being, especially as we get older. Things like gut and brain health, as well as diet and exercise are all factors to take into consideration. And according to new data from the Nurses' Health Study, there's one kind of nut, in particular, that outshines the rest when it comes to healthy aging: walnuts.
Even after accounting for all the other variables that affect aging, walnuts were the only nut linked with a greater chance of healthy aging.
Advertisement
This ad is displayed using third party content and we do not control its accessibility features.
Studying nut consumption.
The four-year-long study included data from almost 34,000 women in their late 50s and early 60s, looking for links between nut consumption and healthy aging. They were asked about their diets, physical health, memory, and more, as well as receiving a chronic disease evaluation.
Those who had sound mental health along with no major chronic diseases, memory issues, or physical disabilities were defined as "healthy agers," and they made up about 16% of the women in the study. And interestingly enough, eating just two servings of walnuts a week was linked with a greater chance of being a "healthy ager" compared to a diet lacking walnuts.
Walnuts were recently found to support gut and heart health, too, which may explain some of the numbers seen in this research. And not only are they delicious and versatile, the fact that they support our health as we age makes them even better.
Why healthy aging is more important than ever.
As populations continue to see longer and longer lifespans (the number of senior citizens in the U.S. has been climbing since the '60s), it's vital we learn more about how to support our health as we age. According to this study, it's estimated baby boomers will account for 21% of the population by 2034, with over half being women.
With that in mind, small dietary changes like eating more walnuts can go a long way in turning someone's diet and well-being around.
It should be noted that since this study was only on women, research is needed to see if the results translate to men. But given all we know about gut health and omega-3s, we think we can safely say a couple of servings of walnuts throughout your week definitely won't hurt.
Advertisement
This ad is displayed using third party content and we do not control its accessibility features.
Reset Your Gut
Sign up for our FREE doctor-approved gut health guide featuring shopping lists, recipes, and tips