Mindful Walks In Nature Improve Sleep Quality, New Study Finds

mbg Sustainability + Health Director
By Emma Loewe
mbg Sustainability + Health Director
Emma Loewe is the Senior Sustainability Editor at mindbodygreen and the author of "Return to Nature: The New Science of How Natural Landscapes Restore Us."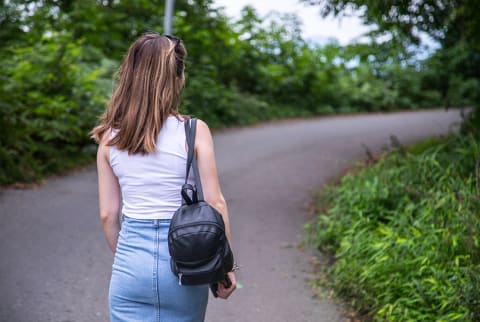 Image by Bakhrom Tursunov / Unsplash
August 15, 2022
Walking through natural environments can take our minds off negative thoughts and help us focus on the here and now, reducing stress and improving mood in the process. And according to new research to be published in EXPLORE: The Journal of Science & Healing1, nature walks have additional far-reaching benefits that may even stick with us until bedtime.
Advertisement
This ad is displayed using third party content and we do not control its accessibility features.
Studying how mindful walks affect sleep.
For this study, researchers out of the UK focused on a group of people who are notoriously lacking in sleep: college students. They instructed 104 students who reported occasional trouble sleeping to take mindful 30- to 35-minute walks every day for a week. About half of the students were told to stroll through a lush public park, while the other half were directed to walk through a busy urban area in Edinburgh. Each student filled out a questionnaire about their sleep habits and quality before and after the week of walks.
Spending time in nature reduces stress and cognitive fatigue2, so researchers were curious to see if these benefits would also extend to better sleep. Stressful thoughts, after all, have a way of keeping people up at night3. Sure enough, the data demonstrated that the sleep quality of the nature group improved more than it did in the urban group on average—though it improved in both groups. As for why these walks promoted sleep, it could be the healthy movement, the introduction of a steady routine, the dose of vitamin D, the stress reduction—or, more likely, a mix of all these factors.
Both groups also reported better moods and increased levels of mindfulness after the week was up. So while it seems that taking a mindful walk anywhere regularly will deliver serious psychological benefits, doing so in a natural environment will pay off even more for your rest.
How to apply these findings.
Active and mindful days lead to relaxing and restorative nights, and this new research demonstrates that getting moving in nature can enhance your snooze even more.
So, consider this your nudge to seek out some greenery for that "hot girl (or guy!) walk" today. Once you're out there, make it all the more mindful by feeling the sun on your skin, smelling the scenery around you, tasting the breeze, and removing your headphones for a few minutes to take in the sounds of nature. See your surroundings in a new way by going out at a different time of day than usual or adopting a walk persona, like a painter searching for your next muse or a botanist looking for a unique plant species. These cues will ignite all five senses and help you more fully and mindfully engage with your surroundings.
After you return home, you can further set yourself up for stellar sleep by skipping caffeine and alcohol later in the day, eating dinner well in advance of bedtime, staying off screens and stimulating electronics, and making sure your bedroom is cool, dark, and quiet. A high-quality sleep supplement (here are mbg's top picks of the year) can also ensure a relaxing evening following your moment in the sun.*
Advertisement
This ad is displayed using third party content and we do not control its accessibility features.
The takeaway.
New research on college students in the UK found that mindful walks outdoors can improve sleep quality—especially if your route passes through green, natural spaces.
If you are pregnant, breastfeeding, or taking medications, consult with your doctor before starting a supplement routine. It is always optimal to consult with a health care provider when considering what supplements are right for you.