The Supplement Health & Well-Being Experts Recommend To Support Healthy Vitamin D Levels For Life*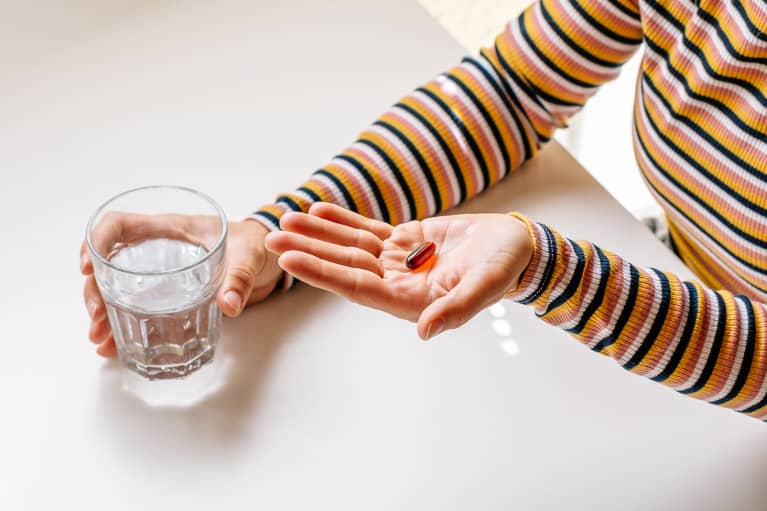 This article was produced to support the mindbodygreen supplements+ line. Our supplements adhere to the highest standards of ingredients and quality. We hope you enjoy these products, for more information
click here
.
Throughout the last couple of years, it's become clearer than ever how important vitamin D is for our health—and what's at stake if we fall short.* Thing is, vitamin D continues to be one of the most common nutrient gaps and nutrient deficiencies in the U.S. and the world. Research demonstrates that a staggering 41% of American adults meet the clinical definition for vitamin D insufficiency, while 29% are straight-up deficient.
Since this fat-soluble micronutrient is essential (daily) for promoting bone, teeth, muscle, immune, and whole-body health, mindbodygreen set out to create a premium and effective vitamin D supplement with a unique ability to support healthy levels.* With our new vitamin D3 potency+, we hacked the average vitamin D supplement by combining a clinically effective dose (5,000 IU) of high-quality vitamin D3 (hello, organic algal source) with healthy organic oils for optimal absorption.*
This one-of-a-kind formulation means you get the right amount of the most bioavailable and bioactive form of vitamin D (i.e., D3) from a sustainable source (algae!)—and that you can take it with or without a meal—to support healthy D levels for life.* This smart supplement is the ultimate combo of effective and convenient.
Here's what top experts in medicine, nutrition, food, and fitness have to say about how mbg's vitamin D3 potency+ helps them (and their clients!) achieve sufficient D levels for full-body health.*
"Vitamin D3 potency+ is the ideal form of this essential micronutrient and delivers 5,000 IU that supports whole-body health."*
"Many of my patients have increased the time they spend indoors. As a result, I've seen a rise in vitamin D deficiency. Globally, vitamin D deficiency impacts over one billion people. The reasons are multifactorial, including limited sources of vitamin-D-rich foods and reduced exposure to natural UVB rays. Taking a high-quality, bioavailable source of vitamin D helps bridge the gap. mbg's vitamin D3 potency+ is the ideal form of this essential micronutrient and delivers 5,000 IU that supports whole-body health."*
—Maya Feller, M.S., R.D., CDN, registered dietitian and cookbook author
"This product is my new daily insurance policy to ensure vitamin D sufficiency and increase my healthspan."*
"The past 18 months have reminded us how critical vitamin D is to well-being. Low vitamin D levels have implications for immunity and broadly for whole-body health. But all vitamin D is not created equal. Vitamin D3 is the clear-cut standout from a potency and bioavailability standpoint. We further optimize vitamin D3 potency+ with a trio of organic healthy fats to maximize absorption. This product is my new daily insurance policy to ensure vitamin D sufficiency and increase my healthspan."*
—Jason Wachob, mbg Co-Founder & Co-CEO
"Achieving vitamin D sufficiency isn't a seasonal need, it's a daily endeavor."*
"The smart solution for vitamin D deficiency has finally arrived. Achieving vitamin D sufficiency isn't a seasonal need, it's a daily endeavor. For this essential daily ritual, vitamin D3 potency+ is the high-quality, potent supplement solution I recommend for myself and my patients. I have confidence knowing that vitamin D3 potency+ can achieve and maintain healthy vitamin D levels in the body with its premium organic algal vitamin D3 at 5,000 IU and built-in trio of organic oils for absorption."*
—Amy Shah, M.D., double-board-certified integrative medicine doctor
"Widespread vitamin D deficiency is the other pandemic that nobody is talking about but should be."*
"Widespread vitamin D deficiency is the other pandemic that nobody is talking about but should be. While only modestly helped with diet and sunshine, this issue is solved via high-quality supplementation. mbg's vitamin D potency+ serves up 5,000 IU of plant-origin vitamin D3 from algae combined with an organic, virgin trio of oils to optimize bioavailability. With vitamin D3 potency+, I'm confident in my vitamin D sufficiency solution for calcium absorption, bones, immunity, and much more."*
—Debbie Kung, DAOM, LAc, board-certified doctor of Chinese medicine & licensed acupuncturist
"As an endocrinologist, I know that achieving optimal serum 25(OH)D levels in the 50+ ng/ml range is imperative."*
"The majority of the world is vitamin D deficient. As an endocrinologist, I know that achieving optimal serum 25(OH)D levels in the 50+ ng/ml range is imperative for immune health, bone health, and more. It's difficult for most standard vitamin D formulations to achieve this. mbg vitamin D3 potency+ delivers organic plant-derived vitamin D3 packaged in a fat-soluble envelope of oils. With this innovative technology, vitamin D3 potency+ can achieve optimal D3 levels and keep them there."*
—Brittany Henderson, M.D., ECNU, board-certified endocrinologist and owner of MyThyroidDoctor.com
"This algal vitamin D is sustainably sourced, organic, and comes in a highly absorbable form with built-in healthy fats."*
"Many of us know we should get natural sunlight, but the reality is we don't always get outside, let alone with enough skin exposed at the right times of the day. I take vitamin D3 potency+ to maintain optimal vitamin D levels and support the function of the many body systems that rely on this crucial hormone daily. This algal vitamin D is sustainably sourced, organic, and comes in a highly absorbable form with built-in healthy fats—I don't even have to remember to take it with food!"*
—Whitney Crouch, RDN, CLT, integrative registered dietitian
"I've switched to vitamin D3 potency+ because this premium approach optimizes every facet of my vitamin D experience."*
"Vitamin D is the No. 1 nutrient gap in the U.S. Food sources of vitamin D are naturally scant, and sun exposure is variable and hopefully moderate. After taking the same vitamin D3 supplement daily for a decade, I've switched to vitamin D3 potency+ because this premium approach optimizes every facet of my vitamin D experience: the superior D3 form, a clinically efficacious potency at 5,000 IU, an organic vitamin D source from algae, and a built-in profile of organic oils for absorption."*
—Ashley Jordan Ferira, Ph.D., RDN, mbg Director, Scientific Affairs