This Easy-To-Make Vegan Peach Cobbler Is The Perfect Simple Summer Dessert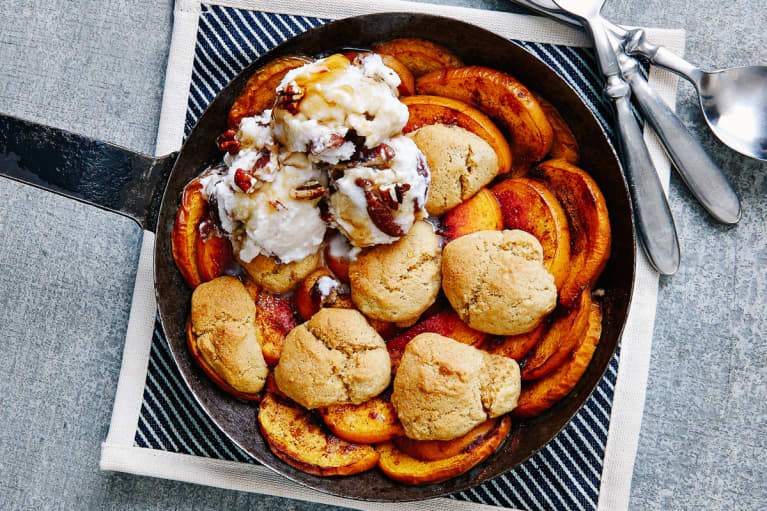 This easy-to-make cobbler has ripe, juicy peaches on the bottom and a sweet biscuit crust on top. It's a wholesome and delicious dessert because the peaches are high in the antioxidant vitamin C, which can help improve overall skin texture and reduce wrinkling.
If you're looking to make the recipe gluten-free, coconut flour can be substituted for white whole wheat flour in the crust.
1½ cups white whole wheat flour, sifted
¼ cup coconut sugar
1 teaspoon baking powder
½ teaspoon baking soda
¼ teaspoon salt
½ cup solid extra-virgin coconut oil, plus more for pan
¼ cup unsweetened almond milk
5 ripe peaches, peeled and pits removed, sliced ¼ inch thick
2 tablespoons maple syrup
1 tablespoon arrowroot
Preheat oven to 375°F. Oil a 9-inch ovenproof skillet or 8-by-8-inch baking pan with coconut oil.
For the crust: In a bowl, combine the flour, sugar, baking powder, baking soda, and salt. Fold in oil and milk.
Using your hand, mix the ingredients until just incorporated (don't overmix it) and a thick dough is formed. The consistency will resemble cookie dough. Be careful not to overmix the dough or it will bake into a drier biscuit.
For the filling: In a large bowl, gently combine peaches and maple syrup. In a separate bowl, whisk ⅓ cup water with the arrowroot. Combine the arrowroot mixture with the peaches.
Spread the peaches in the skillet or baking pan. Using your fingers, pinch off spoon-size pieces of the dough and place them on top of the peach filling. Do not spread the dough; just place the pieces around to cover the top. The dough will expand slightly while baking.
Place the skillet or pan in the oven, and bake until the crust is golden brown, 30 to 35 minutes. Let the cobbler cool for 10 to 15 minutes and serve warm.
Recipe excerpted from Ageless Vegan: The Secret to Living a Long and Healthy Plant-Based Life by Tracye McQuirter, MPH, with Mary McQuirter. Copyright © 2018. Available from Hachette Books, an imprint of Hachette Book Group, Inc.