Leading The Health Charge Amid The COVID Chaos Is ... Bill Maher?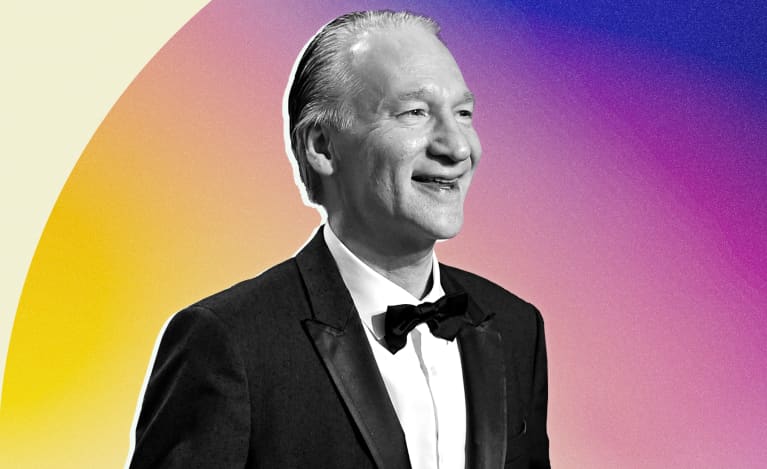 When it comes to navigating COVID-19, there's a lot to parse. The unclear information and ever-changing guidelines around what to do and what not to do have been frustrating, but we firmly believe the message that keeping yourself safe shouldn't leave you feeling helpless. Through the cacophony of confusion, an unlikely voice has risen above the noise, and we're the first to admit he's not someone we expected.
Enter comedian, political commentator, and TV host Bill Maher. Whether you're partial to his candor or not, Maher has been a leader in the health charge when it comes to COVID-19 resilience. How so? Let us explain.
The link between diet and risk of severe infection.
On a recent episode of Real Time With Bill Maher, he shared a simple yet powerful message: America's top health officials need to "find the courage" to encourage a healthy diet. Focusing on nutrient-dense diet may seem like an odd recommendation regarding COVID-19, especially in a country whose primary counsel has been to wear a mask, stay socially distant, and wash your hands effectively. But according to the numbers, it's one that deserves just as much attention.
It's no secret many Americans adhere to an unhealthy, industrial diet. And this eating style can increase the risk of obesity. As Maher notes, "Obesity was already killing us slowly, but mixed with the virus, it's killing us fast."
This notion aligns with preventive medicine specialist David Katz, M.D., and board-certified family physician Cate Shanahan, M.D., (both of whom have been a guest on Maher's Emmy Award–nominated show and the mbg podcast): "With COVID, all those slow-burning chronic diseases that affect you over time can kill you tomorrow," Katz shared during his episode.
Similarly, Shanahan told us, "These infectious diseases pick off people who are not healthy." (Of course, it's important to acknowledge that the coronavirus can infect healthy people, too—but a healthy immune system is one factor that can help fight the virus.)
There's research to back it up, too: Maher references a statistic from Public Health England, which states that for people with a body mass index (BMI) of 35 to 40, the risk of death from COVID-19 increases by 40%. For people with a BMI over 40, that risk increases by 90%, compared to those not living with obesity. A similar study has shown that patients under 60 years old with a BMI over 35 were twice as likely to be admitted to the ICU for COVID-19.
The science is there, the doctors agree, and yet public health officials refrain from prioritizing a healthy diet right up there with wearing a mask and washing your hands. To summarize Maher's frank discussion: What gives?
He says we can no longer tiptoe around diet or brush nutrition under the rug.
"People in charge of health during a health crisis never really mention the one major thing most people can do to ensure a better outcome should they get [the virus]," Maher says. "Doctors won't look straight in the camera and say, 'The No. 1 thing you can do to improve your chances is to be in better general health, and the No. 1 route to that is an improved diet.'"
That said, it's not necessarily about the number on the scale but rather the consequences further down the road; we should be cognizant of the fact that many of the metabolic issues that can ultimately affect immunity stem from unhealthy body fat, which is typically a result of an unhealthy diet. As former FDA commissioner David Kessler, M.D., shared on a recent episode of the mbg podcast, "There's no area of medicine where excess weight doesn't have some consequences, regrettably."
And while professionals in the functional medicine space are typically on board with how food can affect our health (both positively and negatively), mainstream society tends to exclude diet from the conversation around infections. In fact, Maher says, people who are passionate about eating healthy are waved off as "health nuts." What sounds more astounding, he notes, is that people who eat healthy are considered "nuts" at all.
But we can't ignore the barriers to healthy food in this country.
Of course, the problem is staggering. But by no means can it be fixed with a simple urge from public officials to "get healthy." Rather, obesity is deeply intertwined with other intersections of identity: It disproportionately affects lower-income, vulnerable populations and minorities who have limited access to nutritious food, as well as information on how to change lifestyle. We know this; doctors know this; public health officials know this. Perhaps it's why we haven't seen healthy food campaigns in the news cycle—obesity is an intersectional issue that requires a dismantling and reconstructing of our systems.
We won't have a solution overnight, but Maher stresses the importance of public education, at the very least. "For every PSA about a mask, [there should be] a PSA for a recipe of a healthy meal," he says. At least then people would become more familiar with the dangers of eating what he deems "sugary, chemical-laden crap."
Ultimately, it shouldn't fall on the shoulders of those already affected by chronic disease to jump-start a healthy lifestyle, but Maher encourages viewers to do what they can to make healthier swaps in their diet, no matter how small.
The bottom line: We need to consider diet a protective measure for reducing COVID-19 risk.
It might sound radical, but think about it: In a society B.C. (before the coronavirus), the thought of wearing a mask every time you step out for groceries might have had you chuckling into your unsterilized palm. Now, it may feel second-nature to snag your protective gear before heading out the door. If public health officials urge a healthy diet for COVID-19 risk prevention (and provide adequate resources while they're at it), the idea might not seem so far-fetched—and who knows, our staggering number of severe cases may slow.
There's so much to glean from his five-minute monologue (check out the full clip below), but if there's one thing to take home, perhaps this is it: There's a lot we can't control with COVID, and it's time to focus on what we do have the power to change. It's a notion we can certainly stand behind and a worthwhile addition to the COVID-19 conversation. As Maher says, "No one deserves to die because of their weight, and we should spare no expense protecting vulnerable people, no matter why they're vulnerable."