Every Type Of Eyeliner, Explained By A Celebrity Makeup Artist
Assistant Beauty & Health Editor
By Hannah Frye
Assistant Beauty & Health Editor
Hannah Frye is the Assistant Beauty Editor at mindbodygreen. She has a B.S. in journalism and a minor in women's, gender, and queer studies from California Polytechnic State University, San Luis Obispo. Hannah has written across lifestyle sections including health, wellness, sustainability, personal development, and more.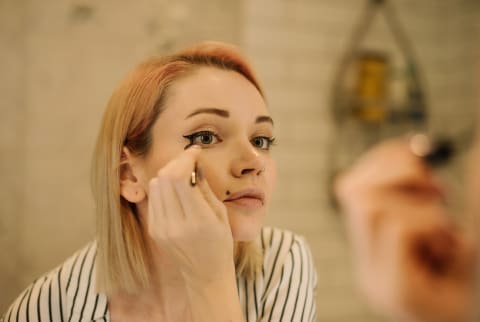 Image by Julie Meme / Stocksy
December 5, 2022
Eyeliner is one of those makeup steps that likely has a learning curve—especially if you're going for a bold graphic look, such as a sharp wing. However, even a more natural look is not so easy to master; first and foremost, you need to pick the right product.
From gel to cream to pencil and beyond—there are more types of liner out there than you might think. Luckily, celebrity makeup artist Jamie Greenberg recently gave a quick rundown on TikTok to coach us through it. Here are the SparkNotes.
Which kind of eyeliner should you use?
As Greenberg explains in the video, different liner types can help you achieve various looks. Below, find every kind of product and when you'll want to use it.
Gel
"Gel eyeliner goes on super smooth and is great for dramatic looks," Greenberg says. So if you want a bold, liner-focused look that's a tad softer than a liquid line, then gel is going to be your best bet. These liners generally last longer than pencils and crayons, too.
Pencil
"Pencil eyeliner gives more of a natural look," Greenberg says—think of a "no-makeup" makeup finish. However, she adds that pencil tends to smudge, so it's not the best for graphic looks. "For the waterline or a smoky eye, it's perfect and easy," she finishes.
Kohl
"Kohl eyeliner is the smudgiest of the smudge," Greenberg says—perfect for a modern-day "indie sleaze" look. It has a silky finish, and it's oilier than other eyeliners, she explains, which is why it's so great to smudge. Plus, she adds that it's perfect for long-lasting wear on the waterline.
Liquid
"Liquid eyeliner is for graphic looks, like a cat eye," Greenberg says. These usually have a brush with a fine point, perfect for a sharp wing. These are both long-lasting and smudge-proof, she explains, making them the ideal choice for a big event or for superlong wear.
You'll most often see them in one of two forms: Either the tip comes attached to a pen where the ink slowly comes out, or there's a pot filled with liquid ink that you dip the brush into. From there, you also have different brushes. "For example, you might want to use a micro-tip for a detailed wing," she adds.
Felt tip
"Felt tip eyeliner is similar to a liquid eyeliner, but it's less inky and definitely easier to use for beginners," Greenberg notes. These, like liquid eyeliner, are great for bold and sharp lines. Now, if you're feeling inspired to test out a winged look, this step-by-step tutorial is all you need.
Cream
"A cream eyeliner is basically made for smudging," she notes. "It's good for the sultry, smoky look." These liners generally come in a small pot but have a waxier, more solid texture than liquid liners.
Greenberg applies cream liner with a brush to have a bit more control over the finished look. She shows a few different brushes in her video, most of which are small, fine-haired liner brushes with a sharp diagonal angle.
Powder
Powder eyeliner is essentially just eye shadow used as a liner. "People love to use this, especially beginners, because it's easy, and it's very natural-looking," Greenberg adds. Plus, it's versatile: You can use any color in an eye shadow palette, throw it on an angled brush, and boom—you have a bold, glitter, or colorful liner right at your fingertips.
A quick summary.
That was a lot—so here's a brief guide to determine which kinds of eyeliners are best suited for the look you're after:
For a natural finish: Powder & pencil (perhaps a gel liner for longer wear).
For smudging or smoky looks: Kohl or cream.
For bold graphic looks: Liquid liner for details, felt tip for beginners, and gel for a smoother, softer finish.
The takeaway. 
To nail your perfect eyeliner look, you have to start with the right product. Be sure to figure out your ideal look and skill level before choosing your next go-to. Or, collect them all in your ride-or-die shade to fill out a versatile makeup collection. If you're ready to add a new one to your lineup, here's a curated list of the best eyeliners in each category—all formulated with clean and natural ingredients.
Hannah Frye
Assistant Beauty & Health Editor
Hannah Frye is the Assistant Beauty & Health Editor at mindbodygreen. She has a B.S. in journalism and a minor in women's, gender, and queer studies from California Polytechnic State University, San Luis Obispo. Hannah has written across lifestyle sections including skin care, women's health, mental health, sustainability, social media trends, and more. She previously interned for Almost 30, a top-rated health and wellness podcast. In her current role, Hannah reports on the latest beauty trends and innovations, women's health research, brain health news, and plenty more.