This Supplement Delivers The Benefits Of Turmeric—Without The Side Effects

mbg Sustainability + Health Director
By Emma Loewe
mbg Sustainability + Health Director
Emma Loewe is the Senior Sustainability Editor at mindbodygreen and the author of "Return to Nature: The New Science of How Natural Landscapes Restore Us."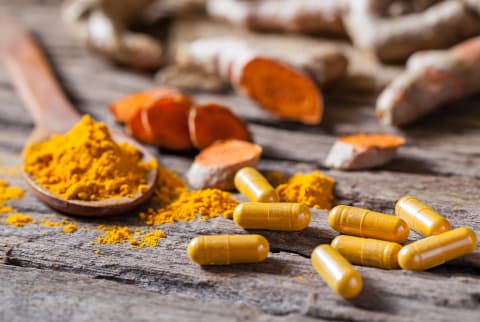 Image by yokeetod / iStock
September 7, 2022
Turmeric is one seriously healthy spice to have in your kitchen cabinet. Thanks to its array of antioxidant-rich curcuminoids, turmeric can support a healthy inflammatory response, combat oxidative stress, promote musculoskeletal health, and more.*
The kicker is that if you just occasionally sprinkle the plant powerhouse into your cooking, you won't necessarily reap these benefits. You see, research is finding that in order to get turmeric absorbed into the bloodstream1, where it can get to work on your inflammatory response, joint health2, muscle comfort3, and more, you need to consume at least 500 milligrams of the concentrated extract regularly, as part of your routine.* By comparison, one teaspoon of the spice only has about 200 milligrams4 of its active curcuminoid compounds. In its natural form, turmeric also has an inherently low bioavailability, making it difficult for our bodies to absorb.
This is where turmeric supplements can come in. They make it easy to get a targeted daily dose of turmeric without needing to overpower your meals with its earthy, slightly bitter taste (not to mention potential heavy metals). "Nobody wants a spoonful of lead, but so few people are talking about the heavy metal burden of daily, liberal use of spices like turmeric," explains nutrition scientist Ashley Jordan Ferira, Ph.D., RDN.
However, some supplements still have a bioavailability disadvantage, and that's where mbg's new turmeric potency+ stands out from the pack. The 500mg of Acumin™ full-spectrum turmeric in our supplement is protected and enhanced by unique PNS technology that makes it up to 10 times easier for the body to absorb and benefit from (you can read the nitty-gritty of how it works here.)*†
Designed to be easy on the GI tract, our supplement also contains full-spectrum ginger, a buddy botanical of turmeric that has gastroprotective effects5.* (No tummy discomfort here.) It's topped off with black pepper, a bioavailability enhancer, for an effective daily supplement with a distinct absorption advantage.*
Here's what early reviewers are saying about how the convenient supplement delivers the health perks of turmeric into capsules that are oh-so-easy to swallow.
I'll be sticking with this one!
"I've tried other turmeric supplements before because of all the health benefits, but this is the first one that doesn't give me gastro issues. Not sure if it's the quality of the turmeric itself or the combination with other ingredients, but I'm sticking with this one."*
Tough to beat.
"I love adding turmeric and ginger root to my morning smoothies, but when it comes to getting my daily dose of support for a healthy inflammatory response, the simplicity of these capsules is tough to beat. Bonus: the bottle smells incredible!"*
I love the absorption advantage.
"I'm always trying to give my body some extra inflammatory response support and I feel like this product is doing just that. I love the absorption advantage the formula provides and I'm overall impressed by the results I've been feeling!"*
This turmeric supplement is next level.
"Turmeric has to be my favorite spice. I use it in my meals but also want to make sure I get my daily dose of this powerful plant that folks have been using for health for hundreds (thousands?) of years! This turmeric supplement from mindbodygreen is next level with the absorption advantage of the ginger and black pepper."*
The takeaway.
Turmeric potency+ makes it easy to reap the benefits of turmeric, ginger, and black pepper in a super absorbable capsule that won't cause stomach discomfort.* Learn more about the supplement here.
If you are pregnant, breastfeeding, or taking medications, consult with your doctor before starting a supplement routine. It is always optimal to consult with a health care provider when considering what supplements are right for you.


† Acumin™ research has demonstrated superior bioavailability, curcuminoid serum response, and stability compared to other common forms of turmeric root extract (e.g., volatile oil, phospholipid/liposomal, and standard 95% curcumin).
Want to turn your passion for wellbeing into a fulfilling career? Become a Certified Health Coach! Learn more here.