The Tropical-Inspired Fudgy Cacao Brownie Recipe You Need To Try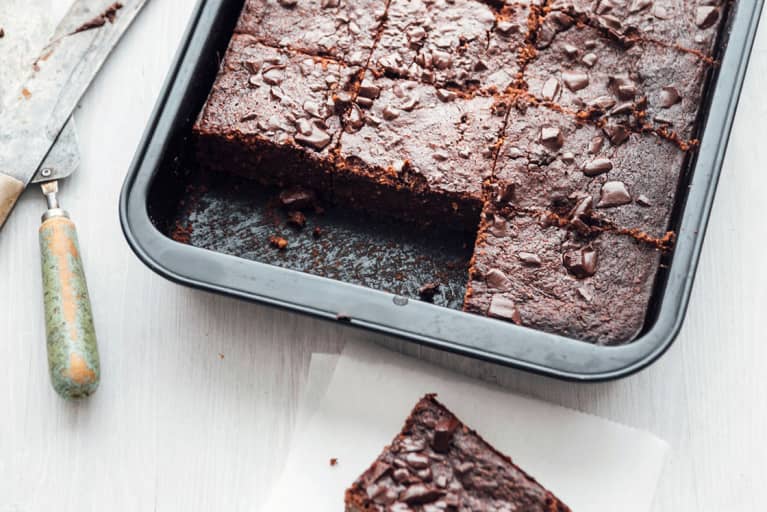 There's nothing like the exquisite, chocolaty smell of homemade cacao brownies to transport me back to my Costa Rican childhood. Making brownies from scratch with my family—and then, of course, feasting on them—wasn't only a way to satisfy our shared love for cacao but also a beautiful ritual that unleashed our culinary creativity.
I absolutely love embracing the vast versatility of brownies to this day. One of my favorite variations features a tropical, fruity, and healthy twist! I add shredded coconut, papaya, and pineapple for sweet but delicate notes that beautifully balance the rich nature of chocolate. From my tropical heart to yours, here's a fudgy, nostalgia-inspired cacao brownie recipe you need to try.
1 cup (8 oz./240 g) unsalted butter or ghee, melted
2 tablespoons (30 ml) organic coconut oil or your substitute of choice
¾ cup (9 oz./260 g) organic lucuma or ¼ cup pure maple syrup
½ cup (7 oz./200 g) organic raw sugar
4 (2 oz./57 g each) large eggs, at room temperature
1 tablespoon (15 ml) pure vanilla extract
½ teaspoon salt
¼ cup of dried papaya + dried pineapple cut into tiny pieces
¼ cup organic shredded coconut
1 cup (3.5 oz./130 g) all-purpose or gluten-free flour
1 cup (3.5 oz./100 g) good-quality organic, unsweetened cocoa powder
Preheat oven to 175°C or 350°F.
Lightly grease an 8-by-12-inch baking pan with cooking oil spray or melted ghee. Line with parchment paper and set aside.
In a medium-size bowl, combine butter, oil, and sugars, and whisk well to combine. Add the eggs and vanilla, and beat until lighter in color (another 1 to 2 minutes).
In a separate bowl, sift in the flour, cocoa powder, and salt. Gently fold in the dry ingredients, coconut, and dried fruit. Blend into the wet ingredients being mindful not to overbeat the mixture.
Pour batter into the prepared pan, smoothing the top out evenly.
Bake for 25 to 30 minutes for slightly underdone brownies (fudgier texture) or until the brownies' center is set to touch. If you like your brownies to be more cooked and firm, bake for 35 to 40 minutes, instead. (Note: Brownies will continue to bake even after you take them out of the oven. For fudge-textured brownies, a toothpick should come out sticky when you test it.)
Carefully remove them from the pan and allow to cool to room temperature before cutting.
For an extra-tropical punch, serve with a few grilled pineapple slices on top, and sprinkle with toasted coconut flakes. ¡Delicioso!