The Beauty Routine Esthetician Tiara Willis Has Been Using As Of Late

mbg Beauty & Wellness Editor
By Jamie Schneider
mbg Beauty & Wellness Editor
Jamie Schneider is the Beauty & Wellness Editor at mindbodygreen. She has a B.A. in Organizational Studies and English from the University of Michigan, and her work has appeared in Coveteur, The Chill Times, and Wyld Skincare.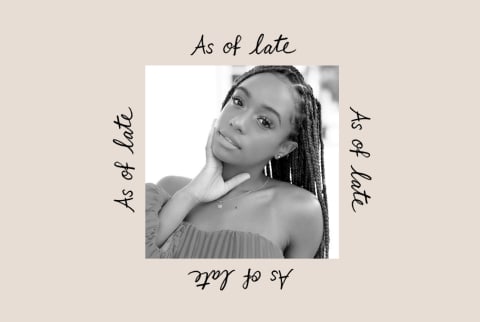 September 20, 2022
Our editors have independently chosen the products listed on this page. If you purchase something mentioned in this article, we may
earn a small commission
.
Beauty routines are never truly stagnant—practices evolve and change like we do. In
As of Late
,
we chat with influential folks about their current products and rituals. Here, we get a snapshot of what they're doing right now: the sacrosanct formulas they use until the last drop, the fresh launches they've got their eyes on, and of course, the why behind it all.
Advertisement
This ad is displayed using third party content and we do not control its accessibility features.
If you're on the hunt for some beauty inspiration, look no further than Tiara Willis' page, @makeupforwomenofcolor. The 20-year-old esthetician and content creator seamlessly blends ingredient education, product reviews, and stunning makeup tips with an approachable, candid tone—like your most trusted beauty industry best friend.
"I think most people are surprised when they find out my age," Willis says regarding her professional success. "But I think my knowledge speaks for itself." After all, not many people amass such a dedicated Twitter following at 14 years old and head straight to esthetics school after turning 16.
"I felt like I already had a career that I wanted to explore more, but I wanted to do some additional education after school," she says of her career path. Willis has always been passionate about makeup—specifically, finding the best products and tips for melanin-rich skin—but as someone who also dealt with acne and hyperpigmentation, an esthetics education made perfect sense. "I could learn how to clear my skin so that I would feel more confident putting on makeup," she adds. "Instead of makeup feeling like a crutch to cover my skin, I can turn it into something that I genuinely enjoy."
If you're looking for a new staple to add to your beauty routine (be it a new foundation, AHA serum, or sunscreen that doesn't dare leave a white cast), Willis has you covered—below, find her absolute must-haves.
The tried-and-true: A mineral sunscreen. 
"I often say that if you're not using sunscreen in your routine, the rest of it is pretty much pointless. Sunscreen not only obviously prevents skin cancer and sunburns, but it's really integral to treating things like hyperpigmentation, redness, dark spots, and large pores. Sun exposure can make things like acne and eczema even worse because UV rays are inflammatory, so sunscreen has always been the base of my routine.
"I know that if I didn't wear sunscreen religiously, I would not have the results that I have now, nor would my clients or my followers. So that's something that I always recommend for everyone. One that I'm using right now that I really like is from Olay Regenerist. It's a mineral sunscreen, and it's really hard to find mineral sunscreens that don't have a cast. I find that this specific sunscreen has minimal to no cast, and what I love most about it is that I can get it at the drugstore."
The surprise hit: Powerful yet gentle exfoliators. 
"I was really surprised that I ended up loving products that combine retinol and chemical exfoliants in one product. There's a lot of precautions when it comes to using retinol and chemical exfoliants in one routine because you run the risk of irritation…You have to do a lot of planning, so I really prefer products that do it all in one, but it's not common to find.
"One brand that I think does this really well is skinbetter. They have something called AlphaRet, which is their patented technology that combines 0.25% of retinoic acid combined with lactic acid. So the "alpha" stands for alpha-hydroxy acid and the "ret" for retinoic acid…I specifically love their Clearing Serum because you get the AlphaRet that has the retinol and AHA in it, but then you also get the addition of salicylic acid. It also has niacinamide, zinc, and a lot of different hydrating ingredients.
"I also was surprised by how much I love physical exfoliation for my skin. For a while, my acne was so inflamed that physical exfoliants were just not possible for me. It would only irritate and spread bacteria… But using a very fine scrub, like the Pore Refining Treatment from PCA Skin, that deals with congestion—not inflamed acne, but maybe a lot of texture—can be super helpful because exfoliating that top layer of skin is going to help whatever products you put on top penetrate deeper."
skinbetter
skinbetter AlphaRet Clearing Serum
$ 130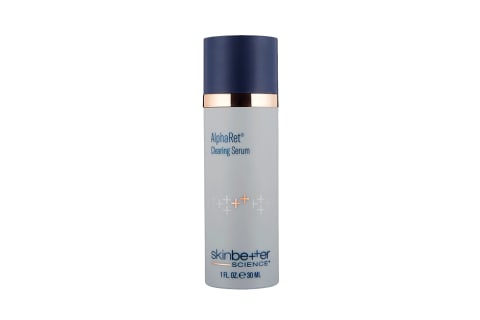 The up-and-coming: mandelic acid solutions.
"[One thing] that I think should become more popular is mandelic acid… It's really popular to treat acne. Vivant Skin Care, which is founded by [dermatologist and cosmetic surgeon] James Fulton, M.D., Ph.D., who was one of the developers of retinol, is mandelic-acid-focused. It's a really good treatment for treating acne, dark spots, even "fungal acne." It's really incredible, and it's pretty gentle as well. A lot of people focus on benzoyl peroxide and salicylic acid, but mandelic acid is so incredible for treating acne, especially when it's combined with lactic acid in the formula. It can be super-duper helpful."
The signature: Glazed donut skin & the two-finger sunscreen rule. 
"I asked my followers to Tweet me the best beauty advice that I've given to them, and the keywords have been glazed donut skin...Much before glazed donut skin became a thing this past year, I had been talking about it with my audience religiously. You can Google articles from like a year or two ago, and you'll see my name tagged with glazed donut skin.
"Another thing is the two-finger sunscreen rule. Before I started introducing that to my audience, most people thought a little bit [of sunscreen] goes a long way. And that's actually the opposite of what you're supposed to do… When sunscreen is being formulated and SPF testing is happening, chemists apply 2 milligrams per centimeter squared of sunscreen, and that ends up being a lot of sunscreen—it's about half to a quarter teaspoon for your face, ears, and neck. If you apply two full fingers, like your fingers are fully covered, that's the amount that you need for your face, neck, and ears.
"It's just a really good guide when applying sunscreen in the morning, and everyone's life has been changed… If I see a brand come out with a mineral sunscreen, and the model applies like a dot, that's shady. So I would definitely consider those two things to be my signature."
Advertisement
This ad is displayed using third party content and we do not control its accessibility features.
The steal: a self-tanner.
"I love Bondi Sands. I think they have the best self-tanner at the drugstore. For special occasions, I always apply some type of self-tanner. For brown and dark skin, it's not going to be as dramatic as someone who's fair, but what it's going to do is make the skin a lot more even and give it a really nice glow… It's also something that celebrities like to use on the red carpet.
"It can help minimize the appearance of scars, mosquito bites, or stretch marks. It just helps make your skin a lot more even without the stress of clearing it at home. Sometimes you just need a quick fix."
The thing my esthetics teacher taught me: Acne-prone skin isn't always oily.
"I always thought acne-prone skin meant you were oily, but I learned from school that I have very dry and sensitive skin. The cleansers that everyone would use did not work for me—the first facial I got at school, my skin was burning, itching, and just felt super dry—and this was supposed to be a cleanser that everyone could use.
"So my esthetics teacher reached for Dermalogica, which was only for the night school. She used their Intensive Moisture Cleanser on me, which is a thick lotion-y cleanser. It changed my life. Learning I had dry skin improved my skin so much. In the wintertime is when my acne breaks out; humidity is good for me, but in the winter, my skin barrier just does not enjoy it.
"It was so enlightening because all the acne products that I was using were drying, and then my skin was not getting better. It just felt even more dry and had a waxy texture when your skin is 100% dehydrated. So hydrating my skin, nourishing it, and moisturizing actually ended up clearing my skin. That was the biggest revelation I had since going to aesthetics school. Literally within the first two weeks, that cleanser changed my life."
Advertisement
This ad is displayed using third party content and we do not control its accessibility features.