These 5 Best At-Home Thyroid Tests To Check Your Endocrine Gland's Function

Registered Nurse (RN)
By Amanda Lundberg, RN
Registered Nurse (RN)
Amanda is a registered nurse with over a decade of experience in clinical nursing and a member of the Association of Healthcare Journalists.

Medical review by
Sheeva Talebian, M.D.
Reproductive Endocrinologist
Sheeva Talebian, M.D., is a board-certified reproductive endocrinologist. She graduated from Columbia University and obtained her medical degree from Mount Sinai School of Medicine.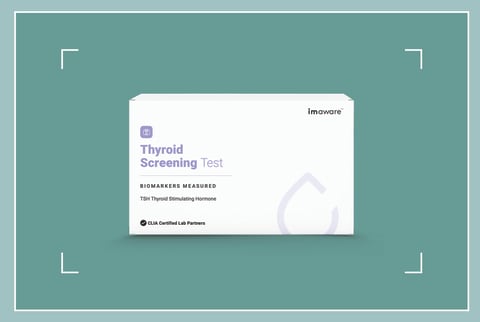 Last updated on February 3, 2023
Our editors have independently chosen the products listed on this page. If you purchase something mentioned in this article, we may
earn a small commission
.
Your thyroid function is crucial to your overall well-being. The butterfly-shaped gland controls the thyroid hormone, which impacts the function of every single cell in the body. That's right, everything from digestion and immune health to mood and energy levels are all impacted by the small-but-mighty endocrine gland—and any disruption to it can cause a host of symptoms, such as irritability and weight loss or gain.
Awareness of your thyroid hormone levels can be key to unlocking a deeper understanding of your health, especially when you consider more than 60% of people with thyroid disease are completely unaware of their condition. Luckily at-home testing has made it easier than ever to test your thyroid levels. (Of course, it's also a blood test you should ask for at your annual visit.)
Often cheaper and more accessible than an office visit, at-home thyroid tests check the same hormone levels as the tests offered by your healthcare practitioner—we'll get more into that later—and are offered by a variety of brands. But how do you know which companies are reliable? Below, we've rounded up the five best at-home thyroid tests offering accurate, valuable results.
The best at-home thyroid tests of 2023, at a glance:
The best at-home thyroid tests of 2023, at a glance:
Show More
What does the thyroid do?
The thyroid is located in the front of your throat and produces hormones to support the body's metabolic function, immune system, gut health, reproductive hormones, and more. The thyroid produces two main hormones: triiodothyronine (T3) and thyroxine (T4).
These hormones regulate our system metabolism and cellular energy, according to Revée Barbour, N.D., M.S., naturopathic doctor, and owner of Dr. Ray, N.D., in Sacramento, Calif. As a result, your thyroid impacts pretty much every aspect of your body's function, whether that's your body temperature or weight. In fact, you'd be hard pressed to find something your thyroid didn't impact.
Why is thyroid health important?
The thyroid is paramount because the thyroid hormone affects all cells and all tissues in the body by maintaining normal metabolism. Humans cannot live without a thyroid hormone. When your thyroid is unhealthy, a few things may occur.
When thyroid hormone levels are low, also called hypothyroidism, all metabolic processes in your body slow down, explains naturopathic physician Andrew Neville, N.D. Many people with hypothyroidism experience fatigue, constipation, weight gain, hair loss, and depression. An underactive thyroid is one of the most common thyroid conditions, affecting 5% of the global population1.
Hyperthyroidism is on the other end of the spectrum. It occurs when the thyroid is hyperactive and produces too many thyroid hormones. This speeds up your metabolism and can cause symptoms like rapid weight loss, irregular heart beats, and sweating.
What are at-home thyroid tests?
Similar to in-office tests, at-home thyroid tests analyze your blood for levels of a myriad of biomarkers. Thyroid stimulating hormone (TSH) is the most common hormone measured by thyroid tests, although it's not a hormone produced by the thyroid.
Instead TSH is produced by the pituitary gland and triggers the production of T3 and T4. TSH levels typically spike when T3 and T4 levels are low, indicating the body needs to produce more of these hormones (or vice versa). While the most affordable thyroid tests only look at the TSH, this biomarker does not provide a complete picture of your thyroid's function.
Only looking at TSH assumes the body is operating normally and that no other issues are at play, which is a drastic oversimplification of the bodily process. In fact, a 2018 study2 found that screening for thyroid issues using a TSH test can actually miss hypothyroidism. Therefore, a normal TSH level does not ensure the thyroid is operating normally.
The most comprehensive view of your thyroid's function includes direct tests of T3 and T4 levels, as well as thyroid antibodies and Reverse T3 or rT3. As previously mentioned, the first two are hormones directly produced by the thyroid. When testing, you can look at either your total levels of the hormones or the free levels, which are written at FT3 and FT4 or free T3 and T4. These "free" hormones are not bound to thyroxine-binding globulin, and are considered highly sensitive assays that are better to identify disease.
While most of the tests on our list look at FT3 and FT4, only a handful also keep on eye on rT3. When the body converts T4 to T3, it creates rT3 or an inactive form of T3 in specific ratios. Occasionally, the body may be blocked from making T3, instead overproducing rT3. This metabolite acts like a brake on the thyroid's function, slowing down metabolism. As a result, it kickstarts many of the same symptoms as hypothyroidism, including weight gain. Both illness and chronic stress3 have been tied to high rT3 levels—which means it's another important test to consider when making your selection.
How do at-home thyroid tests work?
At-home thyroid tests typically require a very small blood sample from your finger, which you mail back to the company for evaluation. Although some at-home thyroid tests claim to be completely painless, it's a loose claim. Even the small pinprick needed to get a few drops of blood isn't entirely painless—but it sure beats the large-bore needles at the lab.
Most tests are evaluated by a remote physician in a CLIA-certified lab, ensuring comparable accuracy to a local lab. With any at-home test, there is room for user error. Submitting too little or too much blood, mislabeling the sample, or compromising the blood sample with germs can interfere with the results. (However, most brands offer free replacements.)
Plus, there are numerous benefits of using an at-home thyroid test, and one of them is that most tests qualify as a "medical expense," so you can use an HSA or FSA account to pay for it!
Who should use an at-home thyroid test?
Experts in thyroid health like Barbour recommend at-home testing for anyone who has been previously diagnosed with a thyroid condition or suspects that they may have one, due to experiencing common signs of a thyroid issue. She explains that it's a convenient tool for screening for thyroid disorders for those who don't have health insurance or aren't actively seeking a healthcare provider. It may also be a useful tool for monitoring your response to changes in your thyroid medication, if going to a lab center for a blood draw is not accessible. However, any adjustments in medication should only be done under the supervision of your health provider.
And while at-home thyroid tests are definitely a useful tool for many, it's important to turn to your healthcare provide to best understand your results. So even though some brands offer virtual consultations with a prescribing physician to help find the best treatment or remedies to help with thyroid issues, we still recommend partnering with a thyroid-focused endocrinologist. Remember: At-home testing should never be used as a replacement for care from a healthcare practitioner.
How we picked:
At-home testing is convenient, but also needs to make sense financially. These options offer the most comprehensive testing for the cost.
All of the tests in this list use CLIA-certified labs to process your sample. These are the same labs that your doctor's office would use. However, there are some differences in who reviews the results.
As complicated as the thyroid is, there are many different tests to give a clear picture of what is going on. All tests use TSH as a biomarker, but we also included brands that give a more comprehensive look with antibodies, FT3, and FT4.
So you found out you have an issue with your thyroid…now what? We looked at how these brands respond to abnormal test results to ensure users won't feel confused about their results.
All five of our choices are not covered by insurance at this time, but they do accept HSA and/or FSA payments. Of course, it's always a good idea to check with your account carrier for clarification if at-home tests qualify as a medical expense under your specific plan. In addition, the following tests all use a quick finger prick for the sample of blood needed.
Our picks for the best at-home thyroid tests of 2023:
Advertisement
This ad is displayed using third party content and we do not control its accessibility features.
Advertisement
This ad is displayed using third party content and we do not control its accessibility features.
When is the best time of day to test your thyroid?
The best time of day to test the thyroid is in the morning before noon, according to Barbour. He adds, "If you are already taking thyroid medication, it's recommended you delay dosing your medicine in the morning until you complete your specimen collection, then take your medicine right after. Thus, it's best to complete testing as early as possible after waking up."
FAQ:
Are at-home thyroid tests accurate?

Yes, at-home tests use the same CLIA-certified labs, just like healthcare providers. In order to comply with state regulations, they also require a physician to order and review the results, although that does not guarantee you'll get any direction from a healthcare provider on your results.
What are early warning signs of thyroid problems?

Thyroid issues can manifest in a variety of ways. Some common signs and symptoms include fatigue, weight gain/loss, depression, and even impaired memory.
Can I check my thyroid levels at home?

Yes, using an at-home thyroid test is a great way to get insight into your thyroid health. However, it is only a test. It's still important to discuss your family history, symptoms, and risk for thyroid health with a healthcare provider.
Are at-home thyroid tests covered by insurance?

Typically, at-home tests are not covered by insurance. However, they qualify as a "medical test" for most HSA and FSA users. We recommend checking with your carrier to determine if you can use a health account to pay for the tests before you make a purchase.
The takeaway.
Taking charge of your health has never been easier. Having the option of testing your thyroid from the comfort of your home is a key component, especially for those who don't have health insurance, haven't established a primary care provider, prefer the comfort of their own home around needles, or simply can't make time for an appointment at the doctor's office. After all, thyroid tests are one of the essential tests recommended for everyone—and ordering one from home is just a click away. Just be sure to follow up with your healthcare practitioner for any abnormal results.
Meet The Experts
Amanda is a registered nurse with over a decade of experience in clinical nursing and a member of the Association of Healthcare Journalists.
Sheeva Talebian, M.D.
, is a board-certified reproductive endocrinologist. She graduated from Columbia University and obtained her medical degree from Mount Sinai School of Medicine.