This Integrative Derm Shares Her Best Skin Care Tips & Philosophies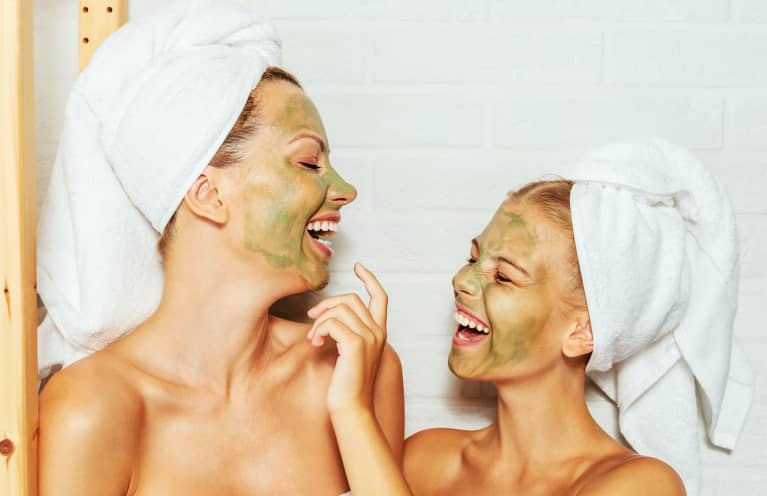 Our editors have independently chosen the products listed on this page. If you purchase something mentioned in this article, we may
earn a small commission
.
"I always try to emphasize to my patients that most of this skin care stuff is optional—don't feel like you have to do all of these things to meet whatever standards of beauty are out there. The ultimate goal is only for you to feel comfortable in your own skin," says triple board-certified dermatologist Mamina Turegano, M.D., FAAD. In this episode of Clean Beauty School, I chat with the holistic-and-mainstream derm about a lot of topics: what we're getting wrong about modern skin care, using lifestyle choices to care for your skin, and even her mom's favorite DIY beauty hacks.
Well, that last point made for good fodder—not only on her wildly popular social media channels but right here in this story: "My mom is an awesome way for me to express my love for holistic and natural integrative stuff," she says. In the episode, she explains how she makes space for both the mainstream views of dermatology and the integrative teachings she feels so attached to. She has a fresh perspective on joining the two (definitely give the episode a listen), but in the meantime, here are our favorite natural at-home remedies to try.
Her first viral hit, this is one of her favorite tips from mom (for what it's worth, we love it too!). "I saw her starting to rub a banana peel all over her face and asked her where she heard of doing that—she said she hadn't heard of it anywhere but just wanted to try it for her skin," she laughs. "So I went to PubMed to see if there's any research about the benefits of banana or banana peels, and I was really surprised to see that there were—it's full of awesome nutrients and skin benefits. Not to mention, it's easy, cheap, and unless you're allergic to bananas, it's harmless."
Bananas contain significant amounts of potassium, which can help support hydration and counteract fluid retention in the skin—that's why many eye cream formulas feature banana extract, as it's great for reducing puffiness and bags. They also boast a load of antioxidants, including vitamins C, E, B, and A, which can help combat free radicals and help deal with signs of premature aging. And on the subject of skin aging, bananas are also rich in silica: This mineral plays an important role in collagen synthesis, which in turn keeps the skin firm and taut.
"I don't think it should replace your skin care, but it's just something fun if you eat a banana, you're at home, and you have access to a sink in 20 minutes, yeah, go ahead and rub a banana peel on your face," she says.
Speaking of skin care, we spoke at length in the episode about her go-to favorites, including vitamin C serums (she says SkinCeuticals C E Ferulic serum is a classic), tinted SPF ("not only does it help protect your skin against UV light, but the zinc oxide in tinted mineral sunscreens can protect you against visible light, which can cause dark spots," she says), and consistent exfoliation ("I am using Philosophy Microdelivery Resurfacing Solution because it's gentle enough for regular use and uses ingredients like cica and vitamin C to help soothe the skin too," she says.
As someone who regularly dry brushes, I was thrilled to hear this one made the list of mom-and-derm-approved rituals. "There's a couple of reasons why I like it," she explains. "First is that it helps with skin exfoliation. The second is you're supposed to brush toward your heart starting from your feet up your legs, or your hands up your arms—the movement is toward your heart. And it's supposed to boost circulation. A lot of my mom's tips are all about boosting circulation. Finally, it's just a moment of self-care: I just find it interesting that we don't really touch our skin, and we should," she says. Just don't forget to hydrate after.
"So my mom would like to save the onion skin from the onions—and she emphasized that it has to be organic onions because it's like the outside of the onion—and then let it sit in the sun for a bit. Then she'd boil it for 15, 20, or 30 minutes," she says, before drinking it up.
"And one of the biggest components of onion skin is an antioxidant called quercetin, which just has so many wonderful anti-inflammatory benefits," she says. "So I think there's something to it for sure. Research shows that it's a powerful flavonoid that helps stave off inflammation and fight off free radicals, both of which are important for managing signs of skin aging, like fine lines and crepey skin. One study even shows that quercetin was able to prevent UV-induced collagen degradation in human skin tissues.