This Is Why The Mediterranean Diet Is Already 2019's Best Way To Eat
mbg Health Contributor
By Gretchen Lidicker, M.S.
mbg Health Contributor
Gretchen Lidicker earned her master's degree in physiology with a focus on alternative medicine from Georgetown University. She is the author of "CBD Oil Everyday Secrets" and "Magnesium Everyday Secrets."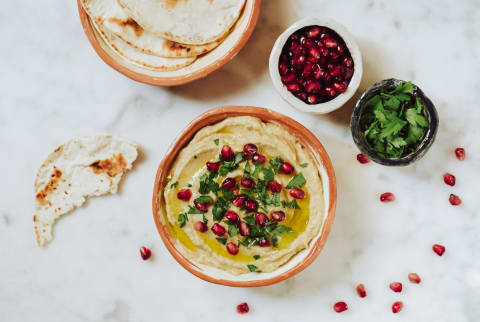 Image by Vera Lair / Stocksy
January 3, 2019
If you've ever been confused about what to eat, you're definitely not alone. The world is teeming with nutrition information and diets that claim to help you live your healthiest life possible.
But what eating plan is actually the healthiest? It's hard to know for sure, but recently, a panel of health experts debated the topic for U.S. News and ranked 41 different diets. What they found is that there's one that stands out above the rest for being easy to follow, safe, nutritious, effective for weight loss, and great for preventing lifestyle-related diseases like heart disease and diabetes.
Advertisement
This ad is displayed using third party content and we do not control its accessibility features.
It's the Mediterranean diet—with a score of 4.2 out of 5 possible points—which probably doesn't come as a surprise to the nutrition-savvy among us. The Mediterranean diet has been praised for its health benefits for decades. It consists of plenty of fresh fruits and vegetables, healthy fats like those found in olive oil and fatty fish like salmon and sardines, and nuts and seeds.
What's interesting about the Mediterranean diet is that it embodies what so many other beneficial diets have in common; it's all about real foods that are not processed or refined, healthy fats that fight inflammation, and fresh produce.
Indeed, well-known diets like the Mayo Clinic diet, the DASH diet, the anti-inflammatory diet, the macrobiotic diet, and the ketogenic diet were also on the list—but none of them beat the Mediterranean diet for sensibility and effectiveness. In other words, this way of eating is great for fighting inflammation and chronic disease and keeping blood sugar balanced, but it doesn't force you to reinvent the wheel.
Dr. David L. Katz, founding director of Yale University's Prevention Research Center, praised the diet by saying "It's a really nice example of the potential to love food that loves you back."
And so, if you're looking to make healthy changes to your diet in 2019, it would be wise to use the Mediterranean diet as inspiration, or even follow it exactly. Some of the world's top experts in nutrition and public health think that when it comes to the food philosophy of the Mediterranean region, you really can't go wrong.
Want to turn your passion for wellbeing into a fulfilling career? Become a Certified Health Coach! Learn more here.
Advertisement
This ad is displayed using third party content and we do not control its accessibility features.