Close Banner
Advertisement
This ad is displayed using third party content and we do not control its accessibility features.
The Best Diet For Your Blood Sugar, According To Mayo Clinic Research
mbg Health Contributor
By Gretchen Lidicker, M.S.
mbg Health Contributor
Gretchen Lidicker earned her master's degree in physiology with a focus on alternative medicine from Georgetown University. She is the author of "CBD Oil Everyday Secrets" and "Magnesium Everyday Secrets."

Medical review by
Leah Johansen, M.D.
Board-certified family medicine physician
Leah Johansen, M.D., practices alongside Robert Rountree, M.D., at Boulder Wellcare in Boulder, Colorado. Johansen earned her medical degree from Trinity School of Medicine and completed her residency training in family and community medicine at Case Western Reserve University.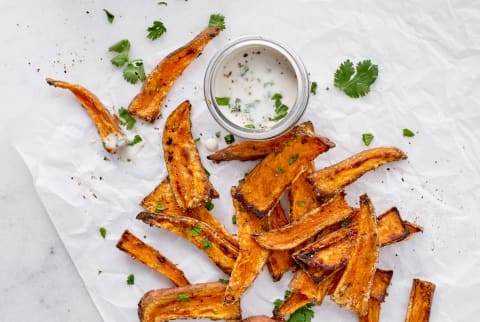 Image by Suzanne Clements / Stocksy
Did you know that 100 million adults in the United States1 are currently living with diabetes or prediabetes? This number is growing steadily and by 2015, diabetes was already the 7th leading cause of death. According to the CDC1, "People with diabetes are at increased risk of serious health complications including premature death, vision loss, heart disease, stroke, kidney failure, and amputation of toes, feet, or legs."
In other words: it's more important than ever to find ways to control blood sugar efficiently.
Luckily, a new study2, published in the most recent edition of JAMA Network Open3, helped increase our understanding of the individual response to carbohydrates, proteins, and fats in food by creating a predictive model of individualized caloric response based on a variety of individualized features including age, BMI, etc and the microbiome. It suggested that an individualized diet—especially one that accounts for differences in people's gut microbiome—is the most effective at managing blood sugar levels, bringing us one step closer to actually fending off this epidemic of blood sugar imbalance, which is quickly spreading to the rest of the world, as well.
When it comes to blood sugar, we have to look at the full picture.
For this particular study, scientists at the Microbiome Program, Center for Individualized Medicine at Mayo Clinic followed over 300 people for six days. They each ate a bagel and cream cheese for breakfast and then ate whatever they wanted for the rest of the day. The researchers collected stool samples from each participant, measured their glycemic responses to the foods they ate by having them wear a blood glucose monitor, and collected information about how much and what they ate and how often they exercised.
The results showed that when the researchers considered only factors like carbohydrates or calories consumed, they were able to accurately predict blood sugar response 40 and 32 percent of the time, respectively. But when they used a new model they developed, which accounted for factors like age and the microbiome diversity of the participants, they were able to predict blood glucose sugar responses accurately 62 percent of the time. When you consider how many people are suffering from diabetes, that number is huge.
The blood-sugar-microbiome connection you need to know about.
So what's the deal with the microbiome and blood sugar? Is the key to balancing blood sugar in the gut? We're not entirely sure yet, but there's growing evidence that targeting the microbiome could help us combat diabetes. And it makes sense that if our microbiomes are all different, every person would respond a little differently to different foods—blood glucose response included. That would explain why, for example, some people can eat oatmeal and feel energized and others can eat carbs like this and feel fatigued and less than optimal.
This study highlights this fact that giving blanket nutrition advice to people with blood sugar issues is not just an oversimplification, it's ineffective. As Helena Mendes-Soares, Ph.D., a research associate in the Microbiome Program, Center for Individualized Medicine at Mayo Clinic, explained to mbg: "Cutting calories, eating fewer carbohydrates, and 'losing weight' may be the current available approaches, but in the future, more personalized treatments may yield better results in the control of glycemia."
And while we still need to know more, the future of diabetes treatment could entail identifying which foods respond well with an individual's microbiome—instead of lumping big categories of foods together and trying to get the patient to cut them all out completely. For now, Dr. Mendes-Soares recommends taking advantage of your multidisciplinary care teams if you have a blood sugar issue, which will help you take an individualized approach as well.
"An endocrinologist, a nutritionist, and a behavioral therapist may provide valuable information," says Dr. Mendes-Soares. "But they also complement each other, and what you can gain from working with them—and allowing them as a team to understand you as a unique individual—will provide treatment approaches that may be a better fit than just cutting down on carbohydrates or losing weight, for instance. They will help you determine what does and doesn't work specifically for you."