So You're Traveling? The Beauty Products You *Actually* Need To Bring, According to Experts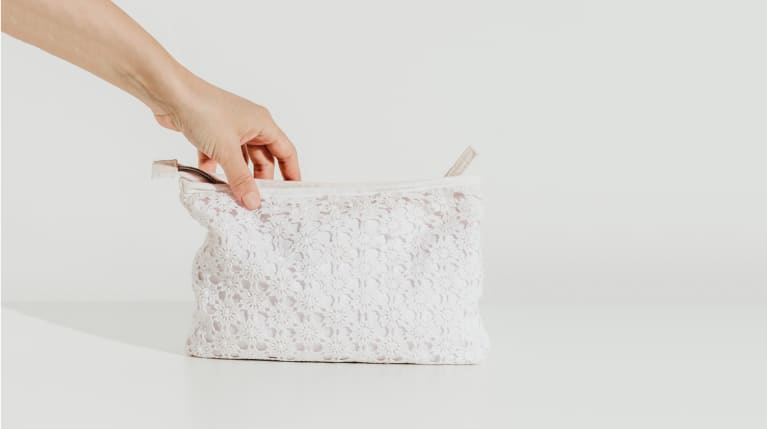 Our editors have independently chosen the products listed on this page. If you purchase something mentioned in this article, we may
earn a small commission
.
As a frequent traveler, I still struggle with what to pack for trips. If it's a short one, all I want to do is bring the essentials—which raises the question, what exactly are those essentials? Of course, there's significant nuance with any of this. If your hair is curly, your essentials are going to be much different from someone's who has straight hair. Or for makeup, maybe your priority is to cover up zits, maybe it's to fill in brows, or maybe you always wear a signature red lip—which all obviously use different products. This being said, there are some universally helpful and strategic basics that will make your on-the-go routine more efficient with less bulk. And from here, you can toss in any other items that are essential for you.
If you bring only one makeup item...
Make it a tinted sunscreen. "I don't want to deal with a bunch of different bottles and tubes—a tinted face sunscreen does everything I need in one fell swoop," says natural makeup artist Katey Denno. And, unlike a moisturizer that you'll apply night and day, you're only wearing this during the day, so it's the ideal step to combine with an SPF. Afraid that your tinted SPF is going to look too shiny? Well, says Shirley Pinkson, makeup artist and founder of W3LL People, "Let's stop trying to make our skin so matte. You're on vacation; let your skin be dewy."
A lip-to-cheek tint. I've talked about how much I love these (see my favorites here) since they're so portable and multiuse. And after a long day traveling, a little flush on the cheeks will brighten you right back up. Denno agrees: "I always bring Au Naturale The Anywhere Creme Multistick. I like it in Grapefruit, which is a gorgeous pink with some shimmery gold: perfect for cheeks, and then I tap it on eyelids when I want to dress up in the evenings." It also is formulated for lips, making this a three-in-one. Plus, says Pinkson, you don't need to bring a brush, as you might with a powder blush.
A natural mascara. "When I speak to women, for 70% of them, mascara is their essential," says Pinkson. (W3LL People's Expressionist Mascara is a thing of wonder.) For good reason: With one swipe, it will open eyes and make you look more awake. Coated lashes also look more polished, so even if you're not doing an entire routine, this one step will do a lot of the heavy lifting. But, warns Pinkson, "only do the upper lashes. Since you're traveling, you don't want to have to touch up midday, and the bottom lashes tend to bleed easier."
If you bring only one skin care item...
Make it a moisturizer. Something to hydrate the skin is going to be your must-have. Full stop. (Worst-case scenario, you'll wash your face with just water and you'll miss your treatment serums for a few days). If you have well-hydrated, healthy skin, you'll be able to get away with being less done up. As for the type of moisturizer, find something with hyaluronic acid, which holds a ton of moisture sans weigh, making it ideal for any skin concern or climate. "There's not a person who can't benefit from this ingredient," says esthetician Amity Spiegel.
A gentle face wash. The bar soaps that are in most hotel rooms are less than ideal for your skin (think harsh surfactants, drying chemicals). "Most bar soaps are very hard on skin," holistic esthetician Jeni Sykes. tells us. "So you might get that fresh, clean feeling, but it will not be helpful long term because it will hurt the surface and barrier." So if you have room to bring your own wash, you should. Liquid washes are harder, as they tend to be in bulky bottles and can spill, so either try a better-for-you natural bar (see my favorites here) or a cleansing powder, which you can mix with water to make it into a lather.
A multipurpose oil. While oils might be hard to transport (they tend to come in delicate bottles and can leak), it's worth it to find one that you can use on your skin, hair, and body. Argan, jojoba, and rosehip seed oil are all ideal carriers for a multitasker, as they are light enough for the face.
If you bring only one hair care item...
Make it a smart co-wash. Hotel shampoo and conditioners can be rough on hair. To start, there's a very good chance the shampoo contains drying, harsh sulfates. And the conditioners are likely full of fillers and little nutrients. But a well-formulated co-wash will clean without stripping and add in some moisture. "You want to make sure that it actually has cleansing agents in it; so many cleansing conditioners don't have strong enough cleansers, so you get buildup," says hairstylist Sam Brocato, founder of Sam Brocato Salon and the new natural hair care line Together Beauty. His Wash & Co Cleansing Conditioner is made with coconut-derived surfactants, so it will lift off impurities, but the added oils and quinoa will keep even the driest strands hydrated. (Those with fine hair likely avoid co-washes as they think it will weigh down their hair, but since it's just for a trip, you'll be fine for a few days.) Another bonus: A good co-wash can act as a leave-in conditioner, styling product, and protectant, which you'll need for those harsh hotel blow-dryers. "Just use a tiny amount—less than you would a normal styling product," he says.
A scalp-healthy dry shampoo. A good dry shampoo can not only absorb oil and dirt midday, but it will soothe the scalp, treat the hair, and act as a styling agent. The ingredients to look for will vary depending on your hair type, so check our guide here.
A multipurpose oil. Use it to sweep back fly-aways, add shine post-styling, or lock in moisture after washing (which will come in handy for those with extra-dry hair).
If you bring only one body care item...
Make it an SPF. To be honest, if you are short on space, you don't really even need to bring anything other than an SPF for your body. (Read our picks here.) And if your skin runs dry, you can always use a bit of that multipurpose oil at night to help soothe any dehydrated areas.