Taking Hot Baths Regularly May Lower Blood Pressure, Study Says
Assistant Managing Editor
By Abby Moore
Assistant Managing Editor
Abby Moore is an assistant managing editor at mindbodygreen. She earned a B.A. in Journalism from The University of Texas at Austin and has previously written for Tribeza magazine.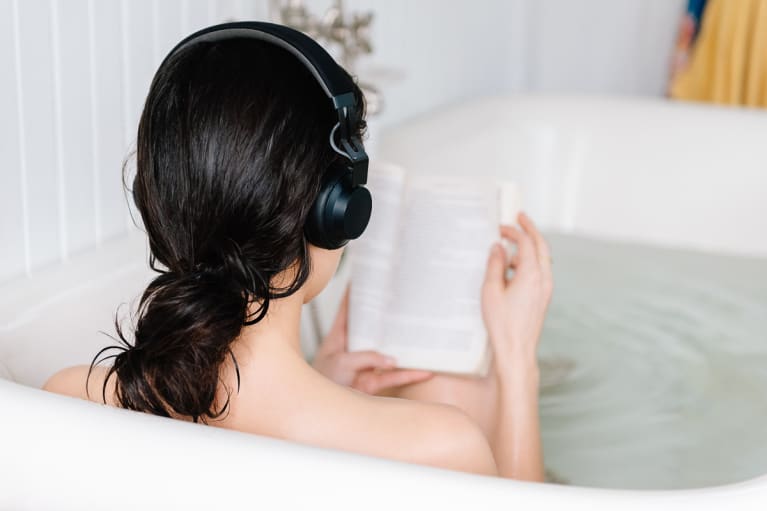 September 22, 2020 — 12:32 PM
While there are plenty of benefits associated with cold-water exposure, turning up the heat has its own set of perks. Previous studies have linked heat therapy, including saunas and hot tubs, to improved sleep quality and heart health. Now, new research shows taking a hot bath at least four times a week can lower blood pressure, among other type 2 diabetes risks.
The research, presented at the Annual Meeting of the European Association for the Study of Diabetes (EASD), analyzed more than 1,297 adults with type 2 diabetes and the effects regularly bathing had on their metabolic health.
What's the deal with hot baths?
The patients were split into three groups, based on the frequency of bathing:
The first group bathed four or more times per week.
The second bathed one to four times per week.
The third group took less than one bath per week.
Researchers also collected and compared data, including body measurements and blood tests, from participants in each group. Those with a higher frequency of bathing showed a decrease in body weight, diastolic blood pressure, and glycated hemoglobin (a type of blood sugar control). Overall, these factors can help lower the risk for type 2 diabetes.
On average, the adults who saw these decreases took hot baths about four times a week for at least 16 minutes. The promising effects on blood sugar and blood pressure levels remained the same, regardless of age, weight, sex, and related medications.
While bathing isn't necessarily a treatment for type 2 diabetes, these findings suggest it's a free (and relaxing) way to help manage symptoms. Feeling inspired to take a hot bath, yet? Try one of these six DIY bubble baths for a cozy night in or a soothing oatmeal bath to relax the mind and the body—all while taking care of your metabolic health.