What Is Sumac? 4 Health Benefits Of The Spice & This PhD's Favorite Ways To Use It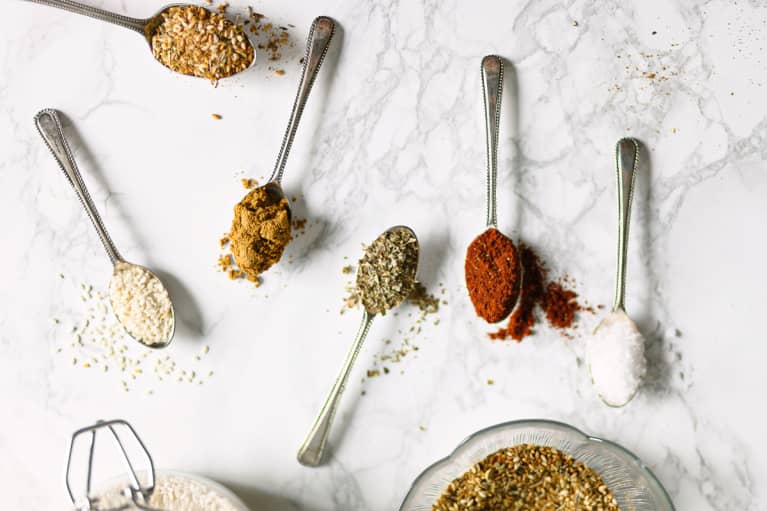 Our editors have independently chosen the products listed on this page. If you purchase something mentioned in this article, we may
earn a small commission
.
If I had to narrow down my spice cabinet to just three options, sumac would most definitely be on the list. Though it has a long history in Middle Eastern cultures and cuisines, sumac is a relative newcomer in Western dishes—and it's most definitely underrated, even among those who do use it.
As a doctor of biomedical sciences and an expert in the functional nutrition of spices, I favor sumac for its health benefits, flavor profile, and ease of use. Here's everything you need to know about this underrated, anti-inflammatory spice.
What is sumac & where does it come from?
Sumac is a vibrant burgundy-colored spice that comes from the berries of a bush, called the Rhus Coriaria shrub. The wild plant can be found in Mediterranean regions, including Italy, Turkey, and Iran. When those berries are dried and ground down, it creates the spice that is sumac.
What does sumac taste like?
The red-hot coloring of sumac can be a bit misleading since the spice isn't, well, spicy. Instead, sumac tastes just like lemon. It has sour, tangy, bright, earthy, fruity notes that will elevate just about any dish.
Substitutes for sumac spice
If you don't have sumac on hand, lemon zest will provide the same citrusy flavor. A squeeze of lemon juice or vinegar could also have a similar outcome, if adding liquid won't mess with the texture of your dish. Amchur (or dry mango powder) also has a similar tang and brightness.
Za'atar is another good alternative since the spice blend contains sumac. While the overall flavor leans more savory, the aftertaste is still bright due to the sumac.
If it's the vibrant red hue you're aiming for, then consider subbing in paprika, which is also relatively mild in flavor.
Sumac spice health benefits:
1.
Provides anti-inflammatory effects.
2.
Supports metabolic and cardiovascular health.
One study published in the Journal of Research in Medical Sciences looked at the effects of sumac on 41 people with type 2 diabetes. The participants were split into two groups: One received a placebo, while the other received 3 grams of sumac powder daily for three months.
At the end of the three months, they found that participants taking sumac experienced a decrease in insulin and were, therefore, at a lower risk for developing cardiovascular disease.
3.
Contains antimicrobial properties.
Along with providing anti-inflammatory properties, the tannins in sumac contain antimicrobial (biofilm) properties. Research has suggested that these antimicrobial properties help inhibit the growth of five common oral bacterial strains that can lead to infectious diseases of the mouth.
4.
May reduce muscle pain
A study published in 2016 found that sumac juice was beneficial in reducing muscle pain in 40 healthy participants following a four-week aerobic exercise program. Those given sumac juice (compared to the placebo beverage) experienced a lower pain score. The researchers suspect the antioxidant activity of sumac may be responsible, but more research is needed.
How do you use sumac in cooking?
Sumac is one of my favorite spices to use in cooking—not just for its health benefits but also for its versatility and ease of use.
It's best sprinkled on dishes like fried eggs, babaganoush, tomato and feta salad, or this anti-inflammatory broccoli soup, to add brightness up to the very last bite. It can also be used in roasted veggies like cauliflower, sweet potatoes, eggplant, carrots, chicken, or fish for an added flavor and nutrition enhancement.
Most grocery stores carry ground sumac in the spice aisle or the international foods aisle. If you can't find it in your local supermarket, a visit to a specialty spice store should do the trick. No luck with either of those options (or you just want to stay in)? You can also find sumac online.
This zingy Middle Eastern spice is loaded with antioxidants, which provide anti-inflammatory and other health benefits. Plus, it's incredibly easy to cook with—just a sprinkle on top will take your favorite savory dish to the next level.