These Timesaving Hacks Will Help You Clean Your House Way Faster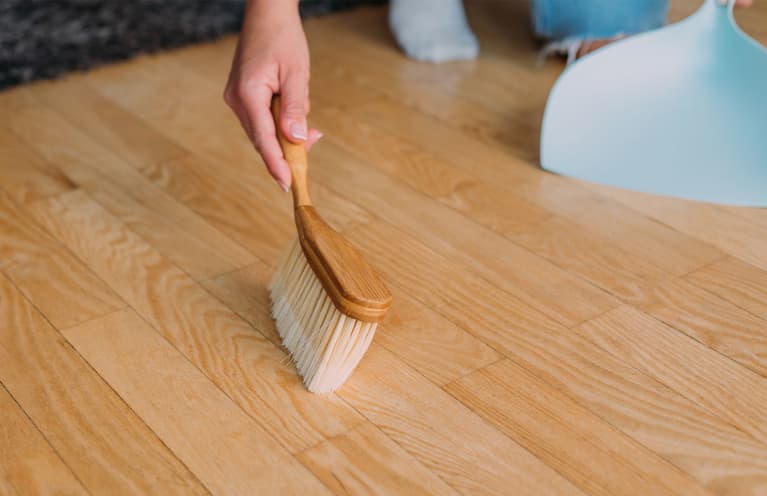 Our editors have independently chosen the products listed on this page. If you purchase something mentioned in this article, we may
earn a small commission
.
If warmer weather and longer days have you itching to clean house, you wouldn't be alone. There's a reason spring cleaning is a thing, but turning your house over from top to bottom can feel overwhelming, so we asked cleaning experts for their top timesaving hacks—here's what they had to say:
1.
Clean one room at a time.
If you're a frenetic cleaner, you undoubtedly know the struggle of running back and forth between rooms trying to organize. But according to green-cleaning expert Tonya Harris, this often winds up wasting time. "Cleaning just one room at a time will save time, rather than trying to clean two or three at a time," she says, adding to decide which room you want to tackle, and then work your way from the top to the bottom of the room, saving vacuuming for last.
2.
Use a multipurpose cleaner.
The beauty of a multipurpose cleaner is, well, it's multipurpose. If you don't have any, Becky Rapinchuk of Clean Mama says it's a worthy investment, as it'll help you cover more areas with just one product.
And as Harris adds, it's easy enough to make one yourself. She recommends white vinegar and baking soda for endless cleaning options, from the toilet to the shower to the stove and even carpets. "Just sprinkle a thin layer of baking soda over the area, and then spray enough vinegar over top of it, and watch the stain or grease lift off the surface. Then simply wipe away," she adds. (Here are four of our favorite recipes for DIY cleaning for more inspo.)
3.
Bring a bin into each room.
Harris says it's a good idea to bring a bin into the room you're working on cleaning, so if you find things you want to move somewhere else in your house, you can cut down on the running around. "As you move to each room, put away items in the bins that belong in that room, and add ones that don't," she notes.
Who says cleaning can't be a game? Rapinchuk recommends setting a timer and challenging yourself to beat the clock, noting that "it'll speed you up and keep you on task." This is also helpful if you only have a limited time to clean. After all, there's nothing like a ticking clock to get you moving more efficiently.
5.
Couple cleaning with something fun.
And last but not least, cleaning can be an opportunity to multitask other things on your to-do list (that don't require your hands, that is). "Use the cleaning time as an opportunity to multitask a phone call to friend, or catch up on your favorite podcast, or listen to an audiobook," Rapinchuk suggests. It'll save you the time of having to do those things later, plus, it might just make the cleaning go by faster.
Spring cleaning might seem like it'll eat up a lot of your time, but you'll be happy once it's done—and with these tips, you're sure to be done that much quicker.