The Hair Growth Serum That Gave Me (& Reviewers) New Baby Hairs In 3 Weeks
Assistant Beauty & Health Editor
By Hannah Frye
Assistant Beauty & Health Editor
Hannah Frye is the Assistant Beauty Editor at mindbodygreen. She has a B.S. in journalism and a minor in women's, gender, and queer studies from California Polytechnic State University, San Luis Obispo. Hannah has written across lifestyle sections including health, wellness, sustainability, personal development, and more.
February 21, 2023
We carefully vet all products and services featured on mindbodygreen using our
commerce guidelines.
Our selections are never influenced by the commissions earned from our links.
When you're growing up, you never think about the consequences of your hair mistreatment, especially regarding hair loss. As a young girl, my daily slicked-back buns and ponytails were necessary for dance class, and I never thought they would do any longterm damage. I was wrong; I'm in my mid-20s, yet my hairlines clearly reflects the wear and tear of regular strain on my follicles.
Over the past year, I've tried countless scalp and hair growth serums to encourage regrowth, but my hairline stayed sparse (even as my stock of serums and shampoos dwindled down). Right on the cusp of giving up on products altogether, I stumbled across one final innovative formula—and three months later I can say the results are shocking. The product in question? SpoiledChild's A22 Biotin Hair + Scalp Serum.
What I was looking for: 
While there are countless reasons to use a hair growth serum, I personally needed one that would help fill in thin patches around my hairline. While my hair loss was minor, it was still noticeable to me. Anyone who has struggled with thinning hair knows how easily it can trigger insecurity, and I spent months refusing to pull my hair back.
As someone who works in the beauty industry, it's safe to say I tried plenty of options to encourage growth, from oils to serums. I even committed to a scalp massage practice, hoping the increase in blood flow would simulate a healthier follicle.
The main issue I ran into with most scalp serums was that they make my hair look oily for the rest of the day. I only wash my hair twice a week, so I could only use a scalp serum twice a week. This made it nearly impossible to see results from even standout formulas that my other coworkers loved.
I committed to using this spray-on scalp serum every night for three months. I told myself that if I didn't see results by the end of that period, I'd move on to something else (there are always other options to test!). However, it only took three weeks to see the regrowth begin.
What's inside? 
Rosemary oil: Rosemary is a fabulous herb for stimulating circulation on the scalp—which, in turn, has the potential to spur hair growth. In fact, a 2015 randomized comparative trial found that rosemary essential oil was just as effective1 as minoxidil (the active ingredient in many commercial hair-growth products) for reversing hair loss caused by androgens—also known as male- or female-pattern baldness—after six months.
Niacinamide: Also known as vitamin B3, niacinamide is well known for its skin benefits, which directly translate to the scalp. This vitamin hydrates, regulates oil production, decreases inflammation, fights oxidative stress, and supports the skin barrier—all great benefits for the scalp.
Biotin: This one is mostly known for its benefits when ingested orally, but biotin is also a great addition to topical serums. When applied to the scalp, biotin strengthens hair strands and boosts keratin production, which helps your strands grow out looking even better than before.
That's just scratching the surface. This serum actually has over one hundred active ingredients to support hair growth (one reason it's a bang for your buck).
How I use it & results. 
My favorite thing about this serum is that it's beyond user-friendly. You can easily spray the formula onto any area of concern, whether it's the hairline, a sparse patches, or the whole scalp. Compared to dropper bottles, this method is so much easier and causes way less mess. (Your bathroom will thank you!)
I simply spray the serum along my hairline, massage it in for one minute (as directed), and brush the rest throughout my hair.
What's more, I easily use it every day because the formula isn't greasy; I use it at night right before I go to bed, and I wake up with fresh hair every morning—you'd never know I applied a product to my scale the previous evening.
While it may seem like the easy application is just a perk, I consider it a must-have, given that hair growth serums call for daily use to see actual results.
Speaking of results: You can see the baby hairs already growing after three months of consistent use—just check out the photo, below. I also finally feel confident about pulling my hair back again, and I never have to worry that my sparse hairline will peep through.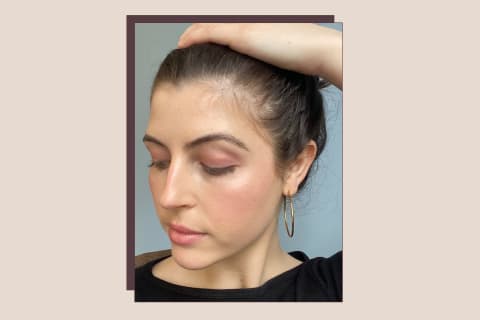 Image by Hannah Frye | Assistant Beauty Editor
It's safe to say that the SpoiledChild A22 Biotin Hair + Scalp Serum is my greatest hair growth find yet—and I'm not alone. The reviews are filled with comments like "baby hairs in just three weeks!" and tons of before and after photos that speak for themselves.
The takeaway. 
P.S. This product does contain essential oils, which may be an irritant for some!
Hannah Frye
Assistant Beauty & Health Editor
Hannah Frye is the Assistant Beauty & Health Editor at mindbodygreen. She has a B.S. in journalism and a minor in women's, gender, and queer studies from California Polytechnic State University, San Luis Obispo. Hannah has written across lifestyle sections including skin care, women's health, mental health, sustainability, social media trends, and more. She previously interned for Almost 30, a top-rated health and wellness podcast. In her current role, Hannah reports on the latest beauty trends and innovations, women's health research, brain health news, and plenty more.