Skin Feeling Tight After A Shower? Try This Derm's Easy Hack


mbg Beauty & Wellness Editor
By Jamie Schneider
mbg Beauty & Wellness Editor
Jamie Schneider is the Beauty & Wellness Editor at mindbodygreen. She has a B.A. in Organizational Studies and English from the University of Michigan, and her work has appeared in Coveteur, The Chill Times, and Wyld Skincare.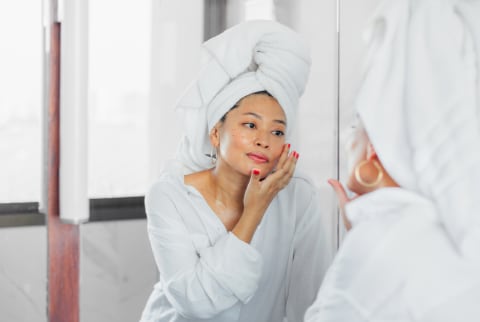 Image by Studio Firma / Stocksy
April 19, 2022
Our editors have independently chosen the products listed on this page. If you purchase something mentioned in this article, we may
earn a small commission
.
You've likely heard it a million and one times by now, but hot water has the ability to strip the natural oils and lipids from your skin. So if you can swing it, we often recommend keeping the shower temperature lukewarm, but we also know it's not the most realistic advice. For many, a long, steamy shower is just nonnegotiable—and so tight, itchy skin ensues.
Recently, board-certified dermatologist Lily Talakoub, M.D., offered a clever TikTok tip to meet this dilemma: Use a pre-shower mask! In addition to coating your skin in moisturizer after the fact, this hack can help you preserve that precious hydration from the get-go.
Advertisement
This ad is displayed using third party content and we do not control its accessibility features.
How shower masks work. 
Simple: By applying a lipid-supporting barrier, you create a buffer between the scalding water and your skin; this, in turn, prevents excessive water loss, which keeps your skin supple and smooth. So in addition to slathering on moisturizer after each and every rinse, buttering up your skin before you hop under the spray can keep that precious moisture barrier protected. "It will retain the moisture in the skin rather than the moisture being stripped from your skin from the humid air in the shower," affirms Talakoub.
Depending on your specific skin concern, though, you may reach for a slightly different formula. Find your perfect shower mask match below:
1.
If your face feels dry.
If your skin runs dry, Talakoub recommends reaching for a mask with panthenol and hyaluronic acid—both ingredients known for their humectant properties. Panthenol is especially lauded for restoring and protecting the skin barrier1, which is essential for managing general dryness. Some research has even found that it increases the mobility of lipids and proteins2 in the stratum corneum (outermost skin layer), resulting in improved hydration—all that to say, it's a top-notch ingredient for bolstering the skin barrier pre- and post-shower.
Talakoub specifically touts this SkinCeuticals Hydrating B5 Mask, which features both beloved hydrators. Leave the mask on while you're washing your hair, she suggests, then rinse it off right before exiting the shower. We should note, some of the mask might wash off while you're cleansing, but it should provide enough of a barrier to keep the skin aptly moisturized.
Advertisement
This ad is displayed using third party content and we do not control its accessibility features.
2.
If you have redness or irritation.
If you're dealing with irritation, soothing ingredients (think aloe, cucumber, and colloidal oat) are your friends. Find a cooling mask—Talakoub recommends this Phyto Corrective Mask from SkinCeuticals. "It has cucumber extract in it, and it will relieve the redness in your skin," she notes. Cucumber also has hydrating properties, for what it's worth, and contains many bioactive compounds, including cucurbitacins, cucumegastigmanes cucumerin, vitexin, orientin, and apigenin, that can help reduce swelling and irritation3.
Apply on irritated areas before stepping under the spray, again washing it off right before you're done with your rinse.
3.
If your under-eyes are dry.
"If your eyes feel really dry or tight after the shower, try this Love + Eyebright Eye Serum from One Love Organics," says Talakoub. It comes loaded with astaxanthin, meadowfoam seed oil, and green tea oil, which nourishes and protects the delicate skin with antioxidant power.
Apply the oil under the eyes before your shower, and let it absorb into the skin as you rinse. You likely won't even need to wash it off at the end, as you're not using a goopy mask here; the serum should sink right in.
Advertisement
This ad is displayed using third party content and we do not control its accessibility features.
4.
If you feel tight all over.
Talakoub primarily focuses on protecting the facial skin, but let's not overlook a good body mask. If you routinely experience tight, itchy skin after the shower, sandwiching your skin in body oil might do the trick. That way, you reduce the amount of water compromising your skin's natural lipid layer and maintain its integrity. Personally, I love to use this squalane-rich Body Serum from Leland Francis, or you can find our full list of favorite body oils here.
Just don't forget to apply moisturizer after the shower, too. You see, this shower mask trick is helpful for creating a partition between the scalding water and your skin, but those lingering droplets can still evaporate from the surface without a high-quality moisturizer trapping them inside. mindbodygreen's postbiotic body lotion is perfect for the job, as it includes a blend of rich hydrators (like aloe, shea butter, squalene, and oat oil), as well as targeted-biotic ingredients to help ease and nourish the skin microbiome.
Advertisement
This ad is displayed using third party content and we do not control its accessibility features.
The takeaway. 
Shower masks may sound like a buzzy new product category, but all you need to do is apply a layer of hydration before hopping into the shower. That way, you can preserve your moisture barrier and keep the hot water from stripping your skin. Of course, post-shower rules still apply: Always apply a moisturizer to lock in the hydration and keep your skin supple.