This Esthetician's Shower Time Hack Is The Antidote To Dry, Winter Skin

mbg Beauty & Wellness Editor
By Jamie Schneider
mbg Beauty & Wellness Editor
Jamie Schneider is the Beauty & Wellness Editor at mindbodygreen. She has a B.A. in Organizational Studies and English from the University of Michigan, and her work has appeared in Coveteur, The Chill Times, and Wyld Skincare.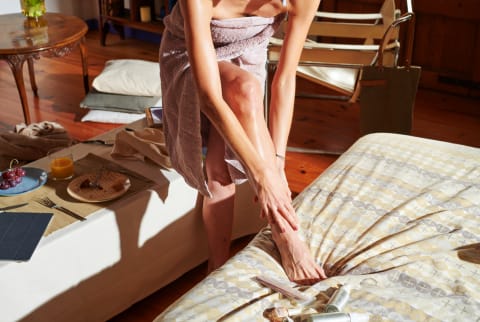 Image by Guille Faingold / Stocksy
February 1, 2022
One of the biggest culprits for dry, wintry skin? Your shower habits. It's a double-edged sword of sorts: When temperatures turn frigid, it's only natural to defrost under a steamy spray—but in the long run, that hot water can compromise your skin barrier and lead to drier, itchier, flakier skin.
To meet this dilemma, experts recommend doing everything you can to seal in moisture post-rinse, as well as relying on inside-out approaches to strengthening the skin barrier (find our full winter hydration guide here). But celebrity esthetician and dermatological nurse Natalie Aguilar offers a shower time tip we couldn't help but share—you'll be able to preserve precious moisture without ditching a nice, hot shower (if you're so inclined). Catch her body oil hack below.
Advertisement
This ad is displayed using third party content and we do not control its accessibility features.
An esthetician's shower hack for soft, hydrated skin.
You likely know to apply body oil or lotion post-shower in order to trap all that precious water and keep the hydration from escaping into the air. As a general rule of thumb: If you step out of the bathroom resembling a slippery, baby seal, you're in a pretty good place.
Aguilar is a big fan of body oil, but she slicks on a layer before hopping in the shower: "One of my favorite rituals to care for and treat dry, wintry skin is to apply body oil, especially grapeseed oil, to my entire body prior to jumping in the shower," she notes. "This oil barrier prevents excessive water loss and helps with any irritation."
This tip is especially helpful for those who love long, steamy showers, as hot water has the ability to strip the natural oils and lipids from your skin. "Most people tend to increase the time spent in the shower as well as crank the water to nearly scalding hot levels to 'warm up,' and this literally strips the skin of moisture," Aguilar explains. By coating your skin with an oily barrier, you reduce the amount of water compromising your skin's natural lipid layer and maintain its integrity; essentially, you're creating a partition between the scalding water and your wintry skin, thus keeping it from drying out.
While you can choose any body oil you fancy, Aguilar's go-to occlusive has some noteworthy benefits: Grapeseed oil, especially cold-pressed, unrefined options, is thought to have impressive antioxidant properties1, studies show. It's also technically a "dry oil," which means it sinks in quickly and won't leave a sticky feeling on the surface of your skin.
Of course, Aguilar applies another layer of oil to trap in the water post-rinse. "As soon as I step out of the shower, I mix the grapeseed oil with my body moisturizer and lather up," she says. "You can feel and see the difference in your skin by doing this magical ritual. Skin feels moisturized, soothed, and irritations diminish."
Advertisement
This ad is displayed using third party content and we do not control its accessibility features.
The takeaway. 
To save your skin from stripping hot water, try Aguilar's body oil method to create a barrier pre-rinse. With the oily layer, you'll protect your skin barrier from becoming compromised (read: tight, itchy, or red) and enjoy a warm, soothing rinse.