The Supplement Is The Key To *Way* Less Bloat This Thanksgiving

mbg Sustainability + Health Director
By Emma Loewe
mbg Sustainability + Health Director
Emma Loewe is the Senior Sustainability Editor at mindbodygreen and the author of "Return to Nature: The New Science of How Natural Landscapes Restore Us."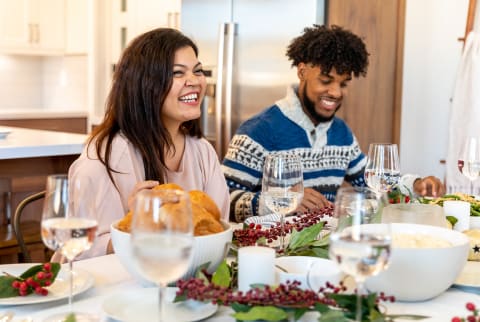 Image by Jayme Burrows / Stocksy
November 20, 2022
Thanksgiving is a marathon; not a sprint. The long day can start with a turkey trot, end with an indulgent meal, and be peppered with family traditions and catch-ups throughout. To get through it feeling your best, you'll want to come equipped with plenty of water, a positive mantra or two, and, of course, some extra-strength gut support. mindbodygreen's probiotic+ is up for the challenge.
Unlike other probiotic companies that leave you guessing as to what exactly is in their products, mbg is transparent about the exact strains we use in probiotic+, and what they do for you.
Take one capsule every morning (with or without food) to set yourself up for a more comfortable meal, sans bloat.* With this helper in hand, you'll be ready to make it to Thanksgiving day's long-awaited finish line: dessert!
Here's what people are saying about how probiotic+ helps them digest all the best that life has to offer:
1.
Love this product! Makes me feel great.
"Love this product! Makes me feel great. I did the experiment and fell prey to competitors and quickly found they did not work for me [...] Within 2 weeks of switching back, I noticed a complete change for the better. Will not switch again!"*
"Before I had trouble with bloating and gas after I ate but now, oh wow! It's like this supplement has regulated my gut."*
"My stomach bloat was gone after consistently taking this for two weeks. Highly recommend!"*
"Within a couple of days, my gut issues were getting better and almost a month in I'm feeling great. Highly recommend!"*
"The probiotic+ definitely has helped with my gut health. Ever since taking it, I'm more in control of any bloating that might have occurred before."*
The takeaway.
If you are pregnant, breastfeeding, or taking medications, consult with your doctor before starting a supplement routine. It is always optimal to consult with a health care provider when considering what supplements are right for you.