A 4-Ingredient Plantain Pancake Pizza You Can Make Sweet Or Savory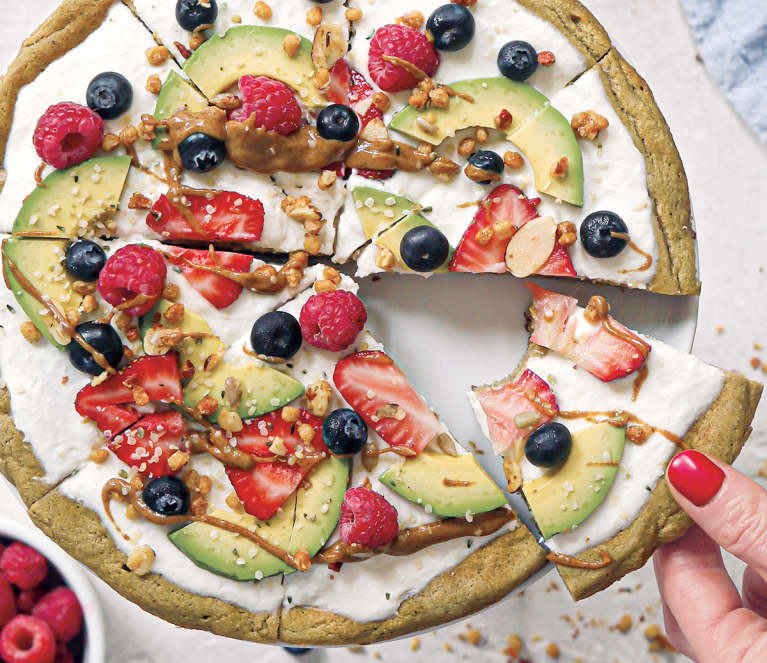 Our editors have independently chosen the products listed on this page. If you purchase something mentioned in this article, we may
earn a small commission
.
If you have 10 minutes, you have time to make this giant pancake for breakfast (or brunch!) today. You start out by cooking it on the stovetop for a bit, before transferring the whole pan to the oven under a hot broiler. This means you can skip the flip—which is a relief when you're making one huge pancake. Then, share it pizza-style, in slices you can pick up and eat with your hands.
The base of the pancake has only four ingredients (five, if you count the touch of coconut oil you use to coat the pan). It only uses a couple of tablespoons of flour—the thickness of the batter really relies on plantains. A starchier cousin of bananas, plantains are a good source of fiber and resistant starch, along with vitamins A, C, and B6. This nutritious ingredient is also perfect for both sweet and savory applications in the kitchen.
That's one of the best things about this pancake pizza: The flavor works well with pretty much any toppings you like. Pair it with maple syrup and fruit, or top it with avocado and lemon—it's really a delicious blank canvas.
Four-Ingredient Plantain Pancake Pizza
1 large ripe plantain
2 large eggs
2 tbsp. coconut flour
½ tsp. baking soda
Coconut oil, for pan
Set the oven broiler to high. In a high-speed blender, combine the plantain, eggs, coconut flour, and baking soda, and blend until smooth. It should be a thick batter but still spreadable.
Heat a 9-inch cast-iron skillet or oven-safe pan over medium heat. Oil the pan with the coconut oil, making sure to oil it well so the pancake won't stick.
Cook the pancake over medium heat for 2 to 3 minutes, or until you see bubbles on the top. Then, place the pan on a rack 6 inches under the broiler. Broil for about 2 minutes, or until the top begins to brown and the pancake feels stiff and cooked through.
Remove the pan from the broiler, and flip the pancake onto a plate. Top with your desired toppings.
Sweet & savory topping ideas:
Plain yogurt
Nut butter
Fresh fruit
Granola
Pure maple syrup
Sliced avocado
Want to turn your passion for wellbeing into a fulfilling career? Become a Certified Health Coach! Learn more here.