Brooklyn Bedding Plank Mattress Review: How Firm Is The World's "Firmest" Mattress?

Author:
Medical reviewer:
Updated on March 31, 2023


Medical review by
Scott Nass, M.D., MPA, FAAFP, AAHIVS
Board-certified Family Physician
Scott Nass, M.D., MPA, FAAFP, AAHIVS is a family physician and HIV specialist in California. He takes a holistic approach to healthcare, incorporating principles of functional medicine and using food as medicine when working with patients.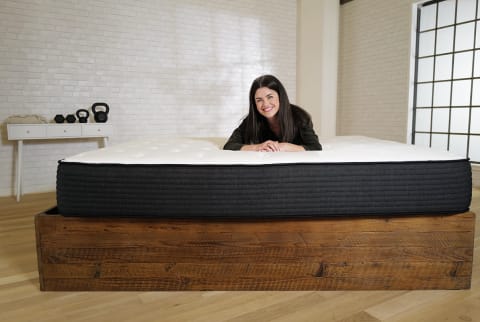 Image by mbg creative/ Andreas Von Scheele
March 31, 2023
We carefully vet all products and services featured on mindbodygreen using our
commerce guidelines.
Our selections are never influenced by the commissions earned from our links.
If you're someone who prioritizes well-being, we likely don't need to tell you how big of a role sleep plays in your health. But just to bring you up to speed: Quality sleep is absolutely essential for optimizing your heart health, blood sugar1, mood2, and muscle recovery3. And, while a number of factors will impact how restorative your snooze is, the mattress you choose is make or break. Since everyone's needs and preferences are different, let's dive deeper into one of the market's firmest mattresses: the Plank by Brooklyn Bedding.
Off the bat, this isn't the most sustainable choice—but it does have a quality design and a few features that make it a solid option for many types of sleepers. The flippable mattress has an all-foam design, offering one of the firmest surfaces we've felt. Back and stomach sleepers will benefit most from this construction, while side sleepers should look for something a bit softer.
Our full review of the Plank walks you through each detail of the design, so you can decide whether this mattress is the right choice for you. We've even included a video from our studios for a closer look at how this mattress fared in our team's tests. So scroll on, and consider yourself one step closer to deeper, more restorative sleep.
Don't have time to scroll? Here's our cheat sheet:
Pros:
Flippable design with two firmness levels
Also available as a plusher hybrid
Cons:
Not a super sustainable construction
Supbar motion isolation
Who should try it: Back and stomach sleepers will benefit most from this extra-firm design. While it isn't the most sustainable pick, the Plank is one of the firmest designs around with a flippable design that's great for those seeking a durable option that won't break the bank.
Who should skip: This mattress does not offer the same contouring feel a typical memory foam option provides, and is not conducive to spinal alignment for those who sleep on their sides. Side sleepers should look for something a bit softer. Additionally, light sleepers may want to opt for a mattress with better motion isolation.
Check out our Video review of the Plank mattress.
What is Brooklyn Bedding?
Brooklyn Bedding is a mattress company that produces six mattress models, along with pillows, sheets, blankets, mattress protection accessories, foundations, and adjustable bases. While the brand does not provide much information about its sustainability efforts, all products are manufactured in and shipped from the United States. Brooklyn Bedding also works directly with local organizations to provide bedding and sleep accessories to children and families who need them.
As for the delivery process, the Plank and all other Brooklyn Bedding mattresses ship for free and arrive compressed and rolled in a box. While you'll have to let the mattress expand for about five hours before sleeping on it, our team found the box fairly easy to move around, so setup was a breeze. Before unboxing, we recommend moving the box into the room you'll be using the mattress in. You'll likely want an extra set of hands.
The brand offers a 120-night trial and 10-year warranty on all mattresses, with free shipping within the United States. Just note, there is a $99 removal fee for returns, but the brand will come pick up your mattress and do its best to donate, recycle, or repurpose the returned materials.
How is the Plank mattress made?
This all-foam mattress takes the support factor up a notch, landing a spot on our picks for the best extra-firm mattresses. The brand calls this model its firmest mattress yet and recommends the design for back or stomach sleepers who need a little extra support. If you've struggled to find a mattress that's firm enough, you can likely end your search with the Plank mattress. It's absolutely one of the firmest designs that we've felt in our testing studios.
What makes the Plank stand out further is the flippable design. While the mattress is made entirely of memory foam, each side has a slightly different breakdown. On one side of the mattress, you'll find what the brand calls an "Extra-Firm" surface, which is made from a super-dense memory foam. You won't get that squishy feeling you may have associated with memory foam in the past, and you'll feel like you're lying on the mattress, rather than in it.
If you flip the mattress over, you'll find the "Firm" surface. This side has 3.5 inches of padding broken down into 2 inches of a softer memory foam and a 1.5-inch pillow top. The softer memory foam provides a bit of that body-cradling feeling and adds pressure relief, while the quilted pillow top gives extra cushioning. That said, this surface is still very firm and is not recommended for side sleepers.
If all this sounds too firm for you, consider checking out the brand's softer hybrid mattress, the Plank Luxe Firm. While slightly more, the slightly pricier hybrid design replaces most of the dense foam with a 6-inch core layer of individually wrapped coils. This gives the mattress more responsiveness but doesn't have so much bounce that you'll feel every movement.
One major benefit of the Plank's flippable design is, of course, that you're able to test these two firmness levels and see which one works best for you. Additionally, flippable mattresses tend to last longer. By flipping the mattress regularly and limiting wear and tear, you can prolong the amount of time your mattress will offer a truly supportive sleep. Of course, you'll have to deal with the different levels of support.
Features we love on the Plank mattress:
Cooling cover
An optional add-on, the cooling cover is highly recommended for anyone who tends to sleep hot. If you choose to include this, the gel fiber-infused cover will be sewn onto both sides of your mattress before it ships. This cooling technology helps your body maintain an optimal 88-degree temperature while you sleep.
Flippable design
There aren't many high-quality flippable mattresses on the market today, so this design truly stands out. Both sides offer enough support and comfort for back and stomach sleepers, with a flat surface that's meant to help you maintain a neutral spine. Plus, the flippable design gives you the most bang for your buck.
How firm is the Plank mattress?
In case the name didn't tip you off, this mattress is as firm as it gets. The brand rates the Extra-Firm side at a 9.5 on its firmness scale, and the Firm side at an 8. The previously mentioned Luxe design is rated at an 8.5 and 7.5, respectively. In fact, the brand says finding a firmer surface would require you to sleep "directly on the floor."
Layers of dense memory foam create a flat, extra-firm surface that relieves pressure, eases back pain, and supports proper posture. While our testing team was concerned this design would feel like lying on a wooden plank, the mattress was slightly softer than we expected. It's certainly not soft enough for side sleepers but does provide more comfort than the name suggests.
What sizes does the Plank mattress come in?
As a brand, Brooklyn Bedding offers one of the widest variety of sizing options we've seen. The Plank mattress is available in most standard sizes, starting at twin and going all the way up to California king, with short and split options as well. The brand also offers two RV sizes.
Mattress Sizes & Measurements:
California King/ Split California King: 72" x 84"
How much does the Plank mattress cost?
Mattress Pricing:
We've named the original Plank mattress as one of the best affordable mattresses. A queen costs $1,332, and the Luxe is about $200 more. Like most brands, Brooklyn Bedding has frequent sales—we've seen the original Plank drop down below $1,000. Don't want to wait for a sale? mindbodygreen readers save 25% on Brooklyn Bedding orders when they use our link and promo code MBG25.
The best sleeping positions for the Plank mattress:
Side sleepers: Not recommended
Side sleepers will find this mattress too firm. The flat, dense surface does not offer that same cradling sensation you may have felt on other memory foam designs, and while the "Firm" side specifically does provide pressure relief, the surface is not designed to support proper alignment for your hips and shoulders in a side-sleeping position. Side sleepers could try the Luxe model, but it may still be too firm for many.
If you're a side sleeper who does want a firm mattress, try our team's pick for side sleepers in our roundup of the best extra-firm mattresses.
Stomach Sleepers: Mostly yes
Stomach sleepers benefit most from a medium-firm to firm mattress with good support, and one that will help keep their spine in better alignment than the position naturally inhibits. This firmer design will work for many stomach sleepers, but some may still find it too firm.
Back Sleepers: Yes
After testing this mattress in our studios, we feel strongly that back sleepers will benefit most from the design. Not only does the firm surface keep your spine in alignment, but the mattress offers a solid amount of pressure relief back sleepers will appreciate.
How the Plank performs in testing:
Motion Transfer: 2/5
Our motion transfer test measures how well this mattress isolates movement by observing what happens to a jar filled with matcha, while our tester walks toward it. Particularly for those who share a bed with a partner or a pet, motion transfer plays a significant role in the quality of your sleep. Good motion isolation prevents your sleep from being interrupted by every movement.
Memory foam typically provides the strongest motion isolation, but the dense foam in the Plank mattress did not capture movement as well as we expected. When our testing team walked toward the jar of matcha, it definitely wobbled a bit. We wouldn't recommend this mattress for light sleepers who share a bed.
Responsiveness: 4/5
Our team's Bounce-Back test evaluates how responsive a mattress is and how well it will hold up over time. To test this, we dropped a ~10-pound kettlebell onto the surface and watched how much it bounces. With the Plank mattress, the surface bounced more than you'd expect for a memory foam material. This is due to the foam's dense construction, which gives the Plank its firm feel. Most memory foam mattresses won't bounce, which is why most people associate the material with a sinking feeling.
This bounce not only reflects the Plank's more lifted, buoyant feeling, but it also shows how easy it will be for sleepers to change position throughout the night. The Plank definitely leans toward a bouncy feel, similar to latex. As a result, it scores well for responsiveness.
Pressure Relief: 3/5
We test pressure relief in two ways: examining how well a mattress cradles a weight once dropped onto the bed, as well as having our testers lie in different positions on the mattress.
The first part is done during our Bounce-Back test, which also shows how quickly the material bounces back once the weight is removed. As you'll see in the video, the mattress cradles the weight slightly; however, there's definitely less conforming than you'd expect with an all-foam construction.
When our testers lay in all three sleeping positions, they evaluated how the mattress felt around their hips, shoulders, and other pressure points. They found the firm design does not offer a ton of pressure relief on the extra-firm side, especially for side sleepers. While it may feel OK, the extra strain would start to cause issues after a few hours. Side sleepers who need extra pressure relief around their hips and shoulders should switch to the firm side or search for something a bit softer.
That said, back sleepers and many stomach sleepers will benefit from the neutral position this flat design creates for their spine. The brand says this helps reduce pressure on your circulatory system, too.
Edge Support: 4/5
When searching for the right mattress, edge support is an important factor to keep in mind. Good edge support not only stops the body from slipping off the edges of the bed, but it also helps prevent sagging.
Our team tested the edge support by lying down on the edge of the bed in three sleep positions and evaluating whether they felt supported or not. As with most all-foam designs, the Plank does not have reinforced edges, so our expectations were not high. However, the denser foam actually gives the Plank better edge support than other all-foam mattresses, not allowing the body to sink in. Our testers also rolled to the very edge of the bed and still felt more supported than expected.
The takeaway
After putting it to the test, our team found the Plank Mattress to be a great pick for anyone searching for the firmest of the firm. While it does not meet our ideal sustainability standards for mattresses, it does provide a supportive yet comfortable feel for many types of sleepers. Side sleepers should avoid this pick and look for something softer, but back and stomach sleepers will enjoy the flat, firm surface. As one of the best affordable mattresses, you're getting a true deal with a dual-sided mattress that will last longer than most.
Meet The Experts
Scott Nass, M.D., MPA, FAAFP, AAHIVS
is a family physician and HIV specialist in California. He takes a holistic approach to healthcare, incorporating principles of functional medicine and using food as medicine when working with patients.