A Nutritional Psychiatrist Says Chocolate For Breakfast Is Best + His Go-To Recipe

Beauty & Health Editor
By Jamie Schneider
Beauty & Health Editor
Jamie Schneider is the Beauty Editor at mindbodygreen. She has a B.A. in Organizational Studies and English from the University of Michigan, and her work has appeared in Coveteur, The Chill Times, and Wyld Skincare.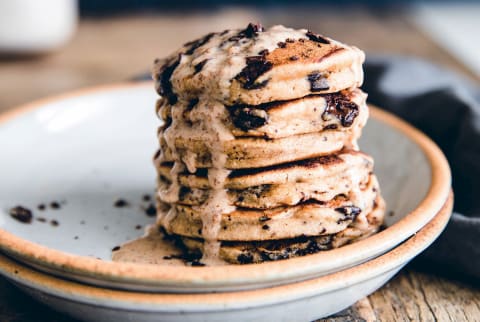 Image by Laura Lea / Contributor
March 22, 2021
We carefully vet all products and services featured on mindbodygreen using our
commerce guidelines.
Our selections are never influenced by the commissions earned from our links.
We're certainly not the first to say that, yes, chocolate earns a spot in a healthy, balanced diet. Dark chocolate specifically takes the cake, as it's lower in sugar, so it can satisfy sweet tooth cravings without altering blood sugar levels too much. Although, the chocolaty treat tends to be just that—a treat, sequestered to cheeky desserts and candy jars.
Nutritional psychiatrist Drew Ramsey, M.D., wants us to rethink chocolate's reputation: "Does dark chocolate need to be your treat, or can it be something that you have for breakfast?" he poses on the mindbodygreen podcast. Great news: Ramsey's a fan of the latter—for brain health, no less.
Why Ramsey says you should have chocolate for breakfast.  
Of course, it matters what type of chocolate you're digging into. For brain health, organic raw cacao reigns supreme: Not only does it contain polyphenols (a powerful class of antioxidants) to help neutralize free radicals and fight oxidative stress, but the cacao beans are also fermented before they're dried, roasted, and removed from their shells (that's what gives raw dark chocolate its slightly sour taste). As you may know, fermented foods have noteworthy benefits for gut health, which simultaneously supports brain health as well, thanks to the famed gut-brain axis1.
As for why you should eat chocolate in the morning? Well, the timing doesn't exactly make or break the health benefits (so feel free to reach for cacao at lunchtime, as a snack, etc.); Ramsey just emphasizes the benefits of incorporating chocolate into your everyday meals rather than regarding it as a one-off treat.
His go-to pancake recipe. 
All that being said, Ramsey likes to kick-start his mornings with a stack of cacao pancakes. "It's a buckwheat pancake, so there's more nutrient density," he notes. (Read: Buckwheat is rich in antioxidants, and it's the only pseudocereal that contains the powerful flavonoid rutin3.) "It's a really nutrient-dense little disk."
1 ripe banana
1 cup whole milk (or plant-based milk of your choice)
1 tablespoon lemon juice
1 tablespoon maple syrup, plus more for serving
1 tablespoon avocado or coconut oil, plus more for cooking
1 large egg, whisked (try a chia or flax egg if you're vegan)
1 teaspoon pure vanilla extract
1 cup buckwheat flour
1 teaspoon baking powder
½ teaspoon kosher salt
½ cup cacao nibs
Grass-fed butter (optional)
To make the brain-healthy stack, follow the below:
Combine the banana (mashed with a fork), milk, and lemon juice, and let it sit for at least 10 minutes—this, according to Ramsey, creates your own buttermilk.
In a separate bowl, whisk the dry ingredients (the flour, baking powder, salt) before stirring the two mixtures together just until combined.
Add your avocado or coconut oil to a skillet over medium heat. Scoop a ¼ cup of batter onto the warm skillet and sprinkle it with cacao nibs.
Cook for 3 to 4 minutes, then flip. And repeat until the batter bowl is scraped clean. Top the stack with grass-fed butter and extra maple syrup, if you so choose.
The takeaway. 
Incorporating chocolate into your daily meals—even breakfast—is a solid choice for brain health. Just make sure you're choosing organic raw cacao and combining it with other healthy ingredients (like buckwheat!) for an extra kick of nutrients.

Jamie Schneider
Beauty & Health Editor
Jamie Schneider is the Beauty Editor at mindbodygreen. She has a B.A. in Organizational Studies and English from the University of Michigan, and her work has appeared in Coveteur, The Chill Times, and more. In her role at mbg, she reports on everything from the top beauty industry trends, to the gut-skin connection and the microbiome, to the latest expert makeup hacks. She currently lives in Brooklyn, New York.