Why Happy Customers Are Loving brain guard+ For Staying Sharp & Alert
mbg Spirituality & Relationships Editor
By Sarah Regan
mbg Spirituality & Relationships Editor
Sarah Regan is a Spirituality & Relationships Editor, and a registered yoga instructor. She received her bachelor's in broadcasting and mass communication from SUNY Oswego, and lives in Buffalo, New York.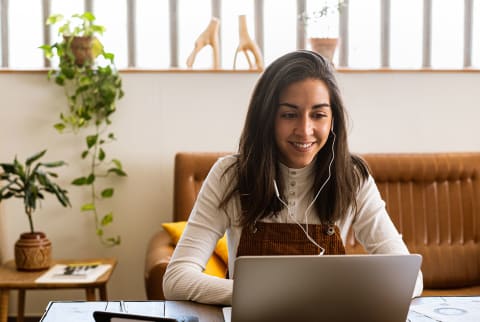 Image by Malquerida Studio / Stocksy
September 12, 2023
Whether you're 35 or 85, our lives demand focus, attention, and memory recall—and as we're all aware, some days are better than others on that front. So when it comes to getting a daily brain boost, as well as encouraging long-term brain support, having a supplement on hand to help is never a bad idea.
Which is why we created mindbodygreen's brain guard+, a powerhouse supplement for enhanced memory creation, recall, and retention.*
In addition to supporting critical memory function, this cutting-edge formula also features a trio of clinically researched ingredients in their full-potency doses (citicoline, kanna, and reservatrol) to promote cognitive benefits today—and brain longevity down the road.*
But don't just take our word for it; here's what happy customers are saying after enjoying the benefits of brain guard+ themselves:
"I have been taking this for three weeks now and I have noticed an incredible difference in focus, memory, & clarity of thinking! My mind feels normal again and I'm not kidding."*
2.
More wallops packed than the next leading brand
"I take this with focus+, so I'm not sure they can be reviewed separately. What can I say? I don't know how to describe it exactly, but I just feel better.
My mind is calmer, like I'm not over-thinking everything. I feel like I can reach decisions faster and remember things more clearly. Overall, I just feel...better.
And having recently run out, I can see a difference after just a week of not taking it—it's not overly drastic, but it's like the difference between waking up early on a Saturday feeling your best versus waking up on a Wednesday after your aunt's fourth wedding and you have to somehow deal with every day work after all that.
These things really work—I have all but phased out coffee and energy drinks in my morning routine. They act fast, kicking in within 15-20 minutes. I feel energized and refreshed for at least 6 hours. There's no crash at the end either, so usually by the time you notice it's worn off it's about time to be taking sleep support+ (also highly recommended)."*
3.
brain guard+ is one of a kind!
"I am absolutely in love with this product. I've only used mindbodygreen brain guard+ for 3 weeks and my mind is quick and alert for a full day, even after my body tires out from work."*
"It works, (after 1 full bottle) I am finding myself remembering names more easily and whew, that's a relief! I also feel more in tune with conversations with groups of people."*
5.
Best combo of ingredients for thinking!
"Decided to try brain guard+ after doing research on those ads on TV that promise to help thinking and remembering. They do not have sufficient ingredients to help—brain guard+ does. Now have less difficulty remembering words or events when talking to friends and family."*
"brain guard+ has quite literally helped improve my overall work performance. I work full-time, I'm in graduate school, and I run a business so my mind is constantly racing and taking in loads of information. brain guard+'s revolutionary formula helps me recognize and organize my thoughts and become fully engaged in what I'm doing in every moment!"*
"This product has revolutionized my ability to be able to concentrate during my work day and stay in the task I am currently engaged in."*
"I have only been using for a few weeks, but I feel like my brain fog has lifted and I feel much more alert."*
"My brain health means a great deal to me and this product gives me reassurance that I'm giving my brain some daily support! I've definitely noticed that it supports my work performance but also love that the ingredients provide nourishment for my brain for both support today and beyond."*
"I was surprised to find that I felt a big difference on a daily basis with this product that I wasn't expecting. I felt a sense of calm throughout the day but also an improvement in my concentration and memory. It's been a really nice dynamic between improved mood and relaxation but also a cognitive boost on many fronts!"*
11.
My mom and I both take brain guard+
"My mom and I both take brain guard+ by mindbodygreen. We have read their content forever it seems, and trust them to do the right thing. Like mother like daughter, I guess :) We are loving our experience with this supplement, feeling more balanced, relaxed, and in the zone."*
The takeaway
It's amazing just how much our memory and alertness impact our day-to-day lives, from our workload to our to-do list to simply conversing with friends and family. So if you want a leg up on your mental sharpness, take it from these happy customers and consider adding brain guard+ to your routine.*
If you are pregnant, breastfeeding, or taking medications, consult with your doctor before starting a supplement routine. It is always optimal to consult with a health care provider when considering what supplements are right for you.
Sarah Regan
mbg Spirituality & Relationships Editor
Sarah Regan is a Spirituality & Relationships Editor, a registered yoga instructor, and an avid astrologer and tarot reader. She received her bachelor's in broadcasting and mass communication from State University of New York at Oswego, and lives in Buffalo, New York.