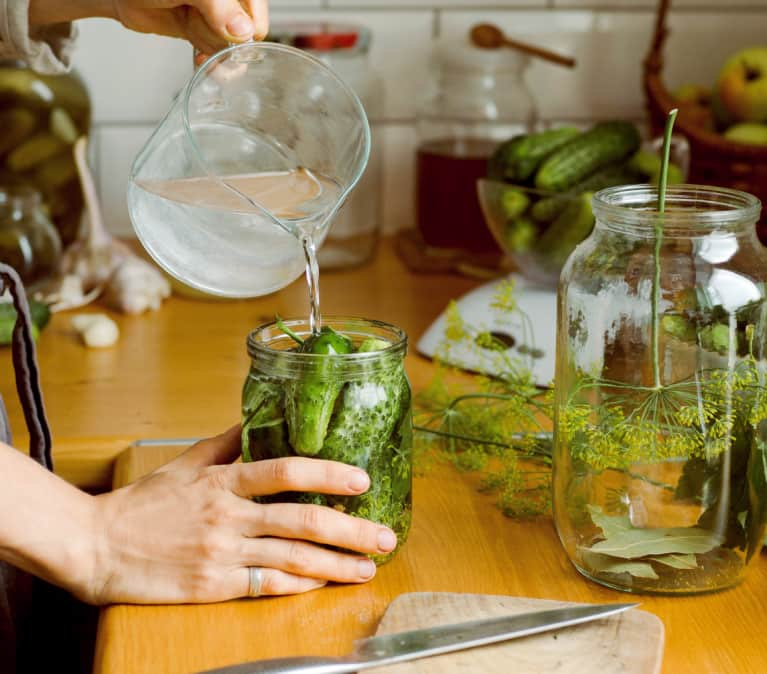 When it comes to environmental change, it can feel like we have our work cut out for us (and in a way, we do). But the good news is that sustainable living doesn't have to mean making extreme overhauls—every small step, every earth-friendly habit counts toward headway in a better direction.
It's why this fall, natural products brand Schmidt's Naturals partnered up with the Jane Goodall Institute, one of the world's leaders in environmental conservation efforts. Look out for Lily of the Valley, a special edition deodorant scent inspired by one of Dr. Jane Goodall's favorite flowers (it has a fresh, floral aroma and symbolizes happiness and hope) because 5 percent of every Lily of the Valley purchase will benefit the Institute's programs to protect animals and the environment. And read on for the small yet impactful ways the editors at mbg practice sustainability on the regular.
Cook up the forgotten veggie.
"I've been doing a big fridge clean-out every Sunday before I go grocery shopping again for the week. It sounds small, but so often I'll forget about a vegetable and leave it lingering in the back of the fridge until it's far past its prime. I take my good-enough old veg and make a frittata (if you include an onion, basically any vegetable combo tastes great) or some tacos (who even knows what's under all of that hot sauce?). Food waste is such a huge problem, and if everyone takes small steps, I think it can have a huge impact." —Liz Moody, Food Director
Reuse something that's disposable.
"Every Saturday and Sunday, I like to get up early, stretch my legs, and stop at my neighborhood coffee shop, South. I'm usually picking up cold brew for my husband, too, so I've saved one of their disposable cup trays and bring the same one each time instead of using a new one and recycling it. If you think about the amount of waste we'd save if all of us committed to a few small acts of kindness toward our Mother Earth each day or even each week, it'd make a world of difference." —Lindsay Kellner, Senior Wellness & Beauty Editor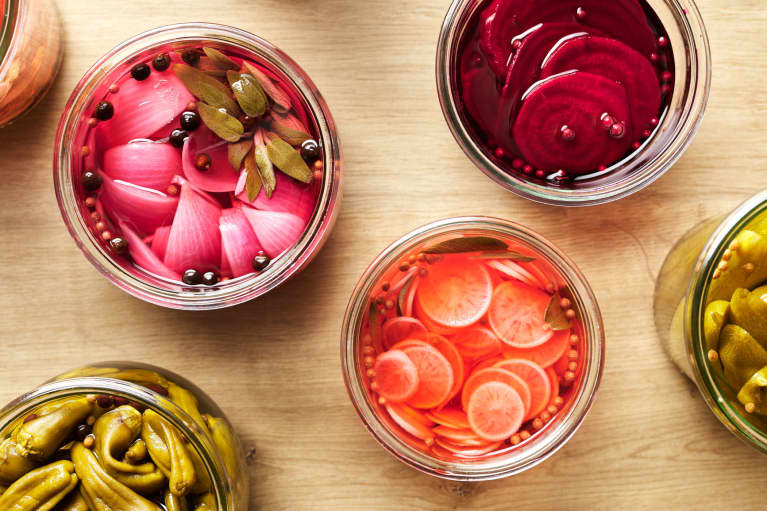 "As mbg's sustainability editor, I spend my days writing all about ways that people can lighten their impact and help others do the same. One place where we can probably all stand to do a little bit better is the kitchen. You've probably heard the stat: Up to 40 percent of the food we produce in the United States is never eaten! To keep my 'foodprint' low, I took a cue from Wen-Jay Ling of NYC–based CSA program Local Roots (whom I recently featured in a piece about using up food scraps) and started pickling the scraps I would have otherwise thrown away. Turns out, things like asparagus stems and melon rinds are super delicious when you put them in a brine of apple cider vinegar, sugar, and salt!" —Emma Loewe, Sustainability Editor
Go for the loose-leaf tea.
"I drink a LOT of tea. One day, I decided that I'd had enough of throwing tea bag after tea bag in the trash. I decided to make a commitment to using as much loose-leaf tea as possible. This small change not only benefits the environment, but it opened my eyes to the true complexity of brewing and preparing tea, and I gained a newfound understanding of the daily ritual I'd been participating in for so long. Plus, loose-leaf tea tastes way better! Even today, I feel more mindful when I'm sipping on a homemade London fog or one of my latest iced peppermint creations." —Gretchen Lidicker, Health Editor