How To Make Eyes Look Brighter With Very Little Product, From A Makeup Artist

mbg Beauty Director
By Alexandra Engler
mbg Beauty Director
Alexandra Engler is the Beauty Director. Previously she worked at Harper's Bazaar, Marie Claire, SELF, and Cosmopolitan; her byline has appeared in Esquire, Sports Illustrated, and Allure.com.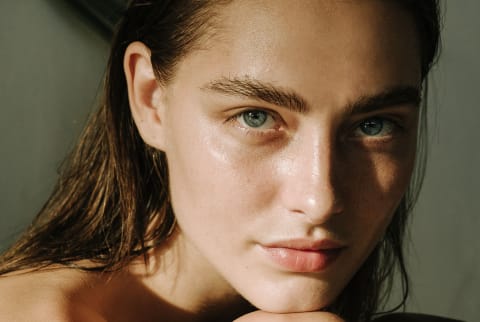 Image by Duet Postscriptum / Stocksy
January 5, 2022
New year, same me standing in front of the mirror every morning trying to make myself look more awake. At this point, I have come to accept that puffy morning eyes and regular dark circles are just my lot in life—and while there are ways I care for my skin internally and externally, there's no magic solution that is going to fix them forever. Instead, I just need to listen to my body, prioritize sleep, take my supplements, and layer on that whip-thick eye cream.
And when all of those fail? Well, it's time to turn to makeup and cover-ups. Concealer may not be a solution to a sleepless night—but it's a great tool come morning. And recently I chatted with global makeup artist and wellness influencer Alexandria Gilleo about all her favorite makeup tips, skin care prep, and the secrets to clean makeup. So of course I asked her to give me a deep dive on how she preps her clients' tired eyes. Here, your complete no-fuss routine for looking wide-awake. Yes, even in January.
Advertisement
This ad is displayed using third party content and we do not control its accessibility features.
A makeup artist's go-to routine for simple, no-makeup makeup bright eyes.
Makeup is only as good as the skin underneath—which is why every single routine starts with some prep work. "When I'm working with either my eyes or a client's eyes, I will do a little bit of lymphatic drainage around the eye," she says. Waking up with puffy eyes is certainly a common concern for many people: As you lay stagnant throughout the night, fluid settles in the face. While it can affect the entirety of the face, the eyes are often the first to show for it as the skin in the area is thinner.
As for how she deals with fluid buildup, don't worry: It doesn't need to be a belabored routine if you don't have the time. She says she just grabs her favorite hydrating eye cream or serum, and then "I'll just go in and do a really gentle eye massage." Just be careful not to pull or tug the area too much, as that can irritate the thin skin—read our guide on applying eye cream for more info.
However, if you have some time (or are prepping for something more intensive), Gilleo loves an ice roller. "Ice rolling is such an easy tip to instantly awaken anyone's eyes because it's lowering inflammation and getting rid of any puffiness," she says. Chilly temps can act as a vasoconstrictor, constricting the blood vessels in the skin that cause dark circles.
Once the skin is prepped, she takes to the lashes: "As soon as you use that tool, it's lifting those lashes to the heavens above—that makes the eyes look awake and bigger," she says. She then tops the lashes with her go-to mascara, paying special attention to the outer corners to really enhance that doe-like appearance. And for good measure? Go ahead and hit them with the curler again, to help blend everything together.
Finally, add your concealer. But this is very important, says Gilleo: Do not coat the area—use your cover-up sparingly and specifically. "I never put concealer under the whole entire eye because when it's like under the outer corner of your eye area and underneath, you really can see all of those fine lines," Gilleo says. "And I want to look as young as possible."
While makeup has the incredible ability to transform you, it also can age the appearance of your skin when you go overboard. Yes, one of the easiest ways to look more vibrant and youthful is to pare back how much you're applying.
"I only do concealer in the inner corner, since that's where darkness hides," she says. "I just put a dab on the inner corner and then blend it with either a tiny BeautyBlender, a little brush, or even like your ring finger."
And there you have it, with just a touch of product, some gentle love, and the right moves—your eyes look ready to take on the new year.
Advertisement
This ad is displayed using third party content and we do not control its accessibility features.

Alexandra Engler
mbg Beauty Director
Alexandra Engler is the Beauty Director at mindbodygreen. She received her journalism degree from Marquette University, graduating first in the department. She has worked at many top publications and brands including Harper's Bazaar, Marie Claire, SELF, and Cosmopolitan; her byline has appeared in Esquire, Sports Illustrated, and Allure.com. In her current role, she covers all the latest trends and updates in the clean and natural beauty space, as well as travel, financial wellness, and parenting. She has reported on the intricacies of product formulations, the diversification of the beauty industry, and and in-depth look on how to treat acne from the inside, out (after a decade-long struggle with the skin condition herself). She lives in Brooklyn, New York.