Close Banner
Advertisement
This ad is displayed using third party content and we do not control its accessibility features.
This Hyaluronic Acid Serum Is My Holy Grail For Juicy Skin & It's 25% Off

Beauty & Health Editor
By Jamie Schneider
Beauty & Health Editor
Jamie Schneider is the Beauty Editor at mindbodygreen. She has a B.A. in Organizational Studies and English from the University of Michigan, and her work has appeared in Coveteur, The Chill Times, and Wyld Skincare.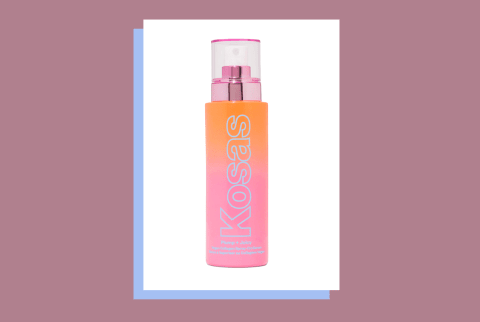 Image by Kosas / mbg creative
We carefully vet all products and services featured on mindbodygreen using our
commerce guidelines.
Our selections are never influenced by the commissions earned from our links.
I'll be honest: I never thought a facial spray would become my ride-or-die skin care product. I usually flock to mists for their sensorial benefits—the scent, the cooling experience, the teeny moment of self-care—and any active ingredients in the juice have never really sold me. Sure, a mist can infuse lovely hydrators, like hyaluronic acid, glycerin, and aloe vera, but can't you get all those in a much more potent serum?
Recently, though, Kosas merged the two categories and created its Plump + Juicy Vegan Collagen Spray-On Serum (the first traditional skin care launch from the beloved makeup brand!), and I never thought a spray-on product could be this good. And for those who need an extra nudge to pluck one up: You can snag it for 25% off right now for Kosas' Black Friday sale (and I suspect it will fly off the shelves fast).
How the spray-on serum works.
You're probably wondering: What's the difference between a face mist and a spray-on serum, anyway? Well, unlike face mists, which you can spritz as often as you please, this spray serum does its best work on clean, bare skin. "This is not a setting spray," Kosas founder Sheena Yataines once affirmed during a Zoom event with the brand. Rather, it's a serum in spray form able to fast-track its active ingredients directly into your pores.
And those active ingredients are some of my all-time favorites for juicy, bouncy skin: peptides, glycerin, probiotics, hydrolyzed hyaluronic acid, plant proteins, and amino acids. All of these players shimmy deep inside the pores and replenish skin moisture, balance pH, and increase firmness, so your complexion instantly looks calmer and dewier.
As its name suggests, you'll also find vegan collagen. Now we've said before that there's no such thing as "vegan" collagen, but the beauty industry evolves every day with new biotechnology to help mimic ingredients found in nature. Recently, formulators have discovered a few biotech ingredients that can, in fact, boost your skin's natural collagen production when applied topically (stay tuned for more reporting on that front). The vegan collagen in the Kosas spray serum helps support the skin barrier and visibly plumps the skin with hydration.
"It's a total skin reset all in one product," Yataines adds, and the brand even has the clinicals to back up the claim: After 31 women used the serum spray for four weeks, 100% of participants showed improvement in skin moisture, and 90% showed improvement in skin firmness.
My results. 
As I mentioned up top, I didn't really get the appeal of spray-on products. They usually just make my skin feel, well, damp. But Kosas has made me a facial spray convert; I've used this spray serum every single morning for the past eight weeks, and I seriously can't imagine my routine without it.
My face gets red and splotchy pretty easily, especially in the morning after a few salty cocktails. With just five to six spritzes of the serum, my skin instantly appears more even with a noticeable glow. (Check out the photo below to see my results right after spritzing on the serum; it immediately nixed the redness around my nose and brightened up my skin tone.) And because the nozzle provides such a fine mist, I'm never left dripping wet—only refreshed.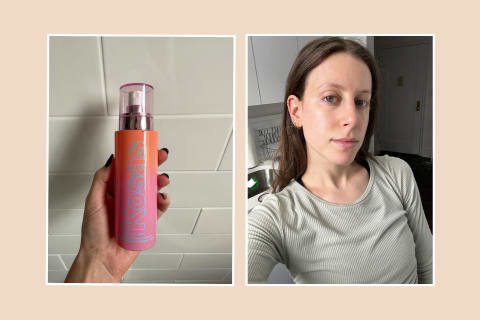 Image by Jamie Schneider / mbg beauty editor
I usually spritz after applying my trusty vitamin C serum and again after moisturizer and sunscreen; the first round helps those actives shuffle into my pores, while the second serves as a primer step. I find that spraying again right before applying concealer (another Kosas winner, of course) helps the already creamy formula melt into my skin even easier. While this is the brand's first non-makeup skin care launch, rest assured it does play nice with your favorite cosmetics—clean, effective, comfortable makeup is Kosas' ethos, after all.
The takeaway. 

Jamie Schneider
Beauty & Health Editor
Jamie Schneider is the Beauty Editor at mindbodygreen. She has a B.A. in Organizational Studies and English from the University of Michigan, and her work has appeared in Coveteur, The Chill Times, and more. In her role at mbg, she reports on everything from the top beauty industry trends, to the gut-skin connection and the microbiome, to the latest expert makeup hacks. She currently lives in Brooklyn, New York.