Uh, Our Beauty Editors Cannot Stop Obsessing Over This Product For Fluffy, Natural Brows

Beauty & Health Editor
By Jamie Schneider
Beauty & Health Editor
Jamie Schneider is the Beauty Editor at mindbodygreen. She has a B.A. in Organizational Studies and English from the University of Michigan, and her work has appeared in Coveteur, The Chill Times, and Wyld Skincare.
Image by Hannah Frye / Alexandra Engler / Jamie Schneider / mbg Creative
August 3, 2023
We carefully vet all products and services featured on mindbodygreen using our
commerce guidelines.
Our selections are never influenced by the commissions earned from our links.
No two people have the exact same eyebrows. Even the two arches on your own face are not completely even—and that's the way it should be! Brows look way more interesting with their slight asymmetries, as any eyebrow expert will gladly tell you.
Thanks to these small brow differences, you'd be hard-pressed to find a product that works for every single brow type, but Kosas is on the case. Its new Brow Pop Nano is probably the closest we've come to a universal brow enhancer.
My fellow beauty editors and I put the new Kosas Brow Team to the test, and much to our surprise, it gave each set of arches the exact oomph they needed. Call it The Sisterhood of the Traveling Brow Pencil.
Below, discover the new addition to Kosas' brow range and how it looks on three *very different* brow shapes.
About the Kosas Brow Pop Nano
The Kosas formula features firm yet gentle waxes, just like their original defining pencil, but the biggest difference between the two products lies in the shape.
The original Brow Pop pencil has a triangle tip with a thicker side to fill in sparse brows and a thinner point for shape and definition; whereas Brow Pop Nano features an ultra-precise 1-mm pencil to create the tiniest wispy details. (In case you need a visual, it's as tiny as the post of an earring—adorable, no?)
And, yes, Brow Pop Nano truly does work for every brow, especially if you're gunning for a feathery-and-fluffy natural look. "The tiny tip mimics ultrafine hairs and details like a dream, allowing you to create realistic depth and dimension and fill in even the littlest sparse patches with complete control," Kosas founder Sheena Zadeh-Daly tells mindbodygreen.
That tiny tip also keeps you from over-filling or lining with a too-thick pencil, which can make the brows look chunky and drawn-on, she says. It almost has a microshading effect, which relies on small dots to fill in the brows and add depth, much like using powder to create fullness.
For someone with thick, dense brows already, "Brow Pop Nano is the perfect tool to fix any tiny details or sparse areas, rounding out the front of the brow with hairlike strokes or evening out the tail of each," Zadeh-Daly adds. The 1-mm tip is perfect for anywhere you need to add soft detail and dimension.
Suffice it to say, our entire beauty team fell in love. We use the tool a bit differently, you'll see, but I'd say we all achieved our various brow goals.
Jamie Schneider, beauty editor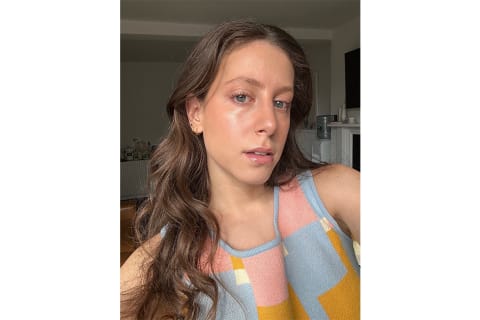 Image by Jamie Schneider / mbg beauty editor / mbg Creative
Describe your brows in three words: Light, sparse, sensitive
Kosas shade(s): Medium brown pencil, soft brown gel
I've said this before, but I tend to steer clear of most brow pencils. It's easy for most waxes to grab onto my sensitive hairs and tug against the follicle, resulting in an irritated, red brow area. But I'm slowly becoming a brow pencil convert, especially when precisely tipped options (like this Kosas number) make it so easy to delicately add dimension.
Because the 1-mm pencil tip is so thin, it's easy for me to make sure I'm actually drawing on bare slips of skin instead of tugging on my sensitive hairs.
I still decided to snag a darker pencil than I'd usually opt for, in the hopes that I would use fewer strokes to achieve my desired thickness and shape. So rather than selecting the taupe or soft brown shade, I used medium brown to draw my hairlike wisps. My instincts paid off. The pencil deposited pigment with ease (read: no tugging or pulling).
I then used a soft brown shade of the Kosas Air Brow Gel to blend the look and make them look extra feathery. In the photo above, you can't even tell which hairs are, well, hairs, and which are drawn-on wisps. I'd call that a resounding success.
Alexandra Engler, beauty director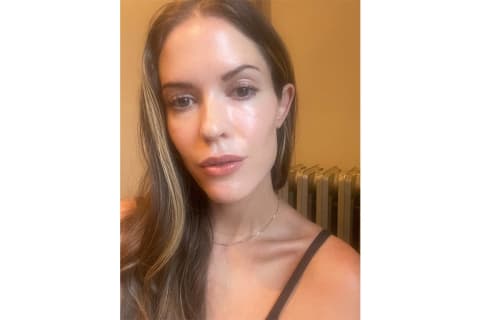 Image by Alexandra Engler / mbg beauty director / mbg
Describe your brows in three words: Thin, fine, arched
Kosas shade(s): Medium brown everything
"When beauty experts—be it makeup artists, aestheticians, or the like—see my natural brows they always assume the same thing: Oh, dear, you over-plucked in the '90s didn't you?" our beauty director once shared. "But here's the thing: I just have thin brows. They've always been little slivers of hair, and what makes it worse is they are a lighter shade of brown than my natural roots, so they look even slimmer."
Engler and I have similar brow structure (thin and fine), but she has a pronounced arch, whereas I have a much gappier tail. Still, she fell in love with Brow Pop Nano's ability to add some extra density at the peak.
"I love using the brow pencils together in combination," she tells me. "The Brow Pop Dual Action Defining Pencil helps me create a base all over and add some depth to fill out my fine thin brows. Then I use the Brow Pop Nano to create tiny hairlike strokes to help define the shape. My brows have never looked better."
As for Air Brow? She's had her medium brown shade on rotation for years. "I've always been a big fan of the tinted Air Brow Gel," she adds. "As a beauty editor, I get samples of products to test all the time. Despite having other brow products to pick from, I went out and purchased a tube prior to a wedding because I knew I could trust the color payoff and hold. That's how you know it's good."
Hannah Frye, assistant beauty editor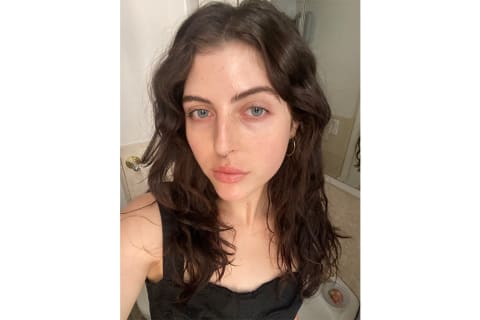 Image by Hannah Frye / assistant beauty editor / mbg Creative
Describe your brows in three words: Patchy, thick, dark
Kosas shade(s): Dark brown pencil, medium brown gel
Our assistant beauty editor has the darkest, thickest brows of the bunch (enviously so), so she uses a dark brown Brow Pop Nano for just a bit of definition before swiping on the gel. "This duo is quite literally all I need for a daily, natural-looking brow," she declares.
Frye has previously pointed out some patchier areas from years of DIY plucking, and the fine-tipped pencil is great for filling those in without overwhelming her entire brow shape. "The Brow Pop Nano has the finest tip, allowing me to fill in sparse patches around my arches and extend the tail out a bit," she adds.
Like me, Frye chooses a darker pencil to add definition and shadow, with a slightly lighter (medium brown) tinted gel to blend everything together. "The tinted Air Brow Gel adds just enough color without smearing or looking fake," she notes. "Plus, these products are just easy to use. It takes me about one minute to finish both brows because I'm not dealing with large tip crayons or clumpy gel."
The takeaway 
Kosas' Brow Pop Nano is one of the most precise brow pencils I've tried. This is great for me, personally, as I have sensitive brows that hate being poked and prodded. Engler adores the tiny pencil for defining her arch, while Frye uses it mainly for detail work, filling in sparse patches among her already dense brows.
With such a fine-tipped tool, the possibilities are truly endless. Snag yours today on the Kosas website or Sephora, and you'll surely fall in love.

Jamie Schneider
Beauty & Health Editor
Jamie Schneider is the Beauty Editor at mindbodygreen. She has a B.A. in Organizational Studies and English from the University of Michigan, and her work has appeared in Coveteur, The Chill Times, and more. In her role at mbg, she reports on everything from the top beauty industry trends, to the gut-skin connection and the microbiome, to the latest expert makeup hacks. She currently lives in Brooklyn, New York.