A Brain-Healthy Ketotarian Eggnog Recipe, From A Functional Medicine Expert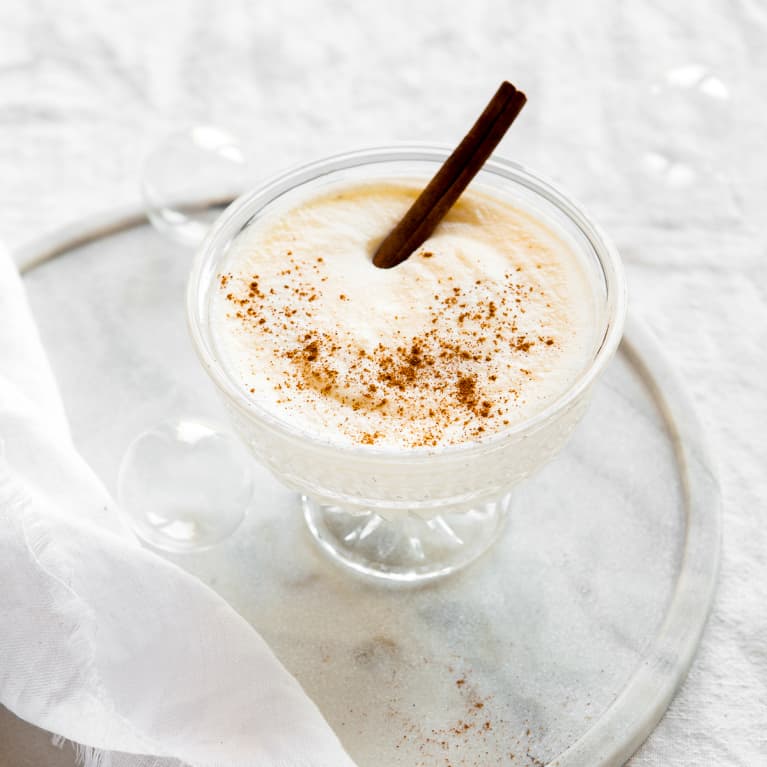 During the holiday season, most of my patients in my telehealth functional medicine clinic have the same question. They want to know what treats they can eat without derailing progress toward their health goals. And my answer always seems to surprise them.
There are actually a variety of substitutions and alternative recipes for almost all of the traditional holiday favorites. Plus, when these new versions are made well with quality ingredients, most of my patients discover they actually enjoy them even better than their old counterparts—and more importantly, they feel better afterward.
One of my all-time favorites is eggnog. With a few simple swaps, you can make a delicious homemade version that is also ketotarian (my term for a clean, mostly plant-based keto way of eating). So next time you are craving the holiday classic, whip up this recipe instead. Ditching conventional sweeteners and adding more brain- and metabolism-supporting fats like coconut milk and MCT oil may even help boost your energy during this season. Yes, I still include egg yolks in the recipe since they can be a wonderful source of beneficial omega fats and brain-supporting nutrients like choline.
6 organic egg yolks
1 cup almond milk, unsweetened
1 cup full-fat coconut milk, unsweetened
1 tbsp. vanilla extract
1 tsp. cinnamon
1 tsp. nutmeg
1 tsp. MCT oil
Natural low-carb sweetener to taste (such as stevia, monk fruit, allulose, or xylitol)
In a large mixing bowl, beat egg yolks and sweetener of your choice with a handheld or stand mixer until they lighten in color and are creamy. Set aside.
In a separate bowl stir together the almond milk, coconut milk, MCT oil, cinnamon, nutmeg, and vanilla extract until fully combined.
Heat this plant milk mixture and bring to a boil until foamy.
While the plant milk mixture is still hot, use a ladle to slowly add into the yolks. Keep whisking continuously or the mixture can curdle.
When you have added about half of the plant milk mixture, pour everything back into the pot with the remaining plant milk mixture.
Continuously whisk and cook until the eggnog is thick and creamy. Temperature should be around 160°F.
Pour into a large carafe or Mason jar and place in the fridge to chill. Good for around 2 days.
Serve chilled.