Should You Add Muesli To Your Breakfast Rotation? An RD Explains
Expert review by
Megan Fahey, M.S., R.D., C.D.N.
Megan Fahey, MS, RD, CDN is a Registered Dietitian, Functional Medicine Nutritionist and Registered Yoga Teacher. She holds her Masters of Science in Nutrition and Dietetics from Bastyr University, where she was trained to artfully blend eastern and western healing modalities.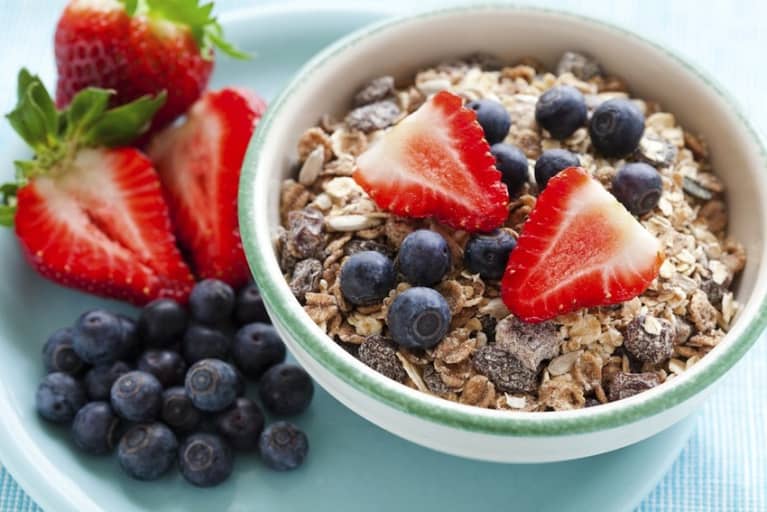 Last updated on November 18, 2019
You're familiar with oatmeal and granola, but has muesli ever made it into your shopping cart? This Swiss-created breakfast, popular in Europe, has now found its way into most grocery stores in the US. It is quickly becoming an easy go-to breakfast for health-conscious eaters—and for good reason. This minimally processed, uncooked cereal is high in fiber, loaded with whole grains, dried fruit, and whole-food fats like nuts and seeds. It's versatile and pairs well with fresh fruit, any type of milk or yogurt and can be served cold or warm.
Muesli is primarily made of raw, rolled oats and other whole grains like rye, barley or quinoa, dried fruit, nuts and seeds. It is different from granola because it does not contain added sugars or oils.
Is muesli a balanced breakfast option?
The short answer: It depends. Plain muesli has plenty to offer in the way of good-for-you nutrients. Thanks to the oat (and barley) bran in muesli, eaters can reap the benefits of heart-healthy beta-glucan fibers which not only have been shown to lower cholesterol, but nourish gut bacteria, reduce blood sugar and insulin level, and increase satiety. Plus, gluten-free whole grains, like the oats in muesli, have anti-inflammatory properties.
For grain eaters, muesli tops the cereal chart for nutrient density, without the added sugars and oils found in traditional granolas and contains more fiber, fat and protein than oats or whole grains by themselves. While eggs and omelets can provide more healthy fats, protein and choline than muesli, they lacks the fermentable prebiotic fibers important for protecting gut health found in muesli.
However, compared to breakfast alternatives like vegetable omelets or green smoothies, muesli does lack fresh produce which adds valuable antioxidants. Overall, the nutritional profile of your meusli meal will depend on how you top it. By adding whole-food options like berries, a drizzle of nut butter, or Greek yogurt you will enhance both the flavor and nutritional value of the meal. Try to avoid topping your muesli with an excess of dried fruit or overly sweetened granola, and be mindful of the specific brand you purchase (checking the label for high sugar content!) to balance your breakfast.
How to make muesli healthier.
The ideal muesli will have simple ingredients that list whole foods rather than processed flakes and contain close to a 1:1 ratio of fiber to sugar. It is common to find traditional muesli mixes that provide roughly 4-5g of both fiber and sugar. To minimize your sugar intake, choose options that contain either no dried fruit (and you can add your own fresh fruit) or dried fruit that contains no added sugars – like raisins, dried cherries and dried apricots.
To help reduce the phytates found in uncooked whole grains, soak your muesli in unsweetened yogurt, dairy or plant-based milk in the refrigerator overnight.
Think of muesli as a topping or a small portion of your meal rather than the main event and pair it with fat and protein to help fill you up.
Making muesli at home is quick and easy because it doesn't require any cooking! Try this simple recipe for dry muesli that can be used as a base for a hot or cold meal:
Ingredients:
4 cups dry rolled oats (or combo of rolled whole grains like oats, rye flakes, quinoa flakes or barley)
½ cup dry oat bran
2 cups nuts and/or larger seeds (raw or unsalted, toasted) like almonds, walnuts, pecans, macadamia nuts, pumpkin and/or sunflower seeds
¼ cup small seeds like flaxseed, chia seeds, hemp seeds/hearts, or sesame seeds
1 cup no-added sugar dried fruit such as raisins, golden raisins, diced apricots, cherries, or apples
Directions:
Mix all ingredients in a large sealable, air-tight container. Store at room temperature for up to 1 months or in the freezer for up to 6 months. This recipe makes 18 servings. To serve, simple scoop out ¼ cup.
Serving suggestions:
Sprinkle on yogurt and pair with fresh berries
Mix with unsweetened milk and berries and eat cold or warm up for a 5-minute breakfast
Soak in milk or yogurt overnight for a softened cold meal