I'm A Dietitian & Here's Everything I Ate To Fuel For Eras Tour

Registered Dietitian Nutritionist
By Molly Knudsen, M.S., RDN
Registered Dietitian Nutritionist
Molly Knudsen, M.S., RDN is a Registered Dietician Nutritionist with a bachelor's degree in nutrition from Texas Christian University and a master's in nutrition interventions, communication, and behavior change from Tufts University. She lives in Newport Beach, California, and enjoys connecting people to the food they eat and how it influences health and wellbeing.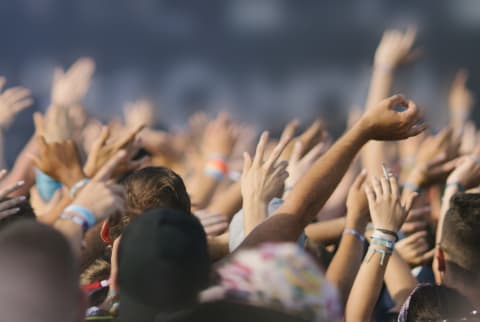 Image by Robert Kohlhuber / Stocksy
July 20, 2023
With a set list spanning 44 songs over three-plus hours, Taylor Swift's Eras Tour could be deemed an endurance event. And while her physical feat for each performance is unmatched (especially given that this is at least a twice-weekly occurrence for her), as a spectator I wanted to make sure I was fully equipped to get the most out of the historic event too. And since I'm a dietitian, that meant optimizing my food, water, and caffeine intake.
My goal in attending one of her Denver shows this July was to feel energized and alert—not famished or bloated—so I could sing and dance to all of Taylor's hits and be present in the moment.
Here's what I did to make that happen.
Breakfast
Right before breakfast, I kept my usual routine of heading for a quick walk. Getting morning sunshine always helps me immediately ditch any post-slumber grogginess and set my circadian clock on the right track for the day.
After the walk, I rehydrated with a glass of water and sat down for breakfast at around 8:30 a.m. with coffee and a yogurt bowl (full recipe below).
This is my favorite breakfast because it packs in a sneaky amount of protein (over 20 grams from the yogurt and seeds!) and is a good source of fiber (thanks to the oats and peaches). Both are very satiating, and I know this is a meal that will tide me over for hours.
Molly's Summer Yogurt Bowl
1 cup 2% Greek yogurt
¾ cup granola (toasted oats, pecans & pumpkin seeds)
1 peach, cubed
Hemp seeds, sprinkled
A drizzle of maple syrup
Lunch
I kept lunch pretty simple as well. As I did with breakfast, I chose a meal with a good balance of protein and fiber that I know to be easy on my stomach: avocado toast with eggs.
Molly's Go-To Avocado Toast
Sourdough bread, lightly toasted
1 avocado, smashed
Red pepper flakes
Everything-but-the-bagel seasoning
Lemon juice
2 eggs over-easy
Pickled red onions
Midday fuel
This is when I was most concerned about my energy levels dropping—since the caffeine from breakfast was starting to fade and an afternoon cup of joe doesn't sit well with me.
focus+ delivers instant and sustained whole-body energy in just one capsule. It provides 150 milligrams of plant-sourced caffeine that comes without a crash. I also appreciate how it's paired with guarana (a superfruit that's known to elevate energy and mood) and L-theanine (which almost softens the edges of caffeine to keep you both relaxed and alert).*
I usually take focus+ midmorning to help me combat mental fatigue and the afternoon slump for work, but for the Eras Tour, I chose to take it around 3 p.m. for lasting energy later in the day.*
And then on my way to the train, I munched on a granola bar for a convenient snack before being subjected to stadium food pricing.
Dinner
Because of the time of the concert, there was no way to avoid eating at the venue. I grabbed a small slice of pizza and bought a big water bottle for hydration.
My friend and I both decided before the concert that we weren't going to drink alcohol. Alcohol didn't align with my goal of being energized and present, and I can truly say being sober only enhanced the experience.
The takeaway
Eating nutritionally dense meals and taking focus+ before the Eras Tour wholly supported my mood, energy, and clarity through the entirety of the concert.*
If you're wanting to maximize your Swiftie (or any concert) experience, don't sleep on proper nutrition and hydration. Concerts are outside, often in sweltering heat, and many people arrive hours early to tailgate. Dehydration can lead to headaches and fatigue. And erratic eating patterns and food choices that go along with travel and being out all day can leave you feeling uncomfortable and sluggish before high-energy events. So please (from a dietitian), before next singing your heart out, make sure you're properly fueled.
If you are pregnant, breastfeeding, or taking medications, consult with your doctor before starting a supplement routine. It is always optimal to consult with a health care provider when considering what supplements are right for you.