6 Doctor-Approved Ways To Stop A Panic Attack (And How To Prevent Future Anxiety)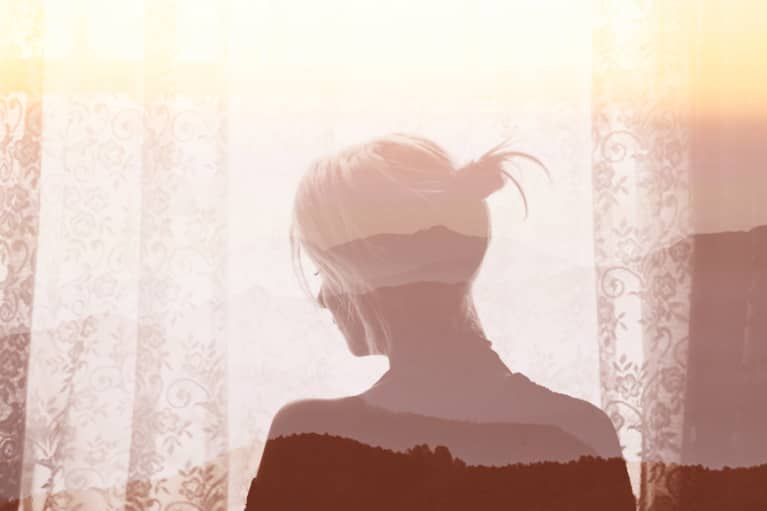 Your palms are sweaty, your heart is racing, you're getting dizzy, and you can't focus—you may be having a classic panic attack. While it may seem like you're about to die ("impending doom" is another symptom), long-term effects are unlikely if you are indeed having a panic attack.
The tricky thing about panic attacks is that they are a physical manifestation of what's going on inside your head and can feel like another acute health event, like a heart attack. "We underestimate the role that our physical health plays in anxiety and panic. Panic happens when the body is in a stress response," said Ellen Vora, M.D., a holistic psychiatrist who offers a class on mbg about controlling anxiety. "Factors that contribute to physiological stress, like caffeine and blood sugar crashes, also lower the threshold for panic attacks," she said.
According to functional medicine expert and mbg class instructor Will Cole, D.C., who has experienced panic attacks firsthand, inflammation and genetic predisposition can be part of the equation as well. "There is a whole field of research referred to as the cytokine model of cognitive function. In non-nerd talk: how inflammation hurts our brain. I see it often clinically. Some genetic aspects to anxiety can be methylation impairments to genes like MTHFR (which I have)," Cole said.
Most of our experts agreed that panic attacks in themselves may lead to a fainting episode at worst, but the physical symptoms themselves are not likely to cause long-term health issues.
What are the side effects of panic attacks?
Agoraphobia, or the fear of leaving your home due to loss of control, according to psychologist Elizabeth Lombardo, Ph.D. She also mentioned that increased anxiety can lead to substance abuse or depression in some cases.
Cole cites indigestion, IBS, and chronic constipation as a product of anxiety, too. "Your gut and brain were formed from the same fetal tissue and are inextricably linked through the gut-brain axis. What impacts your brain impacts your gut and vice-versa," he said.
So take your panic attack as a sign that something in your is life off and reassess your baseline. With these tips, you may be able to stop a panic attack in its tracks and prevent future episodes. Here's how:
1. Lengthen your breaths.
If there's one thing we learned at revitalize, our annual wellness summit, it's that our breath is the key to connecting our consciousness with our subconscious. "When you are feeling panic, you tend to take short, quick breaths. And anyone without panic who takes short quick breaths can not only increase their anxiety but even induce a panic attack. So instead, remind yourself "I am OK; this is a panic attack" and then take slow deep breaths. It may not be easy to do but can be very powerful. —Dr. Elizabeth Lombardo
2. Avoid caffeine and sugar.
Dr. Vora recommends her patients with anxiety, especially the ones who experience panic attacks, strip their lives of unnecessary stimuli that could create a stress response in the body. This includes a reimagined diet free of caffeine or sugar.
Robin Berzin, M.D., founder of Parsley Health who also teaches a stress management class through mbg, says that she's never had a panic attack but experiences situational anxiety. "The main things that help me to manage my anxiety are a regular yoga practice, regular meditation, and Parsley's magnesium glycinate—magnesium is nature's Xanax. I take 200 mg every night at bedtime." Noted!
In addition to taking a reductive approach to the diet, Dr. Vora recommends patients focus on resting, restoring, and sleeping.
5. Start a mindfulness practice.
All four experts agreed that starting a mindfulness practice—whether it's meditation, yoga, or nature walks—plays a huge role in our ability to manage anxiety. If you're stumped, try one (or more) of these ideas on starting a mindfulness practice.
6. Finally, address the underlying anxiety.
This is easier said than done, of course. Dr. Lombardo recommends cognitive behavioral therapy for people who want to improve their anxiety. "It's totally treatable," she said.
Want more ideas? Check out our class on how to control anxiety.