paid content
 for

How To Squeeze More Nature Into Your Child's After-School Routine (And Why It's Important)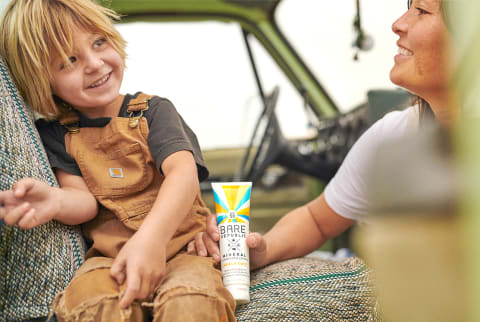 Image by Bare Republic / Contributor
May 6, 2022
Gone are the days of afternoon kickball games in the backyard and evenings spent trapping lightning bugs in an old Mason jar. Now kids return home from hours behind a screen at school to spend hours behind a screen at home. And it's not just kids...we're doing the same thing. As a result, the whole family is missing out on the health benefits of the great outdoors.
Once the school bell rings (and the workday ends), it should be all about fresh air and sunshine to balance out the hours lost to sterile workspaces and artificial light. So we're bringing you the facts and inspo you need to plan more family fun under the sun. But before anyone heads outside, make sure to lather up using Bare Republic's adventure-proof, worry-free sunscreen. It's our go-to for healthy sun protection that contains healthy ingredients safe for parents, kids, and the environment.
We're spending less time outside—and it's showing.
Nature makes us happier, healthier humans. Studies show that spending time outside is associated with better mental health, improved mood3, heightened immunity4, and higher-quality sleep3. Plus, most of the time that we're outside we're doing something physically active, so tack on the advantages of regular movement. We recommend going out when the sun's up so you can also harness the sunshine's circadian-supporting, vitamin D-boosting benefits—safely and covered in sunscreen of course! With a lightweight feel and cleaner ingredients, Bare Republic goes on easy so you can focus on all that summer fun.
Make the outdoors fun and productive for your kids.
The downsides to sending your kids outdoors after school are nil, as long as they are safely protected with sunscreen, bug repellent, and a watchful eye. It's just a matter of coming up with creative activities to get them excited about the fun that is waiting for them just beyond the back door. And @parents, you can get your dose of nature at the same time by making it a family affair—two birds, one stone!
Shop this Story:
To get your juices flowing, we've come up with a list of outdoor, family-friendly ideas to incorporate into your new al fresco after-school routine:
Go for a walk. Whether you make a point to walk home from school or set out as soon as you pull in, an afternoon walk is the perfect way to connect with your child and help them to unwind after a long day in the classroom—all while taking in the natural surroundings.
Create a natural scavenger hunt. Look for pine cones, acorns, wildflowers, and other outdoor items and make it a competition by tallying up who found the most.
Introduce your kids to some of your favorite childhood games. Some of our favorites include hopscotch, four square, red rover, red light green light, and kickball.
Take a trip to the farmers market. Make this a weekly activity that both parent and child can benefit from. It's a great opportunity to sneak in a little nutritional education and get them more interested in the food they eat by letting them pick something new to try each trip.
Host a lemonade stand. A favorite pastime, this is a great way for kids to learn about money and marketing, as well as an opportunity to exercise their social skills. Just make sure to monitor them and keep plenty of Bare Republic sunscreen and water on hand for consistent sun protection and hydration!
Have a picnic. Set up a blanket on the grass and offer their afternoon snack outside. While eating, encourage them to interact with their surroundings by identifying shapes in the clouds or playing I-spy.
Tend to the garden. Gardening helps to teach kids responsibility. If they are in charge of watering the plants, they learn to treat living things with care. If it's a fruit, veggie, or herb garden, they'll also get to experience the satisfaction and gratitude that comes with harvesting.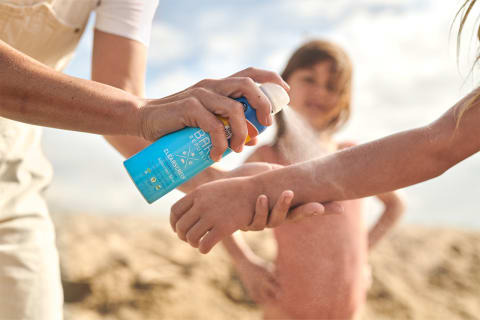 Image by Bare Republic / Contributor
There's nothing wrong with a little grass stain.
It's time to show our kids that the natural world around them is the ultimate playground. They're meant to get dirty and endure a scrape or two...it's what makes them human! So let's get back outdoors and let them reap all the benefits Mother Nature has to offer. With up to 100 SPF, Bare Republic's water-resistant sunscreen makes it possible to spend the entire afternoon under the sun—so why wouldn't you?

Ryan Brady
Ryan Brady is a Freelance Writer at mindbodygreen. She received her B.A. in Visual Arts from Yale University and her M.A. in Clinical Psychology with concentration in Spirituality and Mind-Body Practice, from Columbia University.
Ryan is passionate about holistic health, fitness, and spiritually-centered living. She loves using her knowledge and personal experience to help others improve their well-being. She brings this passion to her writing, as well as to her work at the wellness centers she owns in Atlanta, GA. When she's not working, Ryan can be found traveling, spoiling her dog, or experimenting with gluten free, dairy free baking.