4 Ways To Quiet Intrusive Thoughts, From A Psychologist
Assistant Beauty & Health Editor
By Hannah Frye
Assistant Beauty & Health Editor
Hannah Frye is the Assistant Beauty Editor at mindbodygreen. She has a B.S. in journalism and a minor in women's, gender, and queer studies from California Polytechnic State University, San Luis Obispo. Hannah has written across lifestyle sections including health, wellness, sustainability, personal development, and more.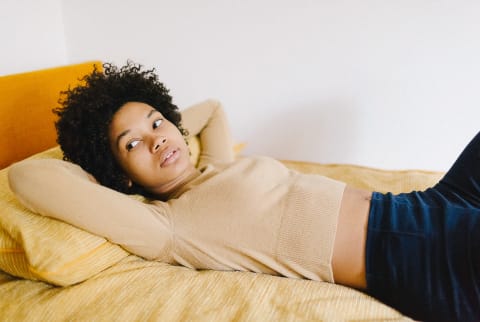 Image by Michela Ravasio / Stocksy
July 19, 2023
We carefully vet all products and services featured on mindbodygreen using our
commerce guidelines.
Our selections are never influenced by the commissions earned from our links.
Recurrent intrusive thoughts spark feelings of extreme overload. Thinking the same negative thing over and over can distract you from getting tasks done and take you out of a present, positive moment.
While you may not be able to control every thought that arrives in your mind, you can use coping strategies to interrupt mental dialogues that are not helpful. Here are licensed psychologist Ayanna Abrams, Psy.D.'s top tips for stopping intrusive thoughts in their tracks.
"This helps your brain practice focus, and commitment, and makes it more likely that you will perform the task properly or learn it at a deeper level because your attention is not distracted," Abrams says.
She adds, "Busy people are overstimulated." This feeling can quickly turn into mental chaos and prove difficult to escape once it starts.
To minimize external distractions while still getting work done, set aside some tasks you'll devote full attention to during the day. If you need to go in a separate room or close a few tabs on your computer to do so, go for it.
2.
Try a mindfulness practice
While it's safe to say everyone experiences intrusive thoughts at one point or another, some folks are especially prone to thought loops—including those with anxiety.
If you're someone who has anxious brain patterns already, you may consider giving mindfulness practices a shot. Or, devote some extra time to mindfulness when you find yourself caught in a loop. This will help you get the hang of letting your thoughts flow in and out without needing to "control them, stop them, grab them, or defuse them," Abrams says.
3.
Remind yourself of your past success & focus on what you can control
Circling thoughts often have to do with something that's coming up, be it an important life milestone, a work meeting, or an intense conversation with a loved one, etc. Rather than letting your mind run with what-if questions on future events, you can remind yourself of the facts and reflect on your past successes.
Abrams recommends asking yourself questions like: "What is important about this event that our anxiety wants us to pay attention to?" You can also remind yourself that you've gone through tough events before (even if not this one). Or, make a short list of three things you can control while you're at this event. These can include:
How long you'll be there
What time you'll arrive
What you'll wear
Who you'll text or call before or after the event for support
4.
Respond with positive thoughts
Finally, some people experience intrusive thoughts related to self-image and body image, which can be particularly hard to break. When these come up, Abrams recommends trying your best to respond with positivity, rather than letting the negativity fester.
"Respond internally or jot down some notes that are body neutral, body positive, or compassionate," she says. Talking back to those thoughts and reminding yourself that they're not true or helpful will reiterate the notion that they are just thoughts, not reality.
Over time, this may become easier and your negative thoughts may just begin to slow down. However, it won't be easy at first, so be patient with yourself and view this practice as a marathon, not a sprint.
Abrams reminds you, "Intrusive thoughts are just that—intrusive and automatic—so they will come and you may not be able to control that, but you can gather some control about how you respond."
The takeaway
While you may not be able to stop intrusive thoughts from popping up, you can decide how you respond to them. If your negative thoughts are related to stress, try monotasking. If your thought loops are directed toward a future event, remind yourself of past success. For those related to self-image, respond with neutral or positive counterthoughts.
No matter what your intrusive thoughts look like, mindfulness meditation can also help you get them under control. Here's a list of some A+ meditation apps to help you start a new practice or deepen an existing one.
Hannah Frye
Assistant Beauty & Health Editor
Hannah Frye is the Assistant Beauty & Health Editor at mindbodygreen. She has a B.S. in journalism and a minor in women's, gender, and queer studies from California Polytechnic State University, San Luis Obispo. Hannah has written across lifestyle sections including skin care, women's health, mental health, sustainability, social media trends, and more. She previously interned for Almost 30, a top-rated health and wellness podcast. In her current role, Hannah reports on the latest beauty trends and innovations, women's health research, brain health news, and plenty more.