One Thing That Can Make Yoga More Effective For Easing Lower Back Pain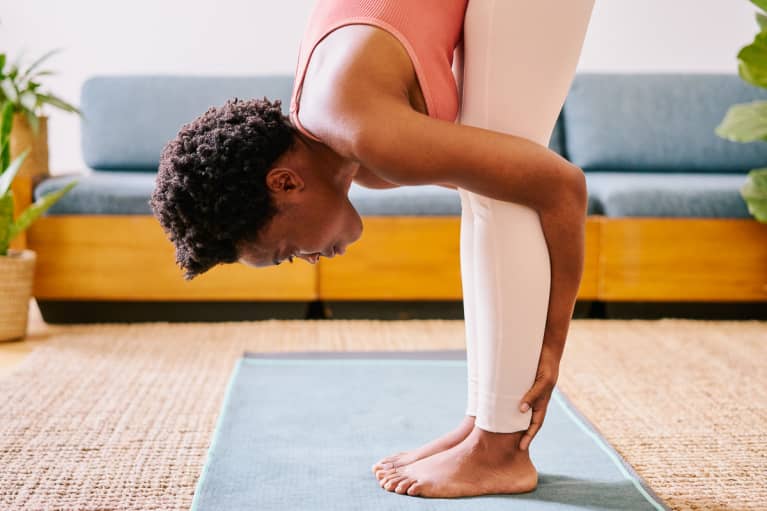 Lower back pain can be anything from mild to a serious problem, and while there's plenty of exercises that can help alleviate that pain, for some people more focused efforts are needed.
A new study from researchers at Boston Medical Center set out to evaluate the efficacy of different treatment options for lower back pain. In the process, they found a simple thing that can help maximize the benefits of a regular yoga practice for lower back pain.
According to the results of the study, simply expecting your yoga practice to help improve your back pain will actually make it more effective than physical therapy, one of the other treatment options they considered in the study.
"Adults living with chronic low back pain could benefit from a multidisciplinary approach to treatment including yoga or physical therapy, especially when they are already using pain medication,' explains Eric Roseen, D.C., MSc, a chiropractic physician who worked on the study.
Focusing on a population that was made up of predominantly nonwhite and low-income patients, participants involved in the yoga-focused group joined 12 weeks of group-based hatha yoga classes, each 75 minutes. The classes incorporated a mixture of poses but also meditation, breathing exercises, and yogic philosophy. Participants were also encouraged to incorporate a half-hour of at-home practice during the week, for which the study provided supplies.
In addition to physical practices, the study also considered the benefits of using a self-care practice to alleviate back pain. This involved participants reading from a copy of The Back Pain Handbook to learn management strategies—and was the least effective of the three options.
How can this help at home?
If you've been hunched over your computer (maybe sitting in a less-than-ergonomic chair while working from home), you may be experiencing some back pain you're hoping to relieve.
If you're looking to reap the benefits of a yoga practice while also trying to see if it will help your back, you can start with simply setting an intention for the practice to help with that pain—and then really believing it.
It's also worth noting that this study locked in on hatha yoga classes. While the term hatha technically refers to any type of yoga that pairs poses ("asanas") with breathing techniques ("pranayama"), in the U.S., it's been adopted to specifically refer to slower classes that focus on proper alignment—making it a natural fit for those looking to help with back pain, which may stem from misalignment.
Beyond that, incorporating poses that are good for your spine and that target back pain is a good way to make sure the flow will focus on those areas—and a little bit of trust that it will help will apparently go a long way.