Get Your Fridge Ready For Thanksgiving With These 6 Simple Steps
mbg Spirituality & Relationships Editor
By Sarah Regan
mbg Spirituality & Relationships Editor
Sarah Regan is a Spirituality & Relationships Editor, and a registered yoga instructor. She received her bachelor's in broadcasting and mass communication from SUNY Oswego, and lives in Buffalo, New York.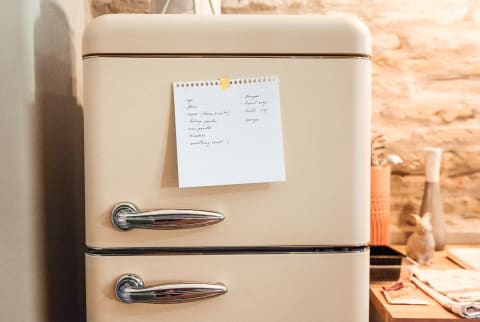 Image by Milles Studio / Stocksy
November 22, 2021
We carefully vet all products and services featured on mindbodygreen using our
commerce guidelines.
Our selections are never influenced by the commissions earned from our links.
With Thanksgiving just days away, it's high time to take a look in the fridge and start thinking about how to make some room. Whether you're hosting or just preparing for the influx of leftovers to come, we rounded up six simple steps for making sure your fridge is feast-ready.
First, clear out your fridge:
1.
Get rid of what's gone bad.
First things first—you'll of course need to get rid of anything in your fridge that's clearly gone bad. Toss whatever you have to, and if vegetables or leftovers look like they're on their last leg, try to use them up quickly.
2.
Take out foods that will stay fresh outside the fridge.
There are a decent amount of fruits and vegetables that don't need to be refrigerated. In fact, certain foods like tomatoes, potatoes, and pears, for example, do better outside the fridge. Check out our full guide for storing produce for more info, and be sure to take applicable produce out to make more space!
3.
Put some things in the freezer.
Got soups or other leftovers that are taking up too much room? If you can transition any of them to the freezer, now's a good time to do so. If your freezer is truly at capacity and you live somewhere cold, you can even use an outdoor icebox as a makeshift freezer for a few days while your fridge and freezer are packed. It's also not a bad idea to downsize containers if possible.
Then, organize what's still inside:
4.
Use smaller containers.
Whether you're moving stuff to the freezer or trying to free up room in your fridge, take a look at the containers you're using. If you've been chipping away at leftovers that could fit in a smaller container at this point, definitely make the switch.
As Tracy McCubbin, decluttering expert and author of Making Space, Clutter Free, previously explained to mbg, "We tend to think that once we put something in a certain container, that's its forever home," but it doesn't have to be!
5.
Take advantage of adjustable shelves.
Yes, you can completely change the layout of your fridge if necessary. Take advantage of those adjustable shelves and do a little reworking where you need more space. "Dropping a shelf down to hold your tall bottles of almond milk could be the game-changer you've been looking for," McCubbin notes, adding this is especially true for the shelves in the door.
6.
Anticipate how much space you'll need.
And last but not least, think ahead to what's going to be in your fridge. If you're going to need to put an entire turkey (or plant-based showstopper) in there, make sure there will be room for it before your trip to the store. You can also make this easier by investing in stackable containers to keep things organized and streamlined.
The bottom line.
No one wants to be scrambling to organize their fridge with leftovers in hand. Make your life a bit easier by prepping your fridge before Turkey Day, and your belly won't be the only thing with plenty of room to fill!
Sarah Regan
mbg Spirituality & Relationships Editor
Sarah Regan is a Spirituality & Relationships Editor, a registered yoga instructor, and an avid astrologer and tarot reader. She received her bachelor's in broadcasting and mass communication from State University of New York at Oswego, and lives in Buffalo, New York.