How To Clean, Dry & Maintain Your Shower Curtain To Prevent Mold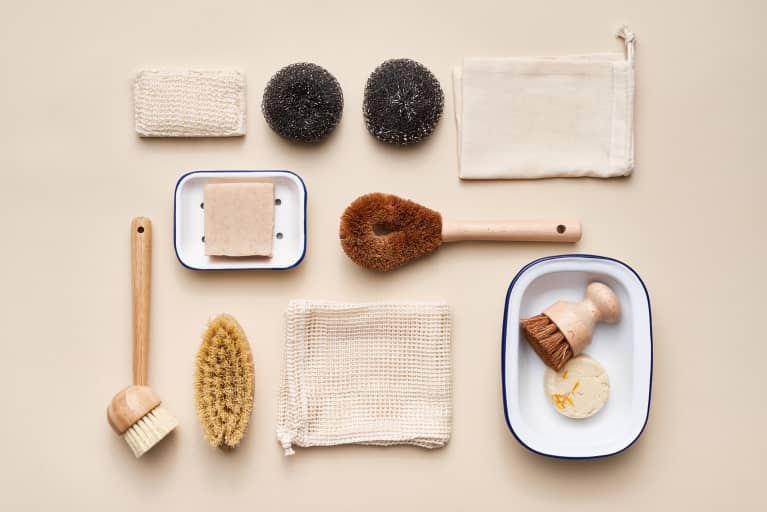 Some areas of the home require a little extra elbow grease to clean and maintain—and the shower is certainly one of them. Since so much moisture can collect in the shower, it can be a hotbed for mold. "Shower curtains tend to get mold—black mold—on them if you do not wipe them down," notes professor and microbiologist Charles Gerba, Ph.D.
So, the next time your shower curtain or liner is starting to look a little grimy, use the following expert tips to give it a deep clean. Natural cleaning expert and founder of Clean Mama, Becky Rapinchuk, says you'll want to do so monthly, or at least quarterly, to keep potentially harmful mold at bay.
How to clean plastic liners.
If you have a plastic liner on the inside of your shower curtain, or the curtain itself is made from a PVC or polyester material, you're in for a relatively easy clean. According to Rapinchuk, "If you have a plastic shower curtain, it can be washed in the washing machine on cold and hung up to dry." The emphasis here is on cold! Make sure to run it in a cool setting so you don't melt the liner.
If you don't have access to a washing machine, hand-washing is also an option. All you need is baking soda and a damp microfiber cloth or rag. Scrub down the liner with baking soda, rinse away any residue, and hang it back up in the shower to dry.
How to clean a cloth curtain.
Cloth curtains can be washed in the washing machine as well, using a similar process. Rapinchuk also notes that she'll throw bath towels in with her cloth curtain to help keep it from clumping together. If your curtain has tough stains, you can also add baking soda and vinegar into the mix: Run the machine with equal parts detergent and baking soda to start. Then, right before the rinse cycle, add in a cup of white or apple cider vinegar.
Once your curtain is washed, you can either hang dry it or run it through the dryer on no heat, which is what Rapinchuk likes to do. Always be sure to check the care label, though, as some heavier materials may need extra time in the dryer to dry completely.
And if you don't have a machine, the same hand-washing process for plastic liners should work for cloth curtains, too.
How to clean the shower rod and rings.
Just as important as cleaning the shower curtain is cleaning what it's hanging from! Those shower rods and rings can collect all sorts of germs and mold.
Start by removing the rings from the rod. Dilute some white or apple cider vinegar in a bucket or plugged sink, and let the rings soak in the mixture for 15 to 20 minutes or longer. Use a brush or rag to scrub at any pesky spots.
You can also make a more abrasive cleansing scrub using ¼ cup baking soda, 1 to 2 tablespoons Castile soap, and a splash of apple cider vinegar. Use it to scrub down your curtain rods, rings, or tub.
How to keep your curtain clean and mold-free.
Now that you have a spotless curtain, here are some tips for keeping your shower area clean and dry for the long haul:
"Ventilating your bathroom is always important," Tasha Stoiber, Ph.D., a senior scientist at the Environmental Working Group, previously told mbg. "Open the window, turn on the fan, and make sure your bathroom dries out. Remove that moisture to make sure your shower curtain can dry."
After each shower, Rapinchuk recommends pulling the curtain closed so it can completely dry between uses.
The next time you are in the market for a new curtain, pretreat it by submerging it in a bath of diluted white or apple cider vinegar when you first get it, to prevent mold and mildew buildup.
The last thing you want to worry about while scrubbing down is a gross shower curtain. With these tips, bath time can stay soothing and sacred.