A 5-Step Guide To Cleaning Your Wallet The Feng Shui Way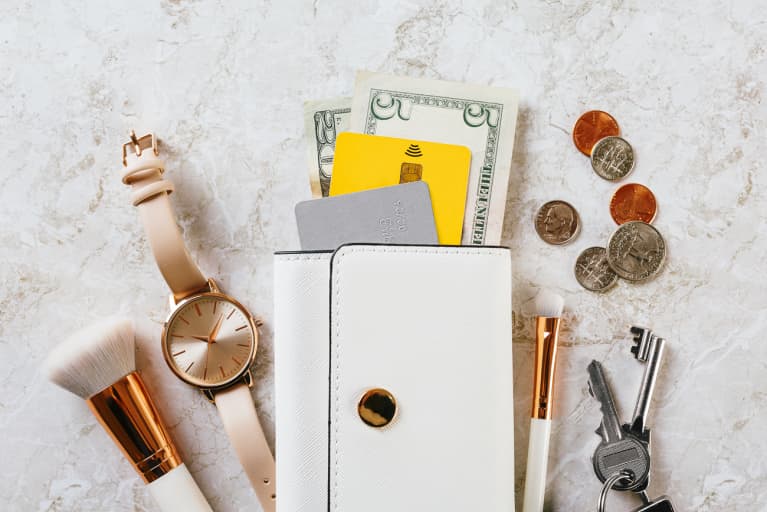 There are so many ways to use feng shui to create an environment that's inspiring, motivating, and empowering. Applying the philosophy to something as simple as your wallet can be enough to help boost your abundance. If you've got your wallet nearby and haven't given it much love lately, here's an easy step-by-step cleaning routine to try:
To begin, pull out everything that's in there. (You might be surprised by how much stuff you've managed to collect!) Then, wipe the whole thing down with a towel or microfiber cloth that is slightly damp. I usually just use water for this. If you want to go the extra mile with your wallet transformation, you can also burn sage or herbal incense at this time. Hold your wallet in the smoke with the intention of clearing it of any energy that's overstayed its welcome.
Step 2: Once you've got a clean slate, sort through what you have.
File any receipts you actually need to keep, if any. Now is a good time to vow to decline as many receipts as you can in the future and opt for receiving them digitally. It'll mean less paper clutter for you and less paper waste for the planet. Then, safely dispose of anything that's irrelevant (expired membership cards and credit cards, etc.) and decide on what is essential to put back inside.
Don't forget about your physical cash, too. Straighten the bills, organize them by value, and keep them in order. In feng shui, everything—including money—is energy in its most basic form, so the better you treat your cash, the more it will respond favorably to the attention. (Bonus: There's ancient lore about rubbing a mint leaf or two on your currency to make it more energized and attractive.)
Step 3: Store the daily essentials in the most easy-to-access places in your wallet. 
Only carry the things you actually need with you. If you always reach for something, put it front and center. I've seen (and had) wallets overflowing with membership cards, extra credit cards that would never be used and piles of business cards. This sort of clutter can cause overwhelm, even if you don't realize it. You'll be amazed by how much more you enjoy opening your wallet when it's streamlined.
Step 4: Treat your wallet well.
Once you're done sifting through your wallet, don't just toss it back into a purse or bag that's cluttered. Vow to organize that next! Be grateful for your wallet and the abundance that it represents, and vow to keep it organized. Some practitioners say to choose a wallet based on the lucky colors in feng shui, but I think having one that suits your needs and stays clean and clear is way more important.
Step 5: Make it more magical. 
Great energy tends to attract more great energy, so top off your wallet with a dose of positivity. You may want to write a few intentions on a small note card and store it with your cash. Or, if you're looking to reinforce a new (and awesome, and true) belief about yourself and your worth, put that note in your wallet so it greets you every time you open it up. Using the classic Law of Attraction, you can also write yourself a check for whatever amount of money you're aiming to obtain and keep that safely tucked away in your wallet.
Feng shui tells us that free-flowing, dynamic, energy flows in spaces that are more harmonious and organized. So while a wallet may seem small, it can be the start of big, magnetic transformation.