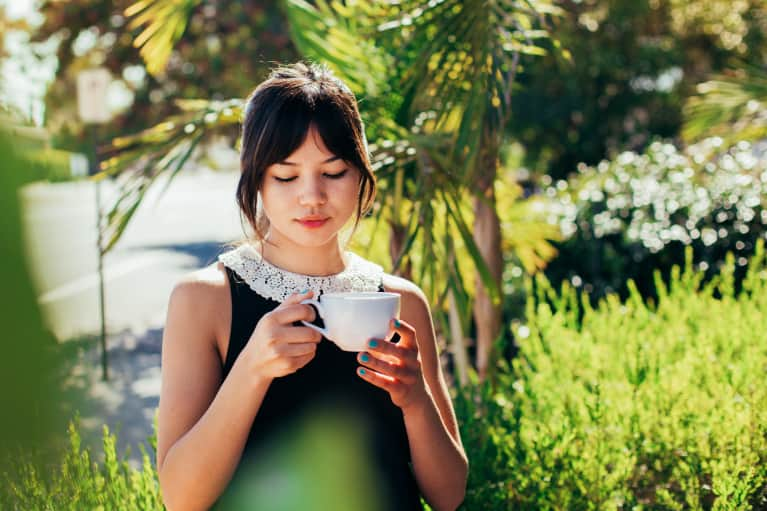 On your period? Awesome! While periods can bring the occasional bout of sluggishness and discomfort, that doesn't mean they have to keep you down. In fact, they can be a helpful reminder to listen to your body, do what feels good, and focus on self-care every once in a while.
This empowered period guide will help you feel a whole lot more like your badass self during your time of the month. Here are our tips and tools to make your period painless:
1. Have a self-care session.
Recently, science has backed up a lot of the pain remedies our ancestors swore by. Namely, herbalism and aromatherapy.
The next time you're dealing with period pain, consider adding holistic remedies to your repertoire—starting with essential oils like lavender, clary sage, and rose. One study found that massaging a blend of this relaxing trio (one dropperful of each, combined with almond oil) to the abdomen was effective at decreasing the severity of menstrual cramps. Plus, you know, it smells delicious. Make sure that you're using high-quality oils (more on finding those here) and diluting them with a carrier oil like almond, argan, or jojoba for max efficacy and safety.
Then, turn to tea. Fennel and chamomile have both been shown to help ease symptoms of dysmenorrhea (aka super painful periods). Each comes with its own accolades: Fennel can soothe pain from cramps while chamomile is more effective for fatigue and lethargy. Get sipping on a hot or cold brew, snuggle up with a good book, and let these traditional medicines get to work.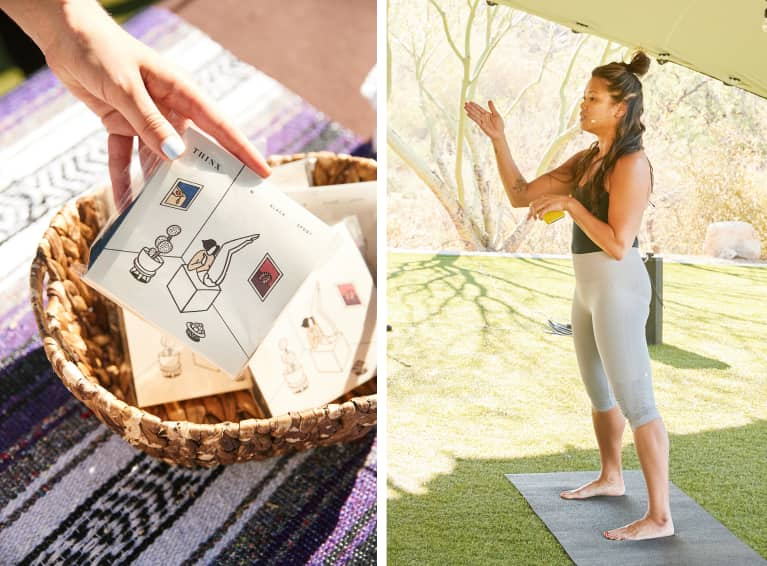 While you should always be listening to your body during exercise, doing so is especially important when you're having your period. Do what feels right—whether that's a restorative yoga flow or long jog. THINX period-proof underwear, training shorts, and activewear can help keep you comfy—and, er, dry—through it all. Designed with a patented four-layer technology that is absorbent, moisture-wicking, and odor-fighting, they've got you covered. Bonus: They're way easier on the planet than tampons and pads, which are accumulating in landfills at a shocking rate.
Earlier this summer, dozens of mbg readers, contributors, and experts put them to the test during a sweaty, intensely liberating exercise with The Class by Taryn Toomey—a buzzy workout that combines HIIT moves with elements of spiritual release. We sweated, we screamed, we didn't bleed. It was a display of feminine passion and power that totally epitomized what THINX is all about.
3. Try out a new healing practice.
If there's ever a time to experiment with new-to-you healing modalities, your period is it. Let it be a little nudge to play around with different forms of therapy that could eventually become part of your routine. Heat is your best friend when it comes to cramping (heat patches have been shown to be just as effective as ibuprofen), so why not give an infrared sauna a try? Acupuncture has also been shown to counteract period pain by boosting levels of endorphins in the blood, and energetic medicines like Reiki have the potential to help you move through stagnation in the mind and body. Don't knock it till you try it!
4. Pay attention to diet.
According to author, hormone expert, and mbg class instructor Alissa Vitti, we should be changing the "PMS" acronym from "premenstrual syndrome" to "prioritizing myself." And that means making sure our diet supports all the hard work our bodies are doing during this time.
She recommends loading up on nutrient-rich foods like protein and healthy fats, as well as eating plenty of low-glycemic-index veggies and fruit to stabilize blood sugar. A few ingredients to work into your rotation? Liquid chlorophyll, seaweed, and bone broth. Drop the chlorophyll in your water, add seaweed to salad, and put bone broth in your smoothie for a little boost.