How A Talk With My Daughter Changed My Eco-Approach (After 20+ Years In The Movement)

Author & Environmental policy expert
By Heather White
Author & Environmental policy expert
Heather White is a conservation policy and green living expert. She is the CEO and founder of OneGreenThing.org and the author of "One Green Thing: Discover Your Hidden Power to Help Save the Planet." She is the former President & CEO of Yellowstone Forever and Executive Director of EWG.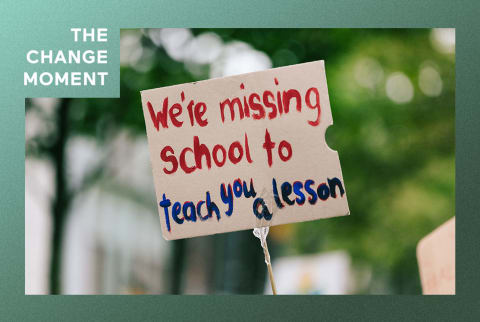 Image by mbg creative X VISUALSPECTRUM / Stocksy
April 22, 2022
We carefully vet all products and services featured on mindbodygreen using our
commerce guidelines.
Our selections are never influenced by the commissions earned from our links.
When was the last time you had a change moment—an "aha" realization that set you down a new path? This April, in honor of Earth Month, mindbodygreen is hoping to inspire these moments through thoughtful storytelling about our planet. Welcome to
The Change Moment
, where you'll find personal stories, expert-backed tips, and thoughtful primers that will change the way you think about what sustainability really means and how to put it into practice.
"Mom, we're running out of time. You can't wait for us to clean up your mess. It can't be all on our shoulders," said my older daughter Cady. It was September 2019. We were talking to the girls about the upcoming climate strike inspired by Swedish activist Greta Thunberg. The weather report called for heavy rain, so I offered to pick up Cady and drive her to the protest site after she left the high school. This parental gesture made perfect sense to me since she had to carry her trumpet and her backpack, which weighed a ton. Besides, the protest starting point was a mile away.
Cady rolled her eyes and patiently explained to me, her environmental lawyer mother with more than 20 years of experience in climate advocacy, that having a parent drive her to a climate walkout defeated its purpose. She said she was sick of all the praise for Gen Z, that the planet was burning, and what were the Millennials, Gen Xers, and Boomers going to do about it? And then came her quiet tears. This response was the result of eco-anxiety.
Cady's tears at the dinner table marked the moment this issue of eco-anxiety and intergenerational action hit home for me. I started researching the mental health impacts of the climate crisis and discovered the "eco-anxiety trifecta."
A look into the "eco-anxiety trifecta."
The eco-anxiety trifecta for Gen Z first relates to the fact that children are suffering from generalized anxiety in greater numbers. The National Institutes of Health indicates that 30% of American teens suffer from anxiety. Rates of teen anxiety, depression, and suicide have dramatically increased since 2011.
Second, Gen Z is the loneliest generation. More screen time and less in-person interaction mean a sense of isolation for them, even before the pandemic. In the 2018 Cigna Loneliness Index, Gen Z expressed "feeling like people around them are not really with them (69%), feeling shy (69%), and feeling like no one really knows them well (68%)." Our kids are lonelier than the elderly. In one survey, eight in 10 Gen Zers experienced loneliness compared to five in 10 Baby Boomers. Chronic loneliness can be as damaging to a person's health as smoking 15 cigarettes a day, which prompted the United Kingdom to appoint a loneliness minister in 2018.
Third is the hyperawareness of the climate crisis, fueled by sharing news stories and the latest research on social media. Gen Z is asking what the future will look like, where they will live, and what their experience will be like on this planet. In a 2020 survey by the U.S. Conference on Mayors, 80% of Gen Z agrees that "climate change is a major threat to life on earth." It's clear that we must act.
What we can do.
These three strategies can all help address the eco-anxiety of those you care about, as well as your own anxieties about our collective future. If you find eco-anxiety affects your daily functioning, consider seeking out a mental health professional who is trained to talk through it using the Climate Psychology Alliance.
1.
Create time and space to listen to young people.
Acknowledge their feelings and share with them the progress you've seen in your life. Make a commitment to help them create a better future through climate action, and consider a family eco-action plan.
2.
Try a daily "One Green Thing."
This can be as simple as spending time in nature, composting, or urging your elected officials to take action. Take the Service Superpower Assessment to find your unique role in service and download a 21-day Kickstarter Plan to get started.
Reflect on the natural areas you love. Think about what legacy you want to leave.
Stress about the future we're leaving the next generation is a natural response to the reality of the climate crisis. We have all the technology we need to solve the climate emergency, but we must have the political will for change. That political change requires a culture shift that only comes from individuals acting every day to save our sanity and the planet.

Heather White
Author & Environmental policy expert
Heather White is a conservation policy and green living expert. She is the CEO and founder of OneGreenThing.org and the author of One Green Thing: Discover Your Hidden Power to Help Save the Planet.
Heather's former role as the leader of the nonprofit Yellowstone Forever was to connect people to Yellowstone National Park through outstanding environmental educational programs and provide millions of dollars in philanthropic support to the park. Previously, Heather was the executive director of Environmental Working Group (EWG), director of education advocacy for National Wildlife Federation, and counsel to U.S. Senator Russ Feingold, and an associate in a large law firm. Heather received her bachelor's degree in environmental science from the University of Virginia and graduated magna cum laude from the University of Tennessee College of Law. She's a frequent spokesperson in the national media and has been a featured expert on environmental law and policy on Dr. OZ, MSNBC, PBS, CBS and in the New York Times, Washington Post, the Guardian, and USA Today. She lives in Bozeman, Montana.