Close Banner
Advertisement
This ad is displayed using third party content and we do not control its accessibility features.
How The Mediterranean Diet Helps Your Gut Help You Age Well
mbg Nutrition & Health Writer
By Eliza Sullivan
mbg Nutrition & Health Writer
Eliza Sullivan is a food writer and SEO editor at mindbodygreen. She writes about food, recipes, and nutrition—among other things. She studied journalism at Boston University.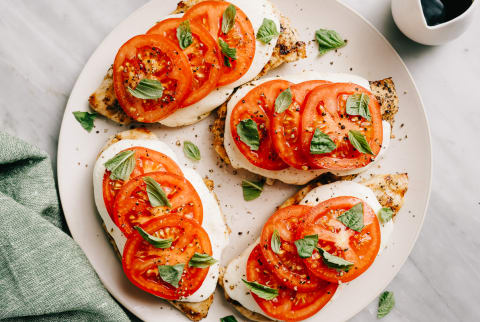 Image by Cameron Whitman / Stocksy
The Mediterranean diet has been lauded as one of the best diets for overall health, and its origin, based on the diets of those living along the Mediterranean, is tied to those regions' status as Blue Zones—where people live longer, healthier lives.
How do these three components connect?
Researchers at University College Cork undertook a yearlong project to see how a Mediterranean diet could help maintain the microbiome in older patients and therefore help support the continued existence of the necessary bacteria to support healthy aging.
They found that adhering to the diet for 12 months was associated with an improved microbiome and that it helped prevent the loss of bacterial diversity in the gut. The study also showed that those species that were supported by the diet are varieties of "keystone" species, meaning they are critical components of the gut's ecosystem.
The bacteria that saw increases in volume thanks to the diet were associated with markers for reducing frailty in the older adults for the study. These support improved walking speed and hand strength, improved cognitive function, and fewer chemical markers for inflammation.
How does the Mediterranean diet help gut health?
When they looked more closely at the diet, they found that the health benefits were likely the result of an increase in bacteria that support the production of short-chain fatty acids while decreasing the production of bile acids, which have been linked to increased risks of insulin resistance and fatty liver, among other things.
According to the report, the foods encouraged by the Mediterranean diet led to an increase in dietary fiber; vitamins C, B6, and B9; and minerals like copper, potassium, iron, manganese, and magnesium.
The researchers do point out that while there appears to be a definite link, the direction of the connection—which result is leading to the other—is harder to pin down.
"While the results of this study shed light on some of the rules of this three-way interplay, several factors such as age, body mass index, disease status and initial dietary patterns may play a key role in determining the extent of success of these interactions," they explained.
They do say that, even with this consideration, a Mediterranean diet does appear to support warding off frailty in older people.
Want to turn your passion for wellbeing into a fulfilling career? Become a Certified Health Coach! Learn more here.
Eliza Sullivan
mbg Nutrition & Health Writer
Eliza Sullivan is an SEO Editor at mindbodygreen, where she writes about food, recipes, and nutrition—among other things. She received a B.S. in journalism and B.A. in english literature with honors from Boston University, and she has previously written for Boston Magazine, TheTaste.ie, and SUITCASE magazine.