This Popular Workout Hairstyle Is A Recipe For Damage, Says A Top Stylist

mbg Beauty & Wellness Editor
By Jamie Schneider
mbg Beauty & Wellness Editor
Jamie Schneider is the Beauty & Wellness Editor at mindbodygreen. She has a B.A. in Organizational Studies and English from the University of Michigan, and her work has appeared in Coveteur, The Chill Times, and Wyld Skincare.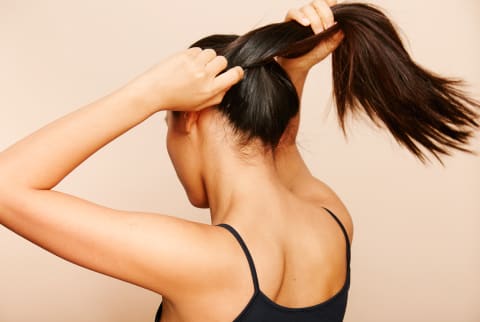 Image by Leandro Crespi / Stocksy
March 6, 2023
Our editors have independently chosen the products listed on this page. If you purchase something mentioned in this article, we may
earn a small commission
.
When it comes to workout hairstyles, experts generally advise against too-tight 'dos. Snug braids, slick buns, and sky-high ponytails certainly look chic, but they can put stress on your strands and lead to breakage. Even when you're not working out, you might want to limit the slicked-back styles in the name of hair growth.
So, consider my utter shock when I came across this TikTok video from celebrity hairstylist Tom Smith, in which he declares looser styles can lead to brittleness and split ends. Is there simply no way around the damage? Not quite, much to my relief—discover Smith's tips below.
Advertisement
This ad is displayed using third party content and we do not control its accessibility features.
Wait—can loose ponytails cause damage? 
If your ponytail reaches beyond shoulder-length, it likely swishes back and forth as you move. This, Smith says, is where you can (literally) run into issues: "If you go for a run and you have your hair loose whipping back and forth, it's an absolute recipe for split ends and really dry friction burn on the ends of your hair."
Too much friction, as we know, can trigger physical damage, lift up the cuticle, and cause frizz. It's why you might sleep on a silk or satin pillowcase as opposed to cotton or linen fabrics, so your strands glide easier across the surface, which helps them retain their smoothness and shine. (And on that note, you might want to invest in some silk scrunchies to further protect your tresses.) If you're not engaging in intense activity, this obviously poses less of a problem; low-to-moderate intensity training (think yoga, Pilates, or walking) won't create as much friction, so a loose ponytail may be A-OK.
It's more of a warning for HIIT workouts or jogs: As much as you may want to resemble an iconic Baywatch babe when you hit the pavement, all that swishing back and forth can harm your hair in the long run. "That's like whiplash for your hair," Smith adds.
Instead, he recommends wrapping your hair into a bun or braid so that your ends stay tucked in and protected. Again, just make sure you're not pulling too tightly when you're tying, so you don't cause breakage at the hairline. For buns, you might also want to switch up the placement from time to time: "This way, it's not repeated damage in the exact same spot—you're giving your hair a break," hairstylist Levi Monarch once shared with us.
It's a delicate dance, and at the end of the day, a few broken hairs shouldn't deter you from breaking a sweat—regular exercise, after all, is great for your beauty routine. But if you're an avid runner or you find your pony bopping around during a spin class, you might want to tuck in the ends a la buns or braids. Perhaps save the cute pony for your walk home.
The takeaway. 
Too-tight hairstyles can often lead to flyaways, breakage, and frizz—but looser styles aren't totally off the hook, either. According to Smith, swishing your hair back and forth can create friction and lead to those same frustrating concerns. Try to keep your mane as protected as you can while exercising with buns or braids, or if your strands need a little extra TLC, feel free to snag a hair growth serum to feed those follicles.
Advertisement
This ad is displayed using third party content and we do not control its accessibility features.