Close Banner
Advertisement
This ad is displayed using third party content and we do not control its accessibility features.
I Tested HER — Here's My Honest Review Of This Inclusive Dating App
Commerce Writer
By Jillian Angelini
Commerce Writer
Jillian Angelini is a Brooklyn-based freelance writer, communications consultant, and sex educator in training. Her work appears in Bustle, Betches Media, and Reflect Beauty, among others.

Expert review by
Myisha Battle, M.S.
Sexologist & Dating Coach
Myisha Battle, M.S., is a certified clinical sexologist and sex and dating coach, educator, and speaker. She has a master's in Psychology from The New School in New York City.
We carefully vet all products and services featured on mindbodygreen using our
commerce guidelines.
Our selections are never influenced by the commissions earned from our links.
When used with intention, dating apps are an extremely valuable resource—but many mainstream apps lack variety in terms of sexual preference. HER was created by queer women for queer women to be an inclusive dating app for queer and FLINTA (female, lesbian, intersex, non-binary, trans, and agender) communities.
But what else makes this app stand out on the overcrowded dating market? I tried HER to find out whether the premium subscription is worth the money.
Final Thoughts
Her
Image by mbg creative

Image by mbg creative

Image by mbg creative
scroll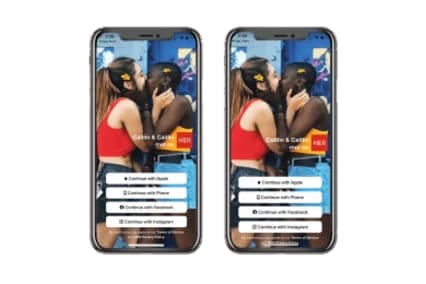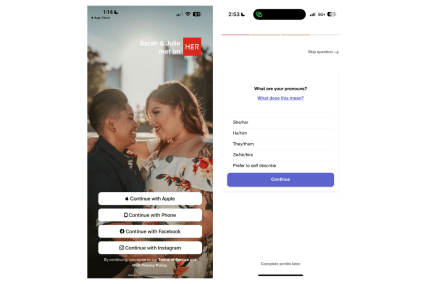 Image by mbg creative
Image by mbg creative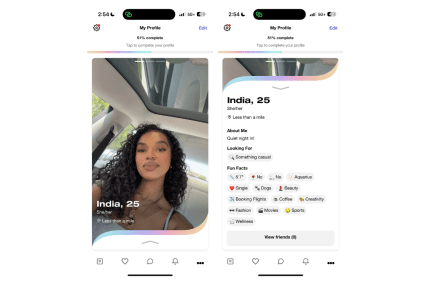 Image by mbg creative
About
A community-based app for LGBTQ+ folks seeking connections
Pros & cons

Pros:

Community feature allows for a low-pressure way to meet new people
The app expands beyond romantic relationships and is beneficial to find queer community through events and chat rooms
Offers an array of sexuality and gender options

Cons:

You need a subscription to fully experience the app and meet community
Often filled with bots and may have glitches
Can be hard to figure out as a new user
What is HER?
Founded in 2013, HER Social was created out of frustration towards other dating apps not feeling inclusive enough for queer and FLINTA communities. Founder Robyn Exton felt so strongly about creating a safe and inclusive space for lesbians that she quit her day job, learned to code, and launched the app.
A decade later, HER has expanded to become the world's most loved FLINTA community and relationship-building app. According to the app's public data, HER has more than 13 million users in over 125 different countries with those numbers rising monthly.
From my experience scrolling, there are a decent amount of profile options. In other words, the algorithm goes on for a while and doesn't show you the same two queer people over and over (hello, tinder), but I also live in a very populated city.
Unlike other dating apps, users can share what they're looking for in their profile. Options such as hookups, monogamous relationships, polyamorous relationships, new friends, and something casual are displayed on each profile.
As an inclusive platform designed to appeal to the queer community, HER is used for more than just finding romantic relationships. Users can also request people as friends before matching to build a community or make a network of friends with possible matches.
The app fosters 30+ social communities via chat rooms with topics such as Queer Women of Color, Traveling & Living Abroad, Astrology, and Horoscopes and Tarot. I've been on HER for both romantic and platonic reasons and I love how this allows me to foster a queer community in my area or virtually.
An expert's take on HER
Nadège, sex scholar and bestselling author of Sextrology is an active HER user who found the app through friends in the community.
She tells us, "HER's model is pretty standard when compared to other apps. I like that I can answer questions that show my personality, and I like that there is a community option so that I can connect with friends."
Nadège also shares that they think the community features are a more low-pressure way to meet new people, which is certainly a different method compared to other apps.
How HER works
When setting up your profile on HER, you're greeted with pronoun, gender, and sexual identity labels to choose from. Vast label offerings such as intersex, polygender, bicurious, sociosexual, and more are all included as choices.
Optional steps include sharing your star sign, height, alcohol and smoking preferences, political views, diet, religion, child preferences, and interests. There is also the option to add pride pins and questions you'd want to use as conversation starters with someone.
One feature that makes HER stand out amongst other apps is its discover page, which allows you to see all your likes simultaneously, almost like a menu. Nadège is a big fan of this feature and shares,"It's fun to see who has viewed my page and whose nearby… It's like dating voyeurism, and I love it."
Unfortunately, the discover page is not offered without a premium subscription—although you are able to see a slim number of people who have liked your profile per day. This is one of my personal favorite features and is excellent for people who are a little more skeptical or on the shy side.
Similar to the dating app FEELD, HER has done away with the one quick swipe for yes or no. Instead, you need to scroll all the way down and press the heart or the x so that person won't show up in your feed again. I've often needed to remind myself of this one, as the classic swipe is engraved in my brain.
Once you match with someone you can share photos and gifs in your chat room, but no video content is allowed.
One of my least favorite features on HER is that users looking for friends need a premium subscription to filter out the people looking for romantic entanglements. This is definitely something to keep in mind, as I'd personally rather not pay a premium to find friends.
Is HER worth it?
I recommend HER's free version for those seeking out queer community, but if you're seriously looking for a relationship you should opt for a premium subscription. The cost can certainly be worth the investment for those interested in using the app to its fullest potential.
Per Nadage, a good dating app procedure, in general, would be to test and invest in only one at a time. "That way you can really test drive a community without breaking the bank and be intentional about your erotic or romantic focus," she says.
My experience using HER to date
I initially signed up for HER seeking a romantic relationship (which I ultimately found elsewhere), but I kept the app due to its community feature, which is very different from other apps I've experienced.
Unlike Hinge, the dating app "designed to be deleted," HER is here to stick around. It has great potential, especially for someone with a premium version. I love that coupled people have a purpose for the app as well.
Who should use HER?
Anyone and everyone in FLINTA / LGBTQ+ communities that doesn't identify as cis male might enjoy using HER to foster community or connection.
Nadège says, "I'd recommend it (and have in the past) to my queer friends. HER is an explicitly queer virtual space that is inclusive to trans, non-binary, and GNC folx. It's nice to have a dating app with queer founders and LGBTQ+ intentions behind it."
Who shouldn't use HER?
HER focuses on a very specific community, and if you do not identify as a part of that (FLINTA and LGBTQ+ communities), I highly recommend not using it out of respect for users.
How to be successful on HER
HER has many features that allow you to stick out and meet like-minded people. As Nadège shared, the community feature will enable you to get to know a person before officially matching or connecting, and highly recommends using it to possibly spark a friendship first.
Here are a few other ways to be successful on the app:
Make sure your profile is complete and thorough. Using all of the features allows you to set the tone and find someone with similar values as you.
Take advantage of the app's add-ons. Join the community rooms, partake in the virtual events, try out speed dating, and definitely give premium a try.
Try the premium membership.
Nadège has had most of her success with premium as it's helped to foster many of her relationships.
"A few years ago when I moved to Paris, I downloaded HER to meet queer people and go on dates," she says. "I ended up meeting queer people to go to Pride with, and I also dated a very cute French dentist for a little while. HER helped me transition to a new country and feel like I could easily access community. I was very grateful."
FAQ:
Is HER dating app free?

HER is free but offers two subscription options for best usage out of the app. The free version does not allow for all features to be used.
Can men use HER dating app?

HER is strictly for FLINTA (Female, Lesbian, Intersex, Trans and Agender) communities. Cis men are not encouraged to use HER.
What is the age range for HER app?

HER allows you to filter users from ages 20 to 65+. There is a pretty big mix of users in different age categories.
What does the heart mean on the HER app?

The heart is equivalent to swiping right on other dating apps. If you click the heart it means you're interested in matching with a user.
The takeaway
HER is a great app for the queer community! The app is standing alone in a very crowded dating market and filling a need people so obviously want. If you're interested in seriously dating, HER's premium subscription is absolutely worth trying.
Jillian Angelini
Commerce Writer
Jillian Angelini is a Brooklyn-based freelance writer, communications consultant, and sex educator in training. Her work appears in Bustle, Betches Media, and Reflect Beauty, among others. Having been a copywriter for various sexual wellness brands, she specifically enjoys writing about sex, relationships, and anything involving the queer experience. On a given day, you can find her playing with her cat Misu, trying every sushi restaurant in New York, or listening to relationship podcasts of any genre. Catch up with her on Instagram @jnangee.