The Best Well-Being Advice We've Received From Our Moms
Health Writer & Editor
By Kristine Thomason
Health Writer & Editor
Kristine is a writer, editor, and editorial consultant who lives in Long Beach, CA.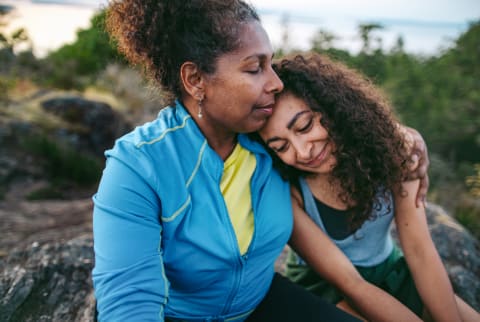 Image by Rob and Julia Campbell / Stocksy
May 10, 2020
Happy Mother's Day from the entire mbg staff to all the incredible moms out there! While this holiday may look a bit different for much of the world this year, whether you're celebrating from near or afar, it's still a time to reflect on the beautiful impact your mom has had on your life.
In honor of this day, mbg editors shared some of their moms' well-being wisdom that has made a lasting impression.
Find your inner calm.
"My mom has always been a living embodiment of Zen. She never had to explicitly give me advice on this; rather, over the years, I've learned from her example of unwavering calm. She meditates every day, and I'm still amazed she never raised her voice at me as a teen (even when I probably deserved it). She's taught me so much, and I can only hope to become as calm, cool, and collected as she is."
Work hard and care deeply.
"My mom taught me to work hard and care deeply about everything I do. She has so much passion for the things she loves—family, Nebraska football, gardening, horses, you name it. That's always inspired me to carry the same level of dedication to what I do."
Well-being doesn't need to be complicated.
"I was lucky enough to spend the first few weeks of quarantine with my mom. During that time, she reminded me that the simplest well-being practices really are the most effective: Stay hydrated, share your gratitude, and walk every day—regardless of the weather."
Self-care comes in many forms.
"It may not sound like a wellness practice, but my mom is the queen of to-do lists, and it's definitely something I've learned to lean on as I've grown up. It helps me to feel more in control and organizes my mind—which is so helpful for making me feel well."
Tune in to your body.
"Growing up, my mom taught me to respect my body in every way. She encouraged me to find a way to stay active that I truly enjoyed and stocked our home with nutritious foods (which I didn't always appreciate at the time but certainly do now). But beyond instilling healthy habits, she also taught me to listen intently to what my body is telling me—sometimes that means taking it easy if I start to feel rundown, or noting how certain situations affect me viscerally. It's a simple piece of advice, but it's had a big impact on how I approach each day."
Kristine Thomason
Health Writer & Editor
Kristine is a writer, editor, and editorial consultant who lives in Long Beach, CA. Kristine is a New York University graduate with a degree in journalism and psychology, and also a NASM-certified personal trainer. She has spent her editorial career focused on health and well-being, and formerly worked for Women's Health and Health. Her byline has also appeared in Men's Health, Greatist, Refinery29, HGTV, and more. In her current role she oversees, edits, and writes for the health, food, and movement sections of mindbodygreen.