5 Ways We Are Celebrating Mother's Day This Year (In Case You Need Inspo)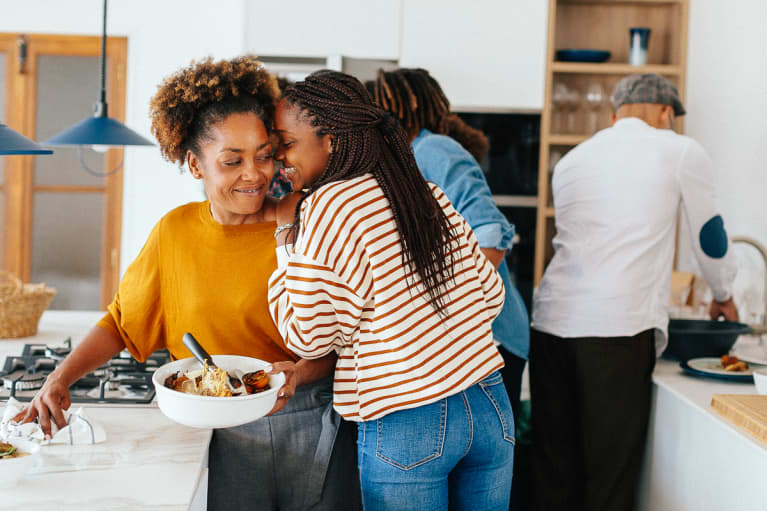 In case you need a reminder: Mother's Day is this Sunday. It's a year we could probably all stand a little more love and connection regardless. So perhaps be mindful to put extra time and care into celebrating moms or whoever filled the mom role in your life.
For inspiration, in case you're looking for some, here's how five mbg staffers are celebrating their moms from near and afar.
By cherishing a new phase of the relationship.
"I was lucky enough to spend the first few weeks of quarantine with my mom. It was the first time in my adult life that we've lived together, and it was so fun to see how similar we've become over the years. We joked about how we never wanted the time together to end! (The pandemic part of it, however, we could live without.) Though we're no longer together physically, I'm looking forward to celebrating mom from afar and keeping up with this new phase of our relationship."
—Emma Loewe, senior sustainability editor
With workouts and brunch.
"Since my mom lives in California and I'm in New York, it's always a treat when we do get to spend Mother's Day in person. I always call her and try to do something to make her day special if we can't be together—but this year, my sister and I were especially inspired to arrange some virtual festivities. So far, we're planning to do a workout in the morning (yes, this is our idea of fun), then video chat while we enjoy brunch together. Later, we're planning to do a virtual game night, featuring some of our family favorites. Plus, a few more surprises!"
—Kristine Thomason, senior health editor
"Growing up, my family had dinner together more days than we didn't. At the time I didn't really think much of it, but looking back I know that's not an easy task for two working parents. We never missed Sunday dinner, and while we can't have dinner together this Sunday, we will be having drinks over video chat."
—Alexandra Engler, senior beauty and lifestyle editor
"I'm lucky enough to be with my mom this Mother's Day, and the celebration has propelled me back to childhood in the best way. Store-bought cards and gifts make their way to DIY messages and craft projects, making me feel like a kid again. While we may not be able to gather the whole family this year (Grandma included), all the effort we're putting in to make the holiday feel somewhat 'normal' makes it feel even more special. There's just something about handmade cards that gives you those fuzzy feels."
—Jamie Schneider, editorial assistant
Organizing a day filled with favorites.
"For Mother's Day this year, my family and I are all showing our appreciation by showering her with her favorite things! Cinnamon toast for breakfast (in bed, of course), lemon cake made from scratch, and a Star Wars movie night. She's also a big fan of essential oils, so I got her this neat oil diffuser bracelet to keep her favorite scents on all day. We've all been isolating in the house together, so perhaps it would be a good idea for the rest of us to gift her some alone time, too..."
—Sarah Regan, editorial assistant