Close Banner
Advertisement
This ad is displayed using third party content and we do not control its accessibility features.
paid content
 for

The Sustainable At-Home Workout Essentials Our Health Editor Loves
Health Writer & Editor
By Kristine Thomason
Health Writer & Editor
Kristine is a writer, editor, and editorial consultant who lives in Long Beach, CA.
Image by LUMINA / Stocksy
September 15, 2020
"Our body is only as healthy as the well-being of our planet," a medical expert told me a few years back during an interview—and that sentiment has stuck in my mind ever since.
Like much of the population, in March, I traded my go-to gym workouts and fitness studio classes for routines in my living room. Since I rarely left my NYC apartment, I knew I'd need to make daily at-home movement a priority whenever possible, to support both my body and mind—a yoga flow to start off the morning, a quick HIIT session during my lunch break, or a strength workout to round out the day.
In order to support not only my personal health but also the planet, I've tried to seek out athleisure and equipment with the environment in mind. Here are a few of my favorite Earth-friendly fitness items.
Activewear
A number of activewear brands have stepped up their sustainability efforts, especially in the last few years. That means more clothing made with Earth-friendly materials, such as cotton.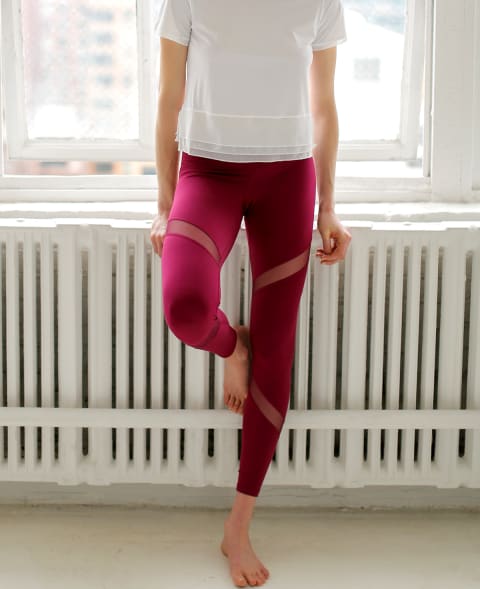 Image by BOWERY IMAGE GROUP INC. / Stocksy
Since my workouts and work have both taken place at home the last few months, I've been a big fan of versatile athleisure tops that I can wear for a midday workout or Zoom call. One of my staples has been a 100% cotton T-shirt. It may seem simple, but a crisp tee looks put-together for a meeting while still feeling comfortable enough to wear all day at home. (Bonus Zoom style advice: Pairing a crisp tee with a blazer is an easy way to feel prepared for Zoom meetings without having to change). Plus, the fabric is breathable and great for a quick fitness routine.
In fact, cotton doesn't hold odor like polyester and washes cleaner, keeping your clothes (and you) feeling fresh after a sweaty workout. Plus, the natural fabric tends to last longer than synthetic options.
Similarly, I'm a fan of comfy fitness cover-ups in the same fabrication, like activewear cardigans or pullover sweatshirts. And of course, soft leggings are a must-have.
Workout gear 
To support my at-home workouts, I love rolling out a yoga mat that not only feels great underneath my hands and feet but also uses sustainable material, such as sustainably harvested tree rubber. Some mats also feature a blend with cotton on the top, for a softer finish that also helps absorb some sweat.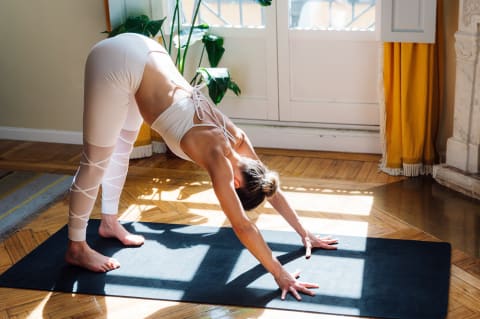 Image by DAVID PRADO / Stocksy
Speaking of absorbing sweat...I'm a big fan of mat towels for any intense indoor workout (whether it's hot yoga or a rigorous strength sesh). For planet-friendly options, I'm a fan of thin, absorbent towels made with cotton.
In my yoga practice, I use yoga blocks made with cork—a renewable material that is harvested from the external bark of a cork oak tree, without cutting it down. For restorative flows, I'm a big fan of yoga bolsters, particularly ones that are filled with vegan materials (rather than animal products like feathers and down) and have a soft, cotton exterior for ultimate relaxation.
Last, but certainly not least, it's crucial to stay hydrated during a sweaty fitness session. To help me keep my water intake up, I sip on a glass or stainless-steel water bottle to reduce single-use plastic waste.
Footwear and accessories 
On the rare occasion I do put on sneakers for an indoor workout (such as HIIT), I love lacing up shoes that are made in a more sustainable way. A number of footwear brands have been offering up sneakers that fit the bill. Also, I keep an eye out for brands that speak transparently about the carbon footprint of their sneakers (no pun intended).
While I've embraced my indoor workouts, I'm a runner first and foremost. So amid the pandemic, I knew I'd need to find a safe way to log outdoor miles while being mindful of public health. The solution: a workout-friendly mask. After doing some research, I learned cotton is actually one of the most effective materials1 for homemade double-layer masks (non-medical)—plus, it feels soft on the face, which is great for longer wear.
Choosing sustainable products to support my fitness and well-being goals is a very simple way to aid the environment. But in the same way incremental progress in fitness can lead to bigger, noticeable results, I'm confident that each small step we take toward protecting our planet can lead to lasting change, too.
More On This Topic
more Movement
Advertisement
This ad is displayed using third party content and we do not control its accessibility features.
Advertisement
This ad is displayed using third party content and we do not control its accessibility features.