Found: An At-Home Matcha Latte That Tastes Better Than My Favorite Coffee Shop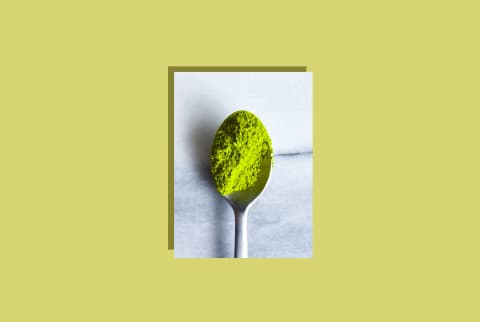 July 26, 2023
We carefully vet all products and services featured on mindbodygreen using our
commerce guidelines.
Our selections are never influenced by the commissions earned from our links.
I start most mornings with a walk around the neighborhood and, as a bit of a matcha enthusiast, my bank statements are littered with charges from local cafes. And in a city like New York, those charges add up quickly. Over the past six months I've visited more than 50 coffee shops and spent at least $20 per week on matcha lattes.
Determined to make smarter financial decisions but too stubborn to give up my morning ritual, I set out to make the perfect homemade matcha latte to take with me on the go. I tried over a dozen brands and nearly accepted that I'd never find a matcha as good as from my local cafe, until I discovered this Golde Pure Matcha, a powder so smooth and rich, it quickly became a daily staple.
Why I wasn't ready to give up my morning matcha
I made the switch from coffee to matcha a few years ago, and I felt an impact immediately. My stress levels went down, I was significantly less anxious, and those dreaded afternoon slumps were fewer and farther between.
Matcha also has high amounts of L-theanine, which gives a more balanced energy boost than coffee by simultaneously promoting a calm nervous system. Where coffee would leave me with that tired-yet-wired feeling, matcha makes me energized yet relaxed.
Of course, quality is key when it comes to reaping the benefits of matcha. That's why I didn't take my new homemade ritual lightly.
What I love about the Golde Pure Matcha
Golde is a female-founded, Brooklyn-born company making 100% natural and vegan-friendly superfood essentials.
I could tell the matcha was high-quality from the crisp green color alone. The ceremonial-grade green tea is sourced directly from Uji, Japan, where it's organically grown.
Golde's Pure Matcha is radiation-free, heavy-metal-free, vegan, gluten-free, and non-GMO. Of course, these were all bare minimum qualifications in my quest for the best matcha powder.
What mattered beyond that was the taste and consistency. Most other powders I tested were clumpy, chalky, and bitter—but the Golde Pure Matcha powder is smooth and mellow.
Caffeine lovers will be pleased to learn that the powder has 72 grams per serving. That's about the same caffeine boost as one shot of espresso, without the feelings of shakiness.
How I make my matcha latte
The Golde Pure Matcha is smooth enough to drink mixed with water alone, but I love to enhance the natural flavor with a touch of maple syrup and a bit of my favorite nondairy milk.
Here's my simple matcha latte recipe that rivals even the best New York City cafes (and saves me a ton of money):
½ cup oat or almond milk (I love using my Almond Cow!)
½ cup water
½ tablespoon maple syrup,
Dash of vanilla
1 teaspoon Golde Pure Matcha powder
You can combine your matcha latte in a blender or mix it with a handheld frother.
The takeaway
The Golde Pure Matcha nets down to about $1.15 per serving, which is a breath of fresh air compared to the $7 matcha lattes I was previously indulging in. Not to mention it tastes even better—and I love knowing where my matcha is sourced from. Whether you're a matcha lover or you've been thinking about making the switch from coffee, you can't go wrong with this powder.

Carleigh Ferrante
mbg Commerce Editor
Carleigh Ferrante is the Commerce Editor at mindbodygreen. She is a certified Health & Nutrition Coach and a born and raised New Yorker with a B.A. in Creative Writing and Psychology. Her work has appeared in Bustle, The Zoe Report, PureWow, The Everygirl, and more, covering topics such as fitness, travel, home, fashion, beauty, and dating, sex, and relationships. When she's not testing and reviewing products and services, you can find Carleigh training for her next World Major marathon, planning her next vacation, or interviewing experts on her dating podcast, Mostly Balanced.