People Swear By This Skin Care Ingredient As Natural Deodorant, But Does It Work?

mbg Beauty & Wellness Editor
By Jamie Schneider
mbg Beauty & Wellness Editor
Jamie Schneider is the Beauty & Wellness Editor at mindbodygreen. She has a B.A. in Organizational Studies and English from the University of Michigan, and her work has appeared in Coveteur, The Chill Times, and Wyld Skincare.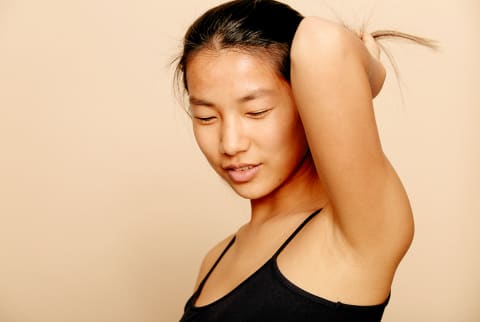 Image by Leandro Crespi / Stocksy
May 27, 2021
Our editors have independently chosen the products listed on this page. If you purchase something mentioned in this article, we may
earn a small commission
.
Here's an understatement: It is so, so hard to find a natural deodorant you adore. Not only does the switch to natural come with an adjustment period of sorts, where your microbiome adjusts to its new state, but it's difficult to pinpoint your favorite formula and fragrance among all the new options out there. Take it from someone who has tested her fair share of sticks, serums, crystals, you name it: The journey to natural deo is not for the faint of heart.
This TikTok video, however, sheds light on a product you may already have in your skin care collection: a glycolic acid toner. Here, derms explain how to repurpose the acid and zap the funk.
Advertisement
This ad is displayed using third party content and we do not control its accessibility features.
Using glycolic acid as deodorant: Does it work?
Totally! In fact, acid-based formulas are booming in the natural deodorant sphere for their pH-balancing properties. See, traditional deodorants already fall on the acidic side, so they can lower your skin's pH and make it too acidic for odor-causing bacteria to thrive1. An alpha-hydroxy acid (like glycolic acid) can do the same, along with some added benefits: The chemical exfoliator can also slough off dead skin and help prevent ingrowns, leaving your pits smooth and bump-free.
Plus, as board-certified dermatologist Lindsey Zubritsky, M.D., explains in a duet video, the AHA could also help with hyperpigmentation on the armpit skin—glycolic acid is beloved for reducing the appearance of acne scars, photodamage, and discoloration, so it makes sense why you might see similar success in the underarm area.
To apply, this TikTok user recommends pouring the solution (she uses the Glycolic Acid 7% Toning Solution from The Ordinary) into a spray bottle to use as a spritz-on deodorant. Or, as Zubritsky notes, you can also saturate a reusable cotton pad and simply swipe on the serum. Let your pits air-dry for a few moments, and head out into the summer heat.
A quick sidebar: Yes, glycolic acid can get rid of the B.O., but it won't necessarily stop the sweat. Natural deodorants do not operate the same as antiperspirants—the former limits odor, while the latter stops the sweat. Sweat is odorless (it's the bacteria that causes the pungent smell!), but wet pits can still be annoying—so it's important to be realistic here.
What are the risks?
So yes, the TikTok trend has legs, but it's not without its drawbacks. If slathering an AHA all over your sensitive armpit skin sounds like a recipe for irritation, well, that's because it is—at least for some.
Glycolic acid has the smallest molecular weight of all the alpha-hydroxy acids, which means it can penetrate more easily into the skin. That's why some people may find the acid way too harsh for their liking: "Very sensitive skin may find glycolic acid irritating," board-certified dermatologist Hadley King, M.D., told us about the ingredient.
Even if you can usually tolerate the AHA, know that your armpit skin may be more sensitive than the skin on your face. "If you overuse it, especially in your armpits, you can get massive irritation," says dermatologist Camille Howard-Verovic, D.O., founder of Girl+Hair, in another duet video. "I would take extreme caution when listening to this piece of advice." You may be better off finding an acid-based deodorant formulated with gentler exfoliants (like the lactic acid in this Kosas number), or as Zubrinsky notes: "Start low and slow!"
With any acid-based deodorant, though, you may not want to apply right after shaving (and especially if you accidentally nick your skin), as you'll likely face some sting.
Advertisement
This ad is displayed using third party content and we do not control its accessibility features.
The takeaway. 
Technically, glycolic acid will work as a natural deodorant—just be aware of the risks before you slather it on. It's a potent chemical exfoliator that some find too irritating to use on the face, so if you have rather sensitive armpit skin, you may want to opt for a different natural deo.
Advertisement
This ad is displayed using third party content and we do not control its accessibility features.

1 Sources